SEND Information
Contacts: Miss P Anderson - SENCo
Mrs. L Salisbury - SEND and Safeguarding Manager
If you have any SEN Concerns, please contact the School Office to make an appointment to meet with us. Or email sendchildrenmatter@nunnerywoodprimary.worcs.sch.uk
SEND Information Report: Please click on the attachment below to read about what our school has to offer for SEND. Paper copies are available on request.
SENDIASS - SEND Information, Advice and Support Service (formerly the Parent Partnership Service)
http://www.worcestershire.gov.uk/info/20417/special_educational_needs_and_disabilities_information_advice_and_support_service
Worcestershire Graduated Response: http://www.worcestershire.gov.uk/graduatedresponse
Worcestershire Speech and Language Therapy - Access to excellent resources to help with Communication, social skills, turn taking ,routines. https://www.hacw.nhs.uk/our-services/speech-language-therapy/childrens/resources/
You can also access the resources via the Facebook page: Worcestershire Speech and Language Therapy
Here are some excellent examples:
Hereford and Worcester Dyslexia Association
SEND SURVEY RESULTS SUMMER 2022
We asked parents of pupils with Special Educational Needs and/or Disabilities to complete a questionnaire. (Summer term 2022)
The results will be used to improve SEND provision at NWPS. Thank you to all parents who took part.
Some lovely comments that we received were:
We are very happy with the support and information we received from school
Happy with everything regarding my son.
You always listen and take on board what I say.
Fabulous communication and use of strategies to manage behaviour.
What we will do to improve things for you and your child:
Produce a SEND at NWPS information sheet, this will be emailed out to all parents. SENCO will update the website and create guidance around the Worcestershire process to share with parents
Make more appointments available to meet with SENCo on parents evenings. This year the SENCO has been released from class commitment therefore capacity at parents evening will increase.
Share IPM's in a timely manner and provide opportunities for these to be discussed. Clear guidance will be shared with parents.
Regular half termly dropin sessions with Miss Anderson (SENCO) to ask anything about your child or SEND at NWPS will be re-established in Autumn Term.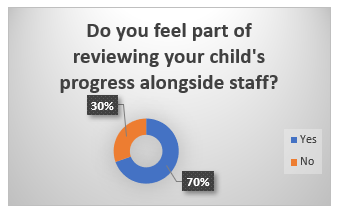 This is an informative video about trauma and how it can affect children's brain development:
https://www.youtube.com/watch?app=desktop&fbclid=IwAR3dvIQz3CO-_viKgri6hEG86rt-VasyukgmhDY9dz5g_d-5rK8c0sf1o1g&v=EFrfBJrVLbE&feature=youtu.be