Year 1 Cherry and Chestnut
Welcome to Year 1!
We have had such a super start to a new year in school and have settled so well into new routines and our new classes.
In Year 1 we have:
Chestnut class - Mrs. Picken, Mrs. Brown and Mrs. Ratcliff
Cherry class - Miss. Freer and Miss. McNaughton
Autumn 1 2021:
All Aboard!
After the mixed up year we all had, we were all super excited to be back in school with our friends, finding out about our summer and our new classes. We kick-started our new year with an exciting new theme 'All Aboard!'. We read LOTS of pirate stories, including 'The Pirates are Coming', 'The Treasure of Pirate Frank' and of course, 'Pirates Love Underpants'. From these brilliant stories, we produced lots of amazing writing, created maps, took part in some role play... and even went on a real pirate treasure hunt!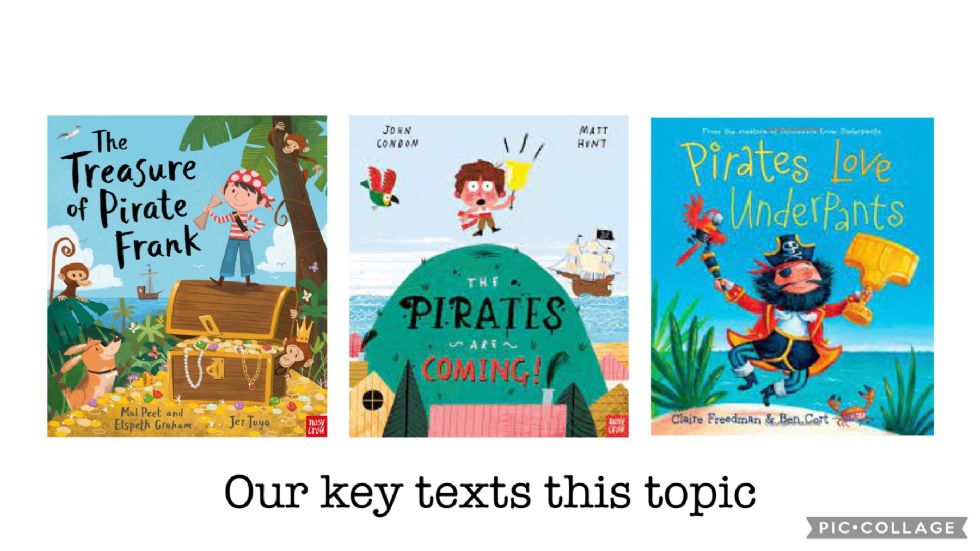 In History, we learnt all about two very famous pirates - Captain Black Beard and Grace O'Malley. We asked lots of questions, used the ipads to research information, and created our very own class fact files. Thinking about pirates made us hungry. We began to think about what a pirate would need to eat to start their day! In DT, we designed a healthy (and delicious!) breakfast, which of course we had to taste test ourselves. In Science, we learnt about materials and which would be the best to build our very own pirate ship. We investigated different materials by looking at their properties and carrying out a test to find out which would float... and which would sink.
Every week, we enjoyed time in the woodland - building dens, digging, playing hide-and-seek, and working with friends. It's amazing how many of our school values we use whilst in the woodland.
As with all fab topics, we finished with a BANG - dressing up as pirates, playing pirate games, and having LOTS OF FUN!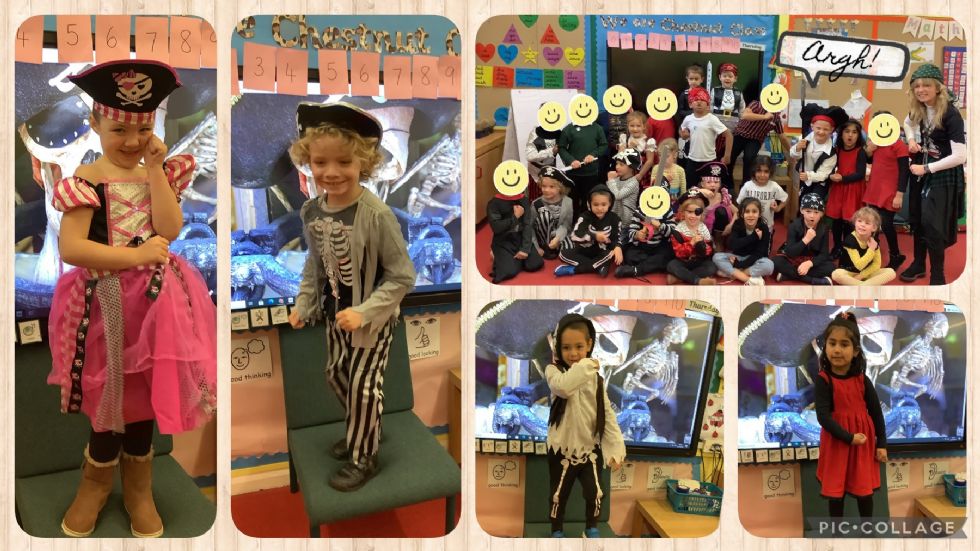 Pirate Day
Autumn 2 2021:
Let's Celebrate
This half-term, we began our new topic 'Let's Celebrate' - looking at all the wonderful and diverse celebrations we are so lucky to enjoy within our school community.
We were so inspired by the Diwali story, that we decided to create our very own moving parts puppets! In DT, we designed our puppets, annotated our designs and created a list of tools, fabrics and materials that we would need. Using our plans, we had a lovely afternoon crafting and creating - as you can see, we are very proud of the end results. We then evaluated our puppets, thinking about what we liked, what we might change if we made a puppet again, and if there was anything we found difficult or did not work.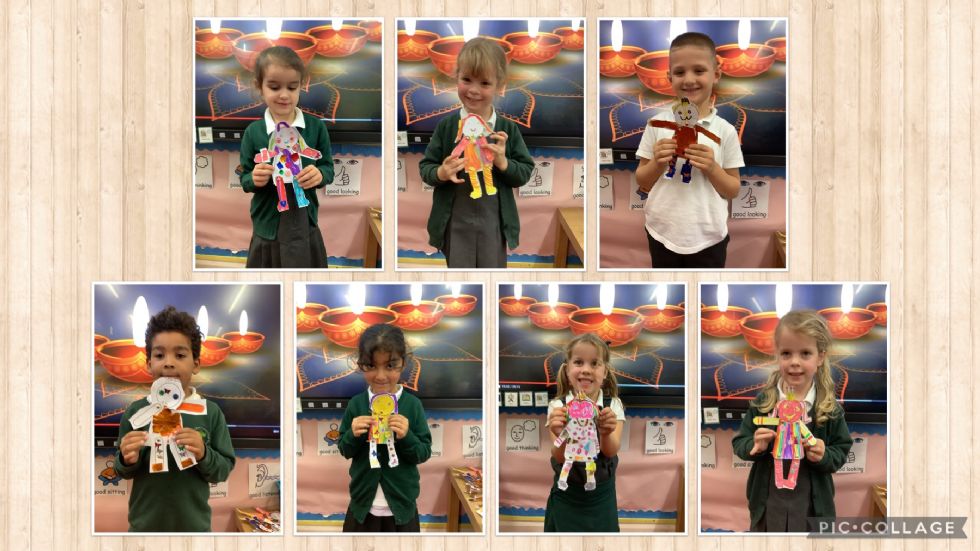 Chestnut's Diwali moving parts puppets
This half-term we have been looking at the four seasons of the year and the ever-changing weather we would expect. We focussed on the season we are in now, Autumn, more closely by going on a seasonal scavenger hunt to find signs of our wonderful season. Using what we found, we discussed how the season affects our lives - how the differing weather changes the activities we choose to do, how our clothing is different (and similar to that in other seasons) and how the days have changed too (that our days are shorter, the sun rises and sets later and earlier, etc). To finish off our focus, we designed a wonderful seasonal window which shows all the signs of Autumn.
It wouldn't be Christmas without a trip to the pantomime - 'Oh, no it isn't... Oh, yes it is!'. We are so lucky to be able to go on such lovely trips at our school. This Christmas, we visited the Swan Theatre to see Beauty and the Beast. WE LOVED IT! In the break we even had a yummy ice cream treat. In our writing back at school, we all wrote a recount about our trip out. Sharing our favourite parts of the show, and what we would like to see next year.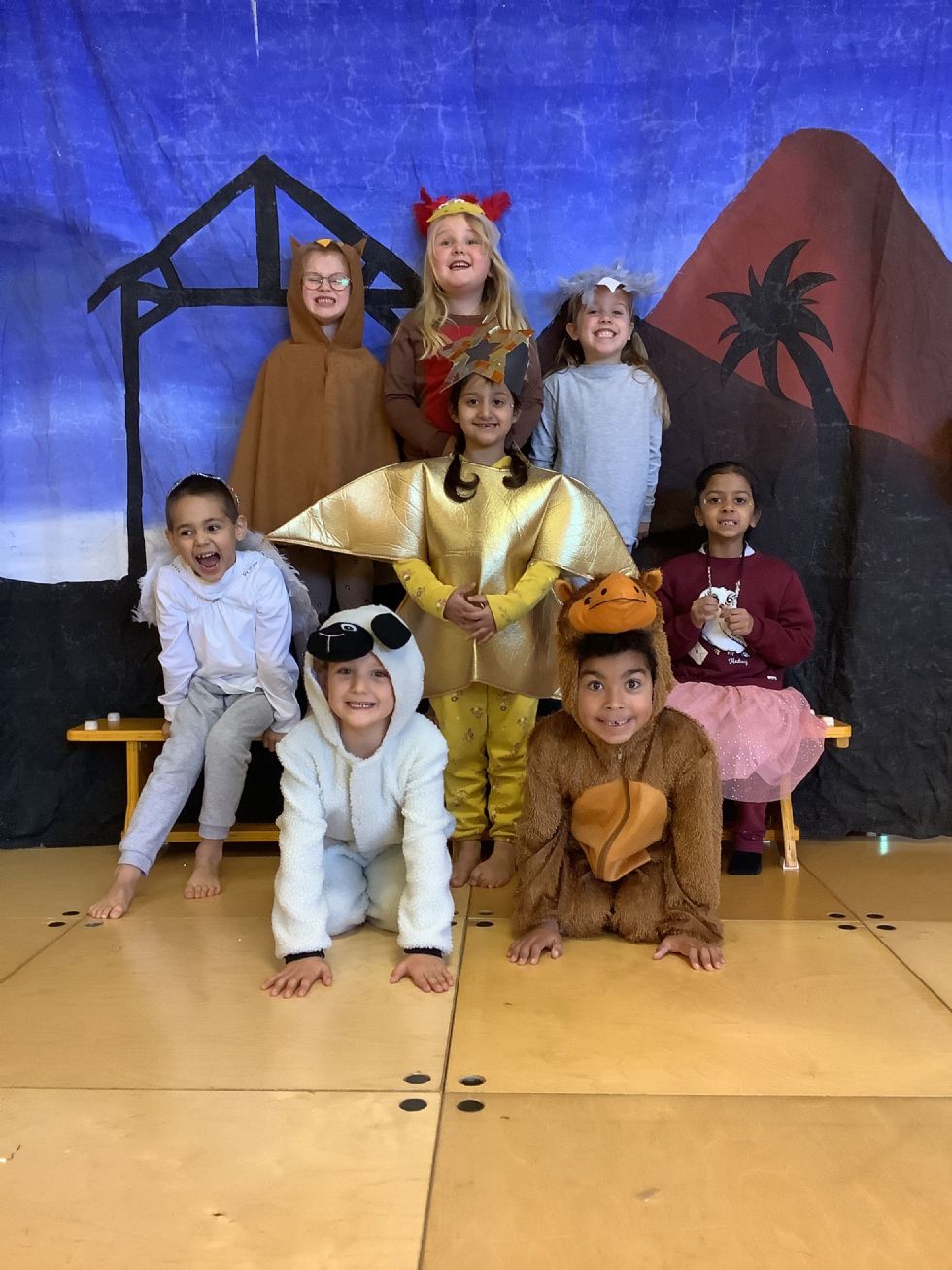 'A Little Bird Told Me'
Our Christmas nativity 2021
Spring 1 2022:
Arctic Antics
COMING SOON