Year 1 Cherry and Chestnut
Welcome to Year 1!
We have had such a super start to a new year in school and have settled so well into new routines and our new classes.
In Year 1 we have:
Chestnut class - Mrs. Picken and Mrs. Ratcliff
Cherry class - Miss. Freer and Miss. McNaughton
Autumn 1 2021:
All Aboard!
After the mixed up year we all had, we were all super excited to be back in school with our friends, finding out about our summer and our new classes. We kick-started our new year with an exciting new theme 'All Aboard!'. We read LOTS of pirate stories, including 'The Pirates are Coming', 'The Treasure of Pirate Frank' and of course, 'Pirates Love Underpants'. From these brilliant stories, we produced lots of amazing writing, created maps, took part in some role play... and even went on a real pirate treasure hunt!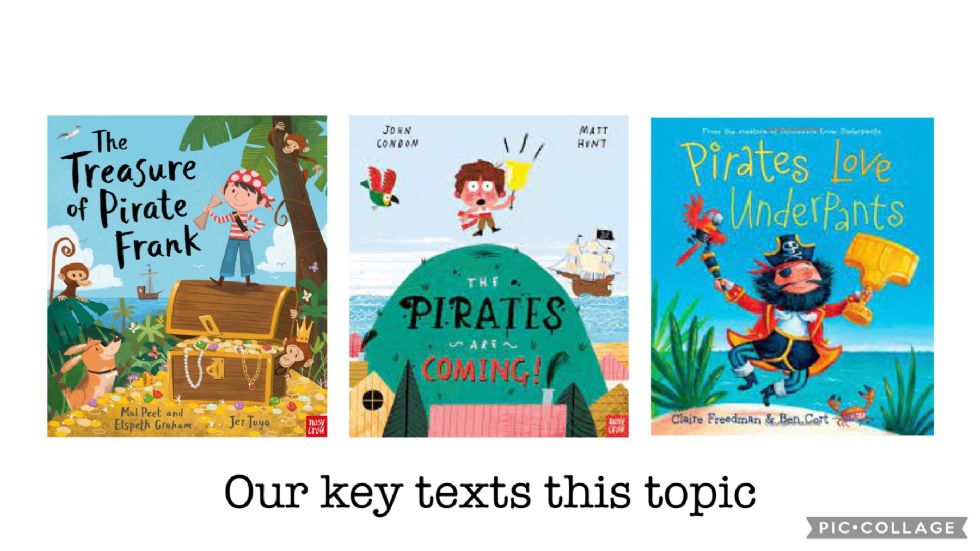 In History, we learnt all about two very famous pirates - Captain Black Beard and Grace O'Malley. We asked lots of questions, used the ipads to research information, and created our very own class fact files. Thinking about pirates made us hungry. We began to think about what a pirate would need to eat to start their day! In DT, we designed a healthy (and delicious!) breakfast, which of course we had to taste test ourselves. In Science, we learnt about materials and which would be the best to build our very own pirate ship. We investigated different materials by looking at their properties and carrying out a test to find out which would float... and which would sink.
Every week, we enjoyed time in the woodland - building dens, digging, playing hide-and-seek, and working with friends. It's amazing how many of our school values we use whilst in the woodland.
As with all fab topics, we finished with a BANG - dressing up as pirates, playing pirate games, and having LOTS OF FUN!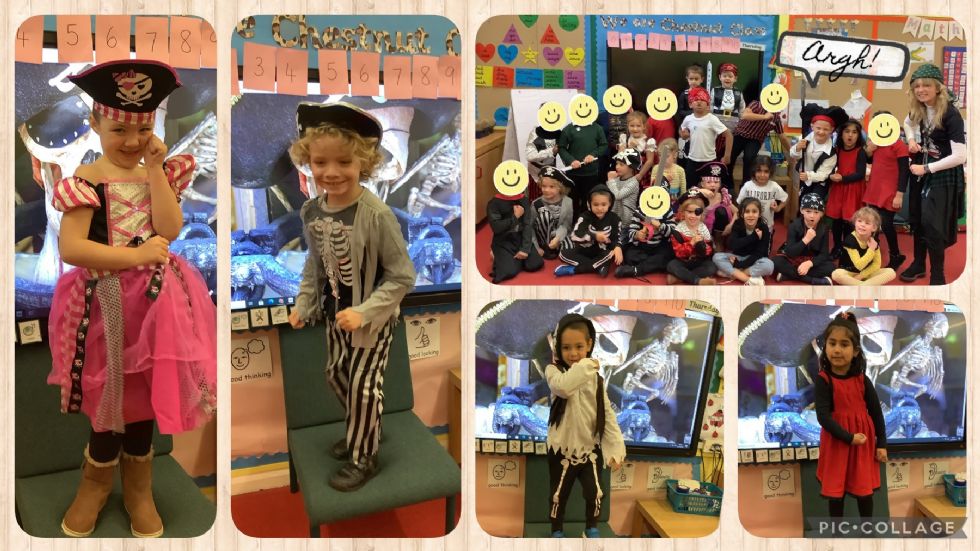 Pirate Day
Autumn 2 2021:
Let's Celebrate
This half-term, we began our new topic 'Let's Celebrate' - looking at all the wonderful and diverse celebrations we are so lucky to enjoy within our school community.
We were so inspired by the Diwali story, that we decided to create our very own moving parts puppets! In DT, we designed our puppets, annotated our designs and created a list of tools, fabrics and materials that we would need. Using our plans, we had a lovely afternoon crafting and creating - as you can see, we are very proud of the end results. We then evaluated our puppets, thinking about what we liked, what we might change if we made a puppet again, and if there was anything we found difficult or did not work.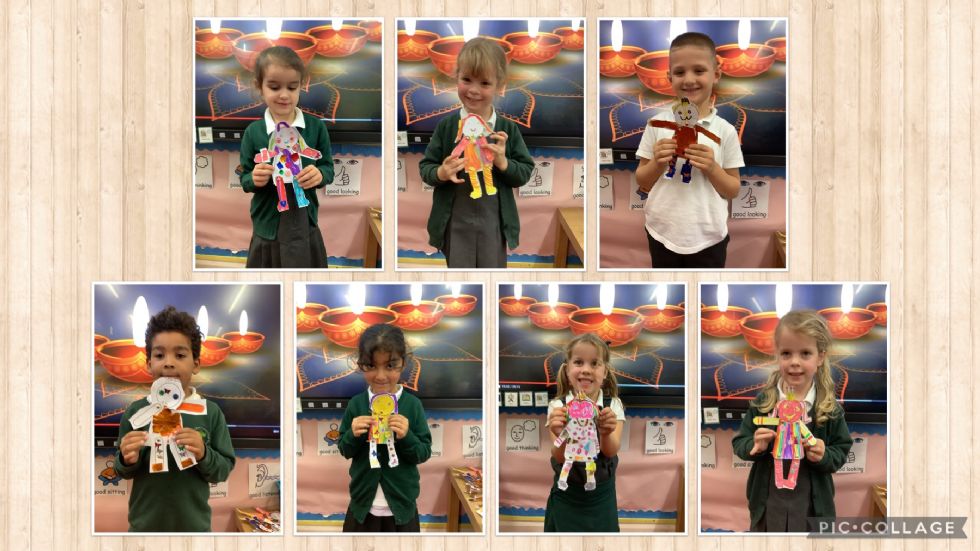 Chestnut's Diwali moving parts puppets
This half-term we have been looking at the four seasons of the year and the ever-changing weather we would expect. We focussed on the season we are in now, Autumn, more closely by going on a seasonal scavenger hunt to find signs of our wonderful season. Using what we found, we discussed how the season affects our lives - how the differing weather changes the activities we choose to do, how our clothing is different (and similar to that in other seasons) and how the days have changed too (that our days are shorter, the sun rises and sets later and earlier, etc). To finish off our focus, we designed a wonderful seasonal window which shows all the signs of Autumn.
It wouldn't be Christmas without a trip to the pantomime - 'Oh, no it isn't... Oh, yes it is!'. We are so lucky to be able to go on such lovely trips at our school. This Christmas, we visited the Swan Theatre to see Beauty and the Beast. WE LOVED IT! In the break we even had a yummy ice cream treat. In our writing back at school, we all wrote a recount about our trip out. Sharing our favourite parts of the show, and what we would like to see next year.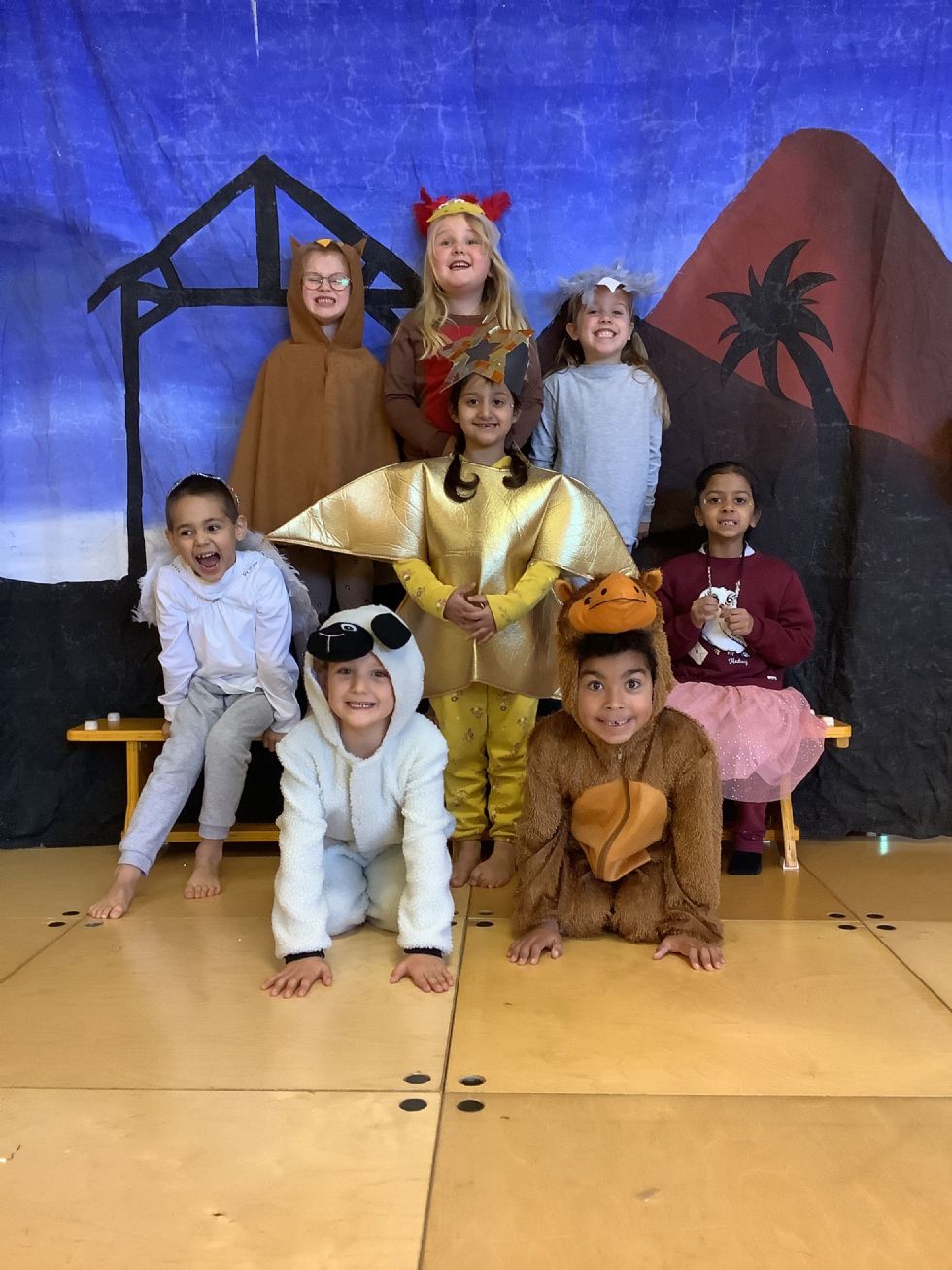 'A Little Bird Told Me'
Our Christmas nativity 2021
Spring 1 2022:
Arctic Antics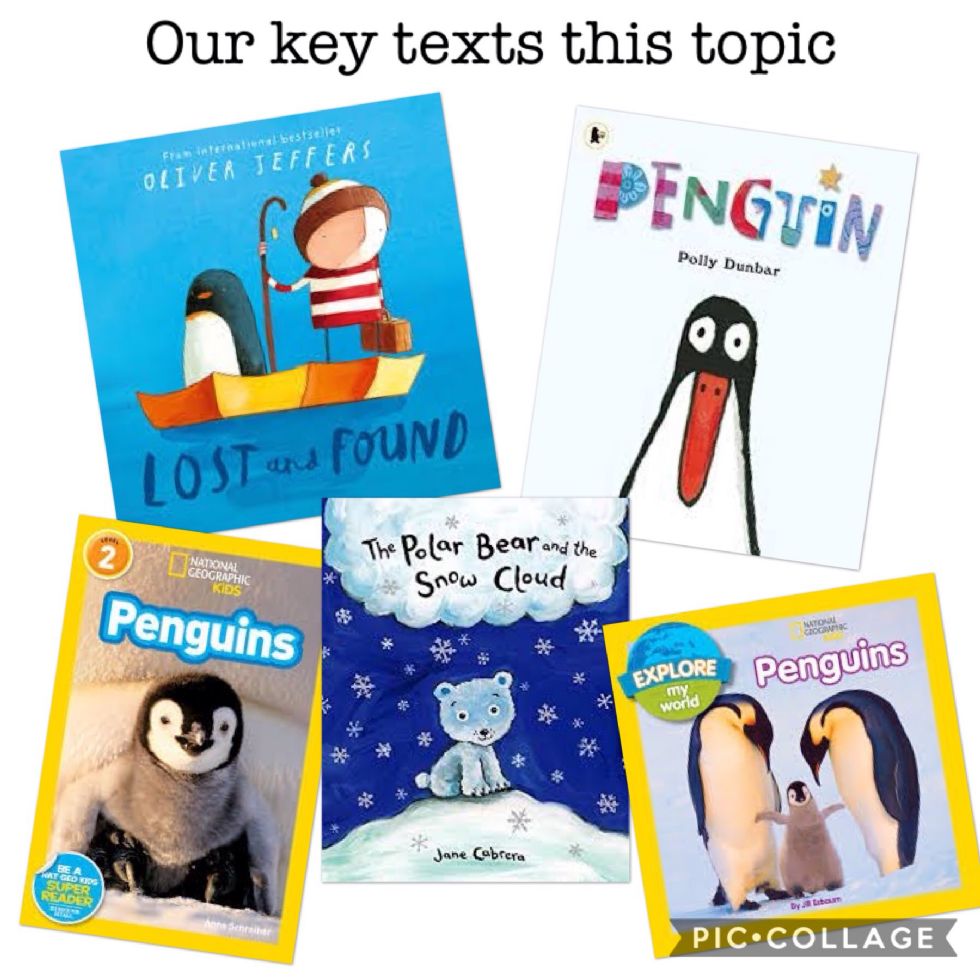 Well, the start to our new term was definitely a chilly one - very apt for our new topic 'Arctic Antics'. To inspire us with all things Arctic, we looked at the work and achievements of Mollie Hughes and her expedition to the South Pole. We were amazed at how much equipment she needed for her journey, and how important every single piece was for her survival. Following this, we decided to go on our very own Arctic mission around our school ground. One frosty, chilly afternoon, we went on an animal hunt, looking for animals who were adapted for living in cold climates. On our mission, we found arctic foxes, penguins, seals... and even polar bears! Of course, we kept a safe (and quiet!) distance so not to disturb them or scare them off. We then used our findings to carry out some observational drawings.
The cold weather also inspired our PE lessons - this half-term we are looking at dance, and what a perfect opportunity to take part in a spot of ice dancing! We watched a video of Anita Ragitova winning a gold medal in the 2018 Winter Olympics, paying close attention to how she moved and changed the shape of her body using her arms and legs to jump and spin. We then perfected each part of our ice dancing motifs - the way we glided, jumped, span, balanced and posed. Watch out Winter Olympics 2030!
To end this topic on a high, we enjoyed a week of explorers - appreciating the work and dedication of lots of influential explorers throughout history. From animals to land, from sea to space, we enjoyed finding out lots of amazing facts... of course, in fancy dress!
Spring 2 2022:
Long Ago and Far Away
This half-term we have been looking closely at traditional tales, and the common features found in so many of them that we know. Our first week back saw us enjoying a variety of traditional tales, such as The Three Billy Goats Gruff, The Three Little Pigs, and Goldilocks and the Three Bears - we spotted something very important in ALL of these stories, something we call 'The Rule of Three'. There were THREE goats, three pigs, and three bears. We did some investigating to see if this rule applied to any other traditional tales... and it did. We found it in Jack and the Beanstalk, Jack took three things from the giant - coins, a golden hen, and a harp! We ended our first week by celebrating World Book Day - just look at how amazing our costumes were!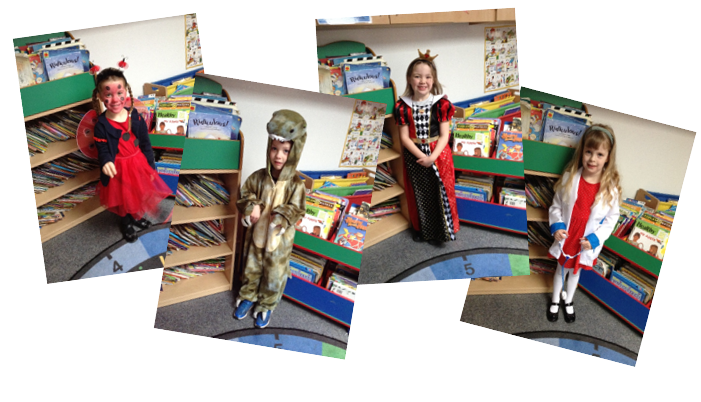 World Book Day 2022
We were real life scientists this half-term, watching the weather and the season and collecting data to show and prove our findings. Over the course of two weeks we collecting data to represent the weather, identifying which weather happened most frequently, and how this proves consistent with the season we are currently in. We compared our data with our peers, and went out to collect evidence of Spring from within the school grounds. All the data we collected was then transferred into a block graph, where we were able to see any patterns and similarities. We all worked well with our peers to collect evidence of Spring following our 'Spring Scavenger Hunt' check lists where we had a huge 11 signs to find!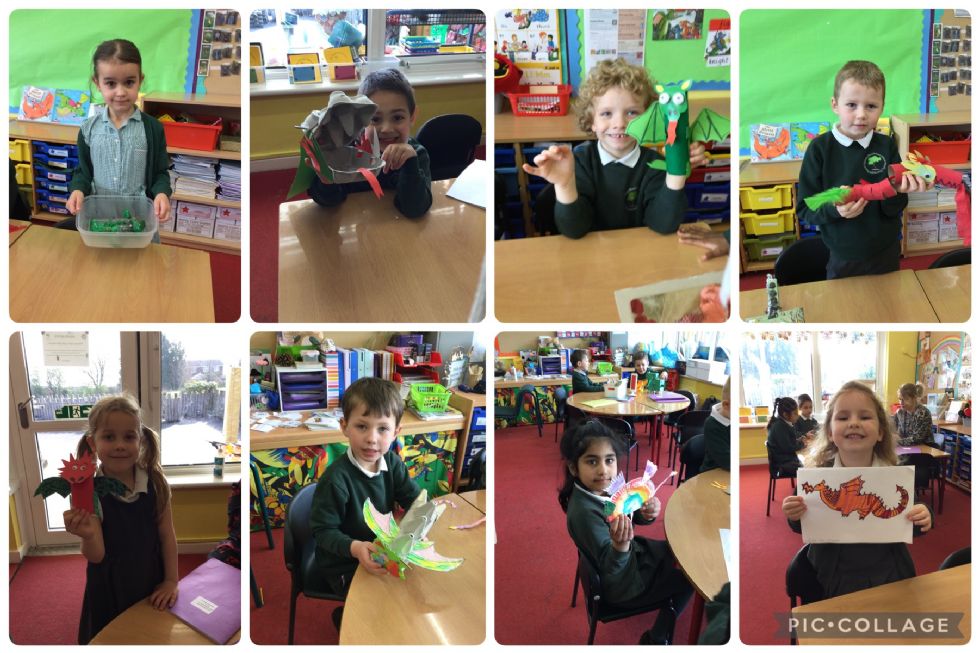 Our dragon creations
Who doesn't love a Julia Donaldson book, especially Zog! We enjoyed letting our creative side out when we designed our very own dragons. Every dragon was unique and one of a kind, but a bit like Zog, they all needed to learn a thing or two! We began the week by thinking about what things a good dragon needed to be able to do. Using this, we wrote our very own school report for our dragons, thinking about what skills they would have learnt in dragon school, what they were doing well and what they needed to work on. Of course, we used lots of lovely adjectives to describe our dragons, their skills and their attributes. JUST in case our dragon decided to join us on our trip to Warwick Castle, we wrote a 'How To' guide on destroying a castle (following our previous story 'The Worst Princess'), making sure to use time conjunctions so our dragon's do not miss anything out! We were all AMAZING at remember the names of each part of the castle and including them in our writing... so watch out Kings and Queens, our dragons know a thing or two about castles!
Warwick Castle 1.4.22
Summer 1 2022:
Growing
Coming soon.
Summer 2 2022:
Mad About Megabeasts!
Coming soon.