Year R Oak and Willow
WELCOME TO OAK AND WILLOW - On this page we will add regular updates of our learning and all the great things we are enjoying at in Early Years...we have lots of fun! You will also find key information and letters we have sent home.
Oak and Willow staff team
Year R - Mrs Cooper - A message for the new Oak Class
Year R - Miss Cother - A message for the new Willow Class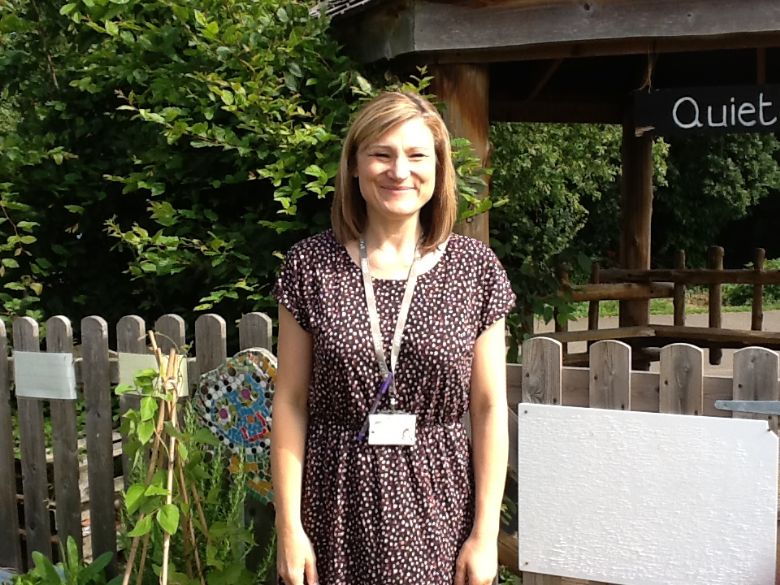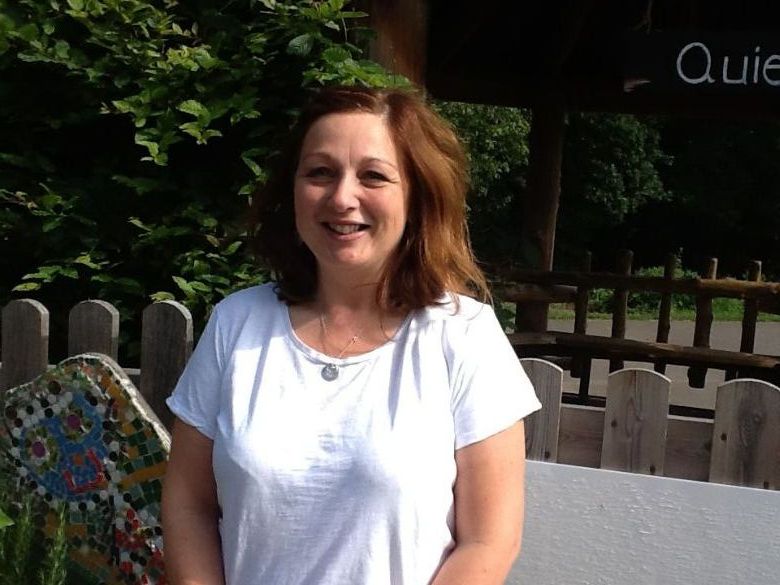 Miss Emma Cother Mrs Donna Cooper
Willow Class Teacher Oak Class Teacher
Assistant Headteacher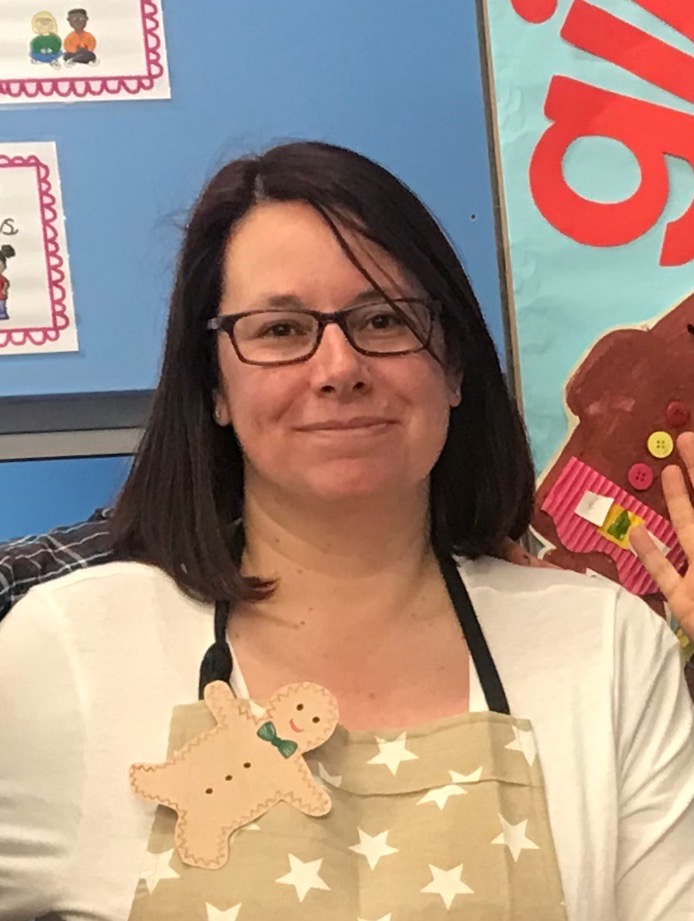 Miss Carys Hurd Miss Vicky Sollis Mrs Ferni Evans Miss Jordana Hill
Willow TA Oak TA EYFS Teaching Assistants
SUMMER 2 2022
DOWN ON THE FARM
Weeks Beginning 6th & 13th June:
Story of the Week: What the Ladybird Heard by Julia Donaldson and Lydia Monks
Song of the Week: Old MacDonald Had a Farm
On Tuesday we found a map and clues to follow! We used our phonics to read the clues and found a brand new story to read - What the Ladybird Heard! We have made our own maps and added labels as well as creating mini beast / bug houses using the drilling tools in Forest School.
On Thursday 16th June we visited Little Owl Farm Park for our 'Big Trip' and we had a lovely time. We followed the map to find the animals and found every animal from the story apart from the fine prize cow! We also got to feed some animals as well as meeting and holding baby rabbits, guinea pigs, ducklings and chicks; there were very fluffy.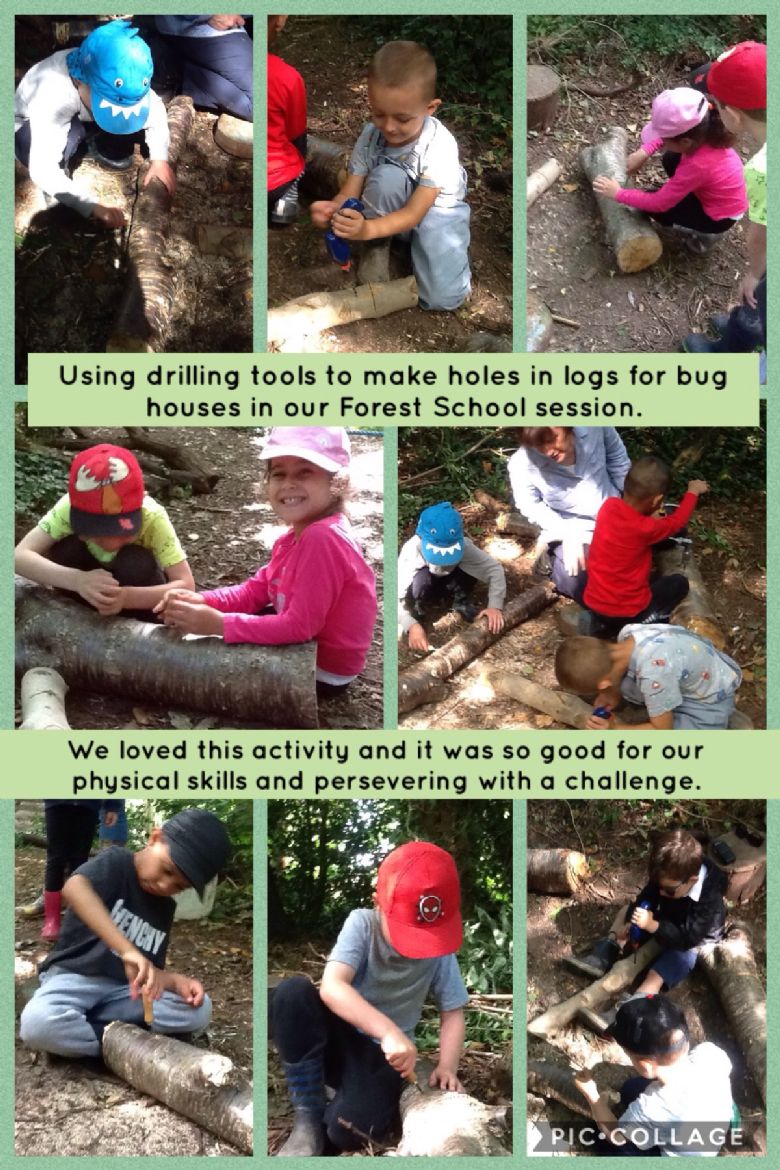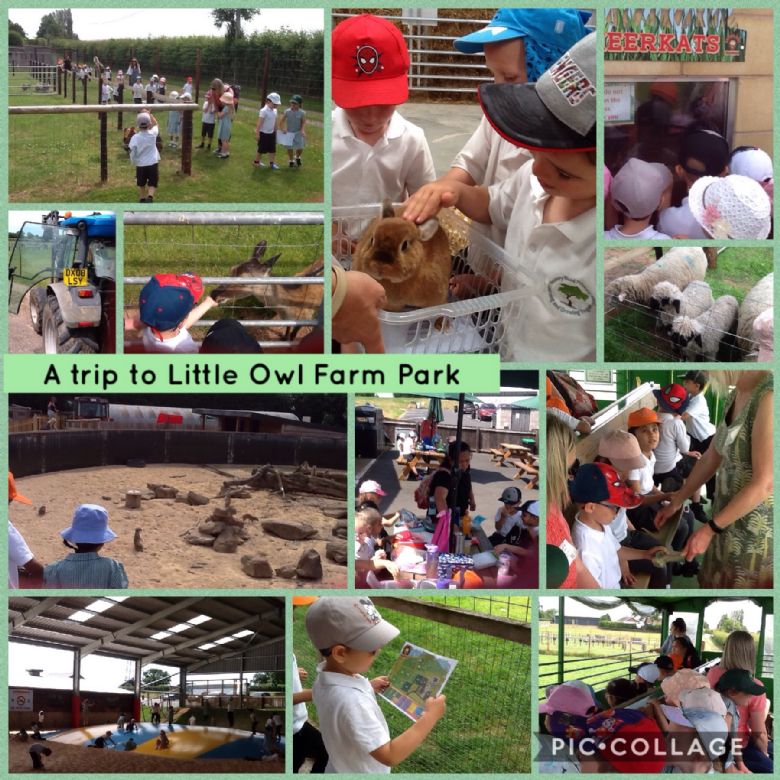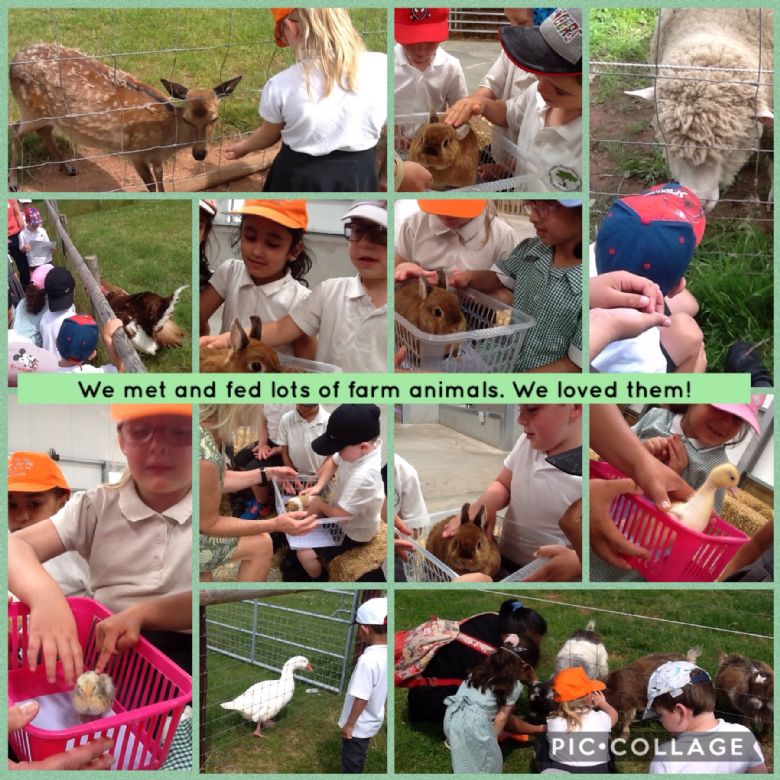 SUMMER 1 2022
Week Beginning 24th May -
PLATINUM JUBILEE CELEBRATION
Story of the Week: What the Ladybird Heard on Holiday by Julia Donaldson and Lydia Monks
This week we have learnt lots about the Queen and her special platinum jubilee celebration for 70 years since she became queen. We counted in tens and made number bonds to 10, made flags and crowns, learnt about how things were different when the Queen became queen and made biscuits for a special tea party with our families at the end of the week.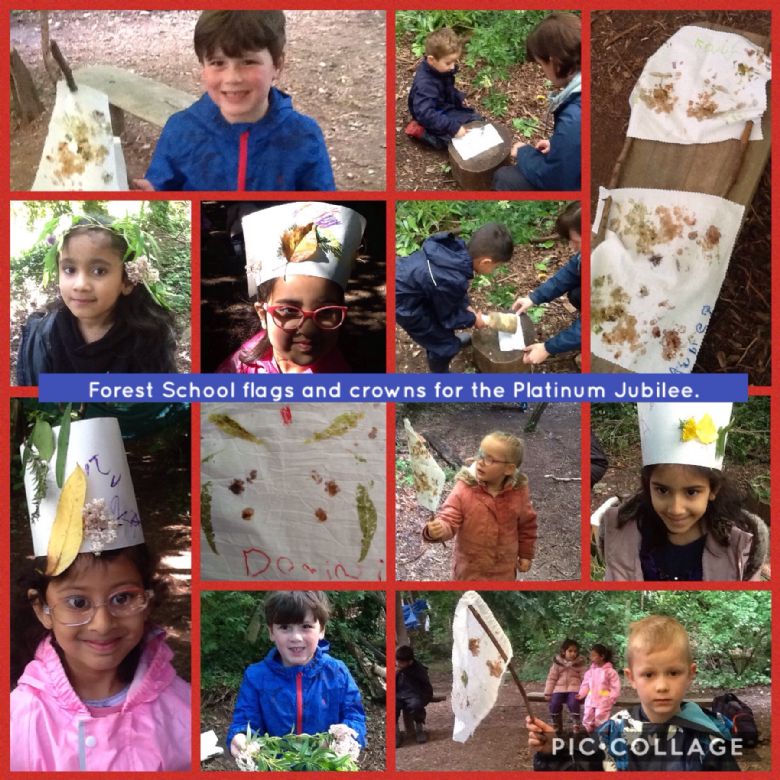 Week beginning 17th May -
Story of the Week: Handa's Surprise by Eileen Browne
Song of the Week: Ten Little Monkeys Jumping on the Bed
Mystic Mango from Supertato Bubbly Troubly sent us a letter asking us to find out about where some of the fruits in the Supertato stories come from and we had a new book to help, Handa's Surprise, which we loved. We learnt about Kenya in Africa and how it is different to Worcester, made our own fruit kebabs which were delicious, practised our balancing skills, experimented with making houses from mud, created our own safari adventures and lots more!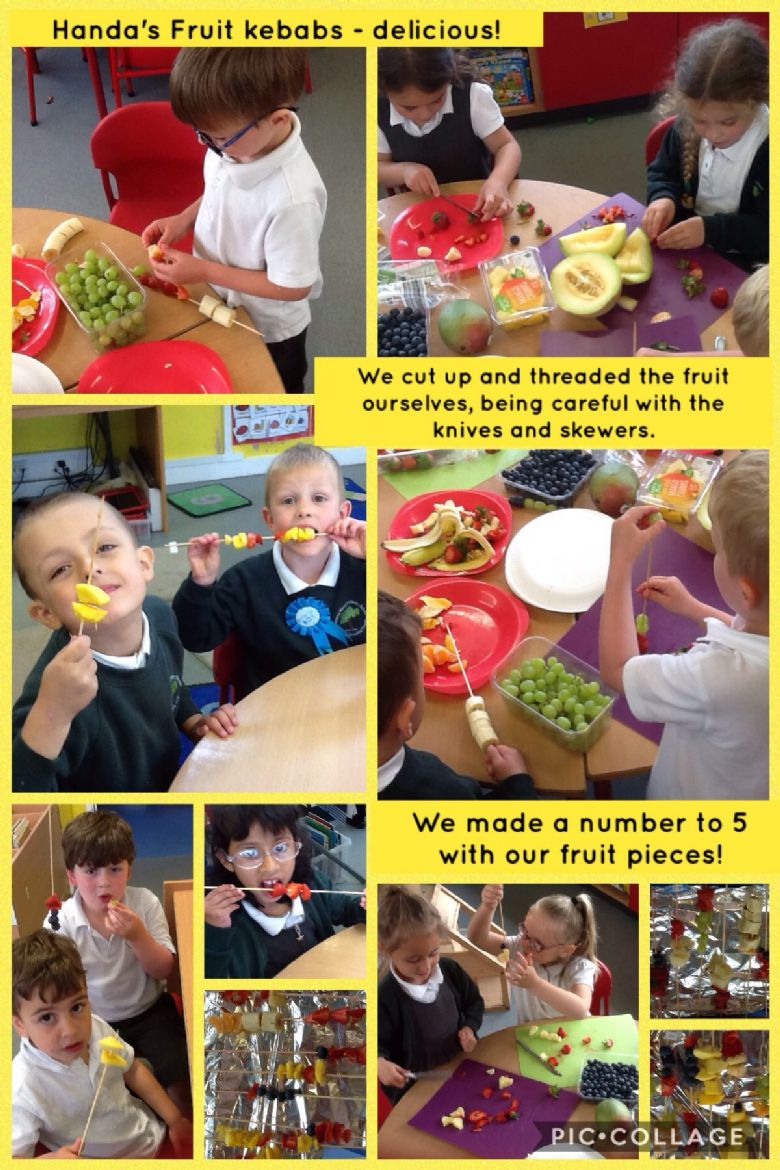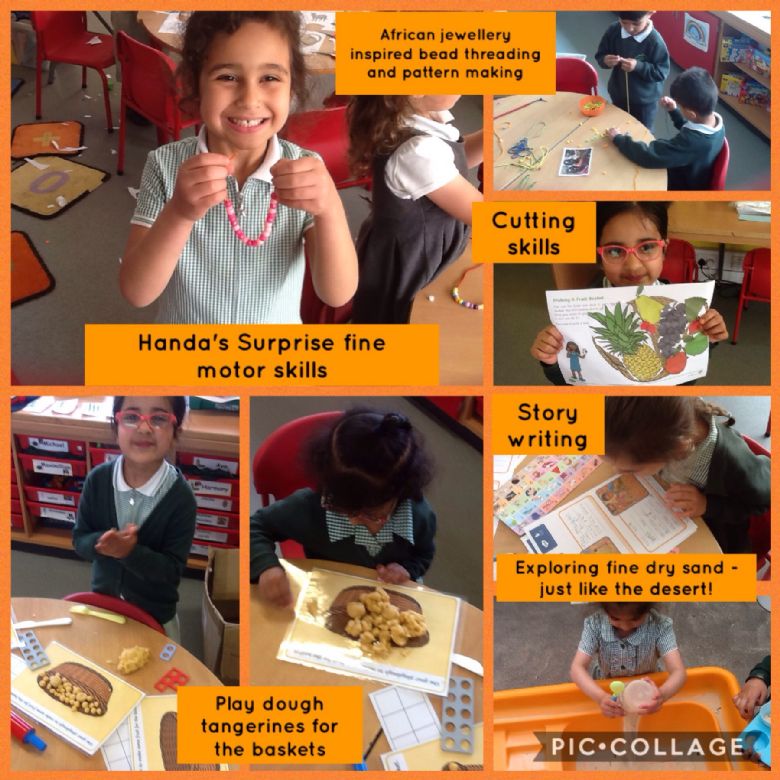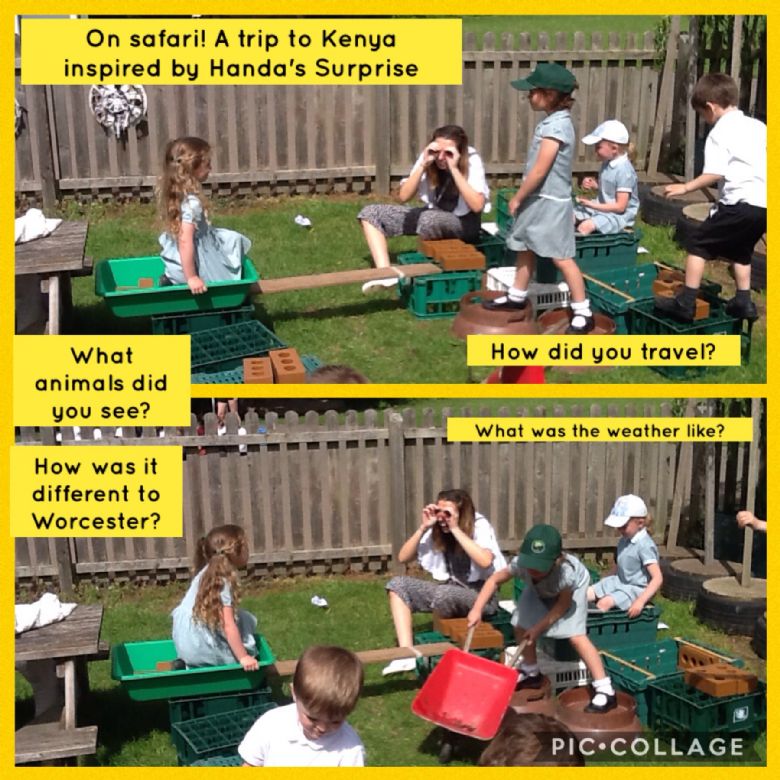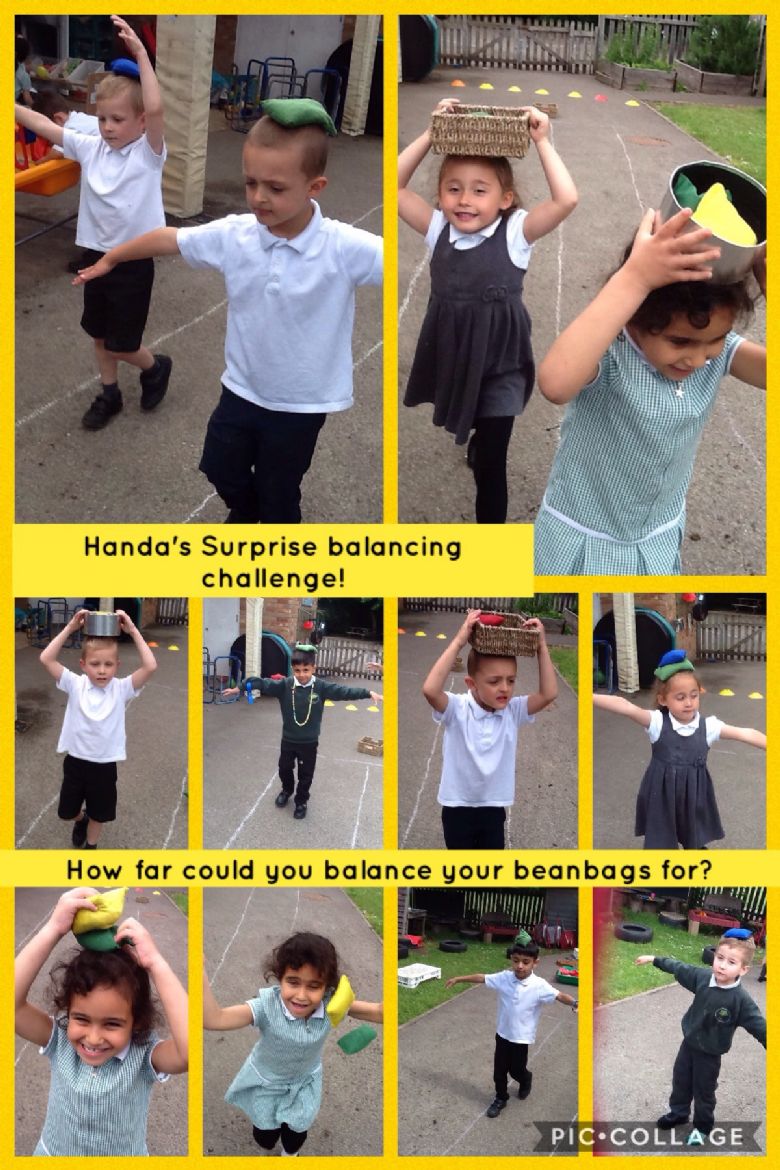 Week beginning 10th May -
Story of the Week: Supertato 'Bubbly Troubly' by Sue Hendra and Paul Linnet
This week we had a new story from Supertato - Bubbly Troubly! - and we had our own fun and trouble with bubbles in Oak and Willow classes too! We explored the best way to get rid of bubbles, experimented with bubble painting and blowing bubbles using bubble wands and a bubble machine, learnt about keeping clean and healthy including superhero obstacle courses in forest school, as well as making our own posters to give messages about healthy living choices.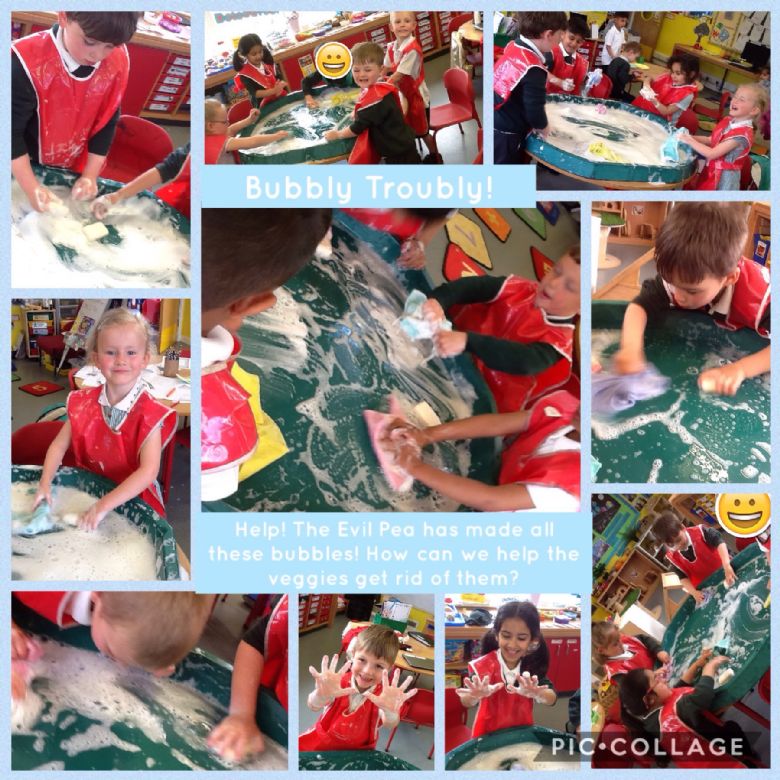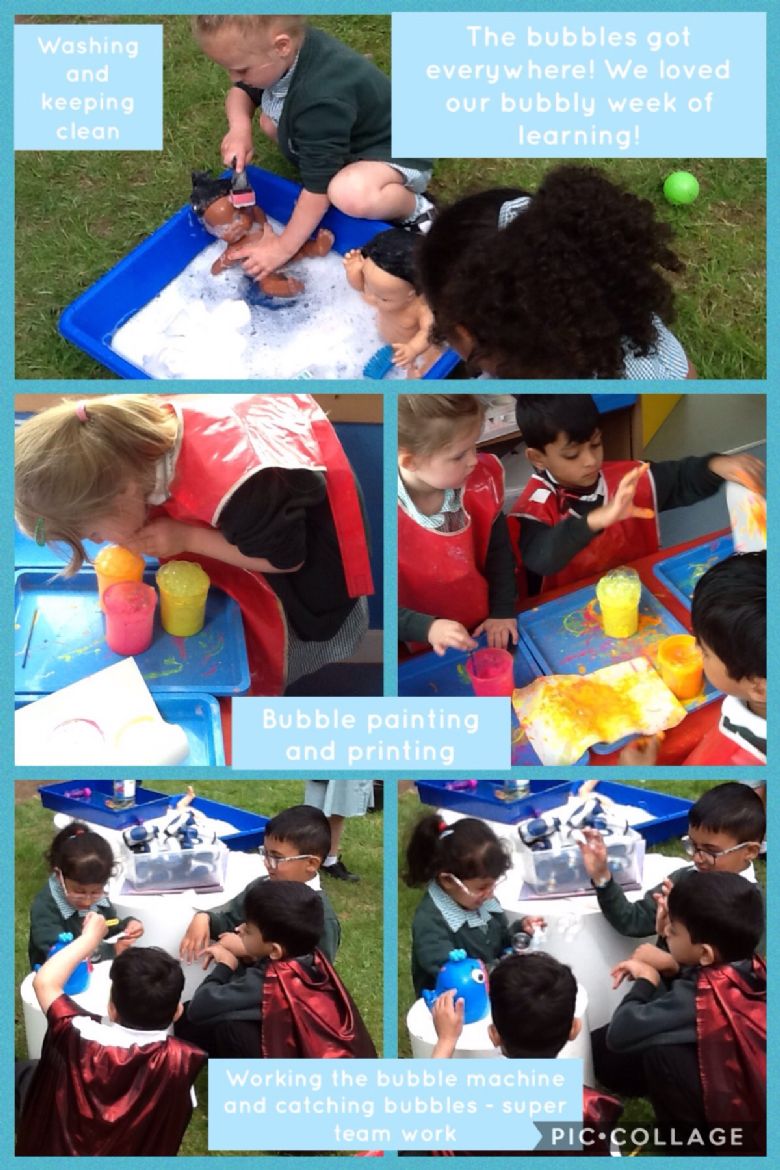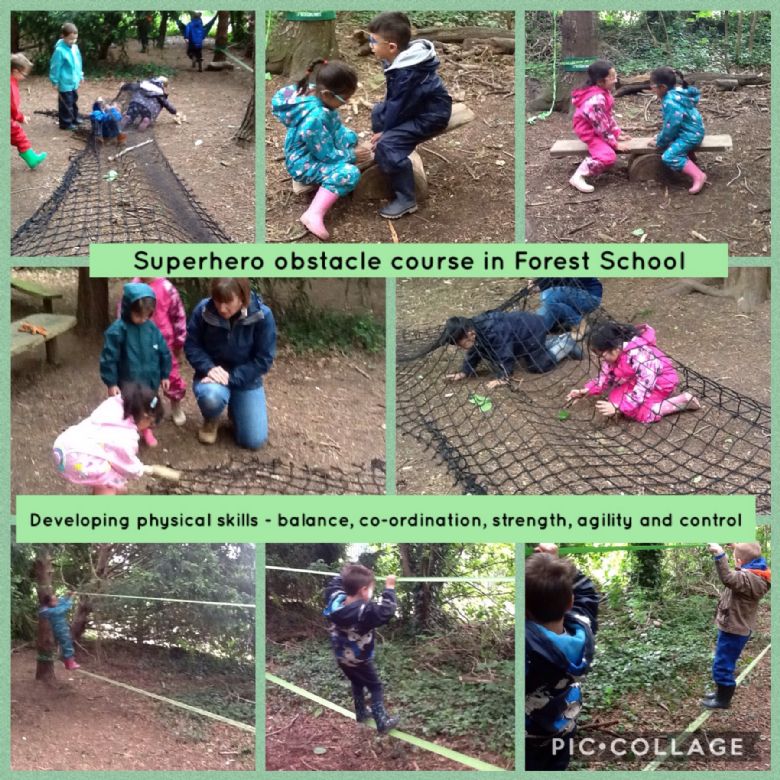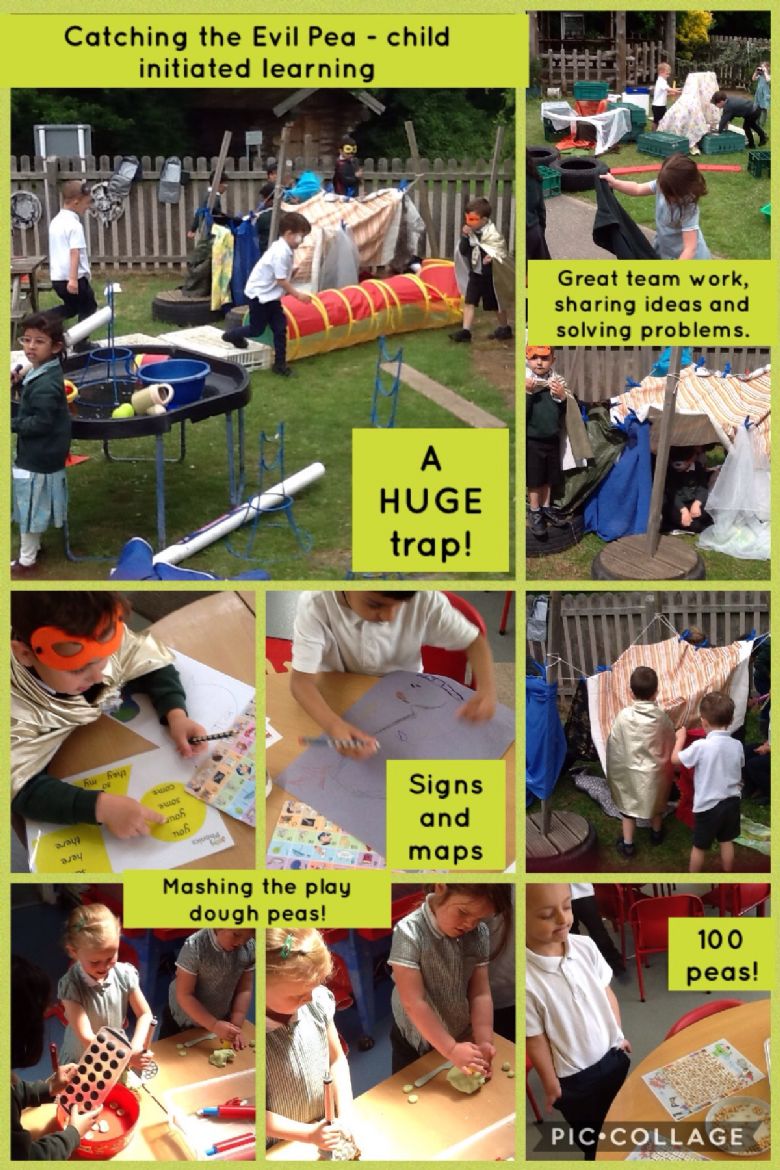 Week beginning 3rd May - Supertato continued!
This week the Evil Pea has been on the loose in Oak and Willow! We created traps to catch him as well as our own Supertatos to go to the rescue! In Forest School we had great fun making superhero hide outs and dens, creating our own stories as well as retelling and acting out the Supertato story.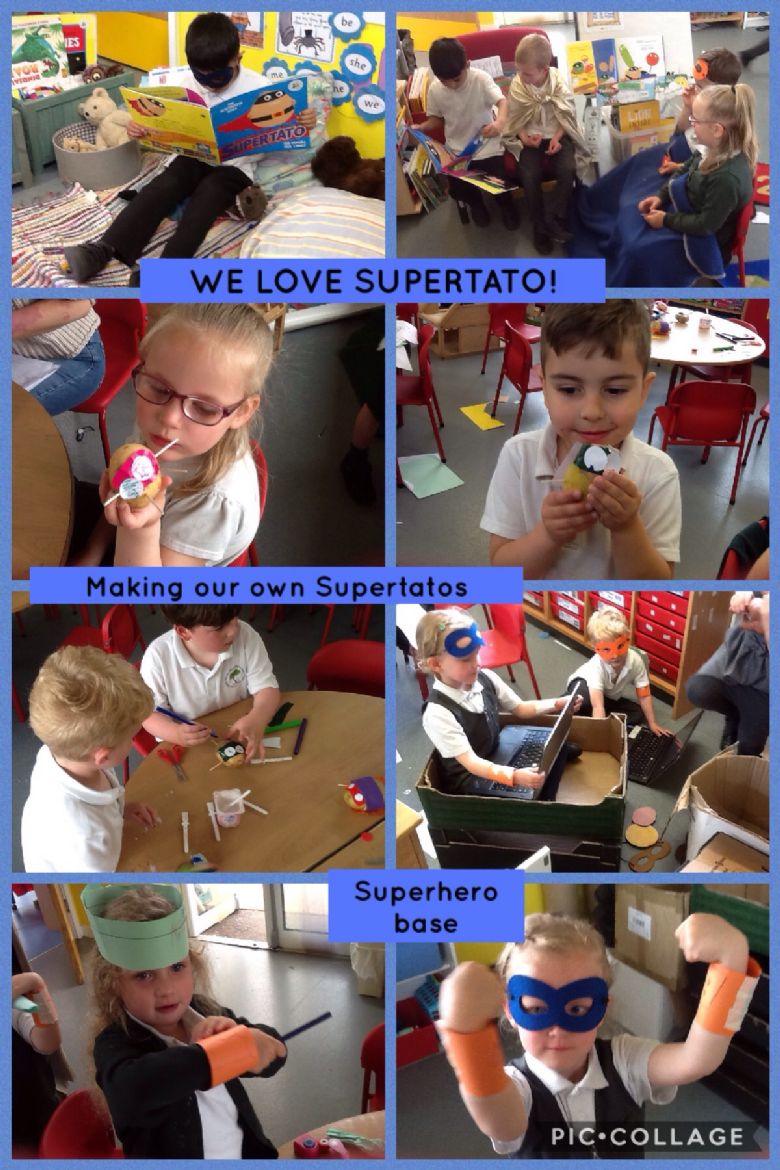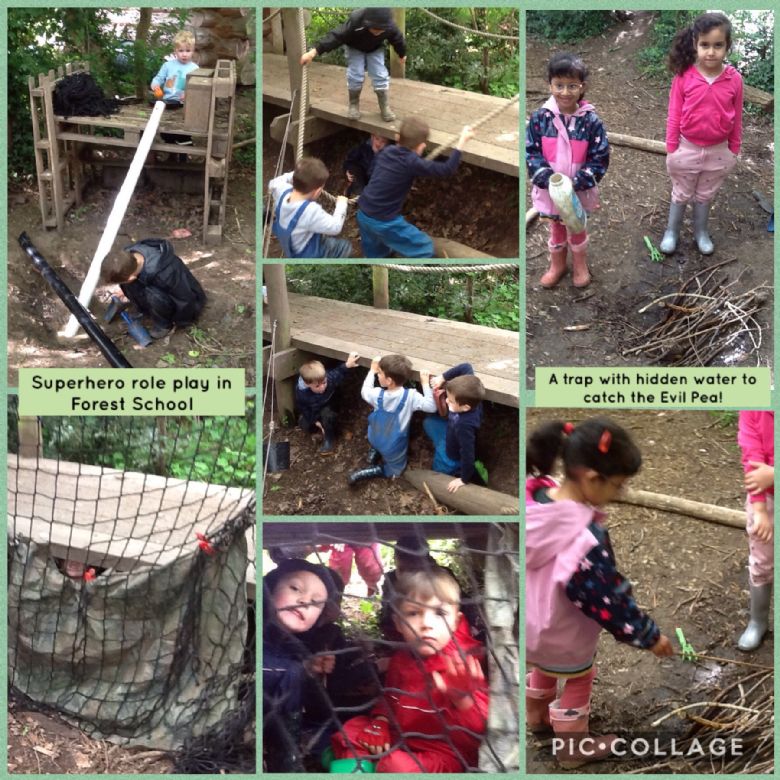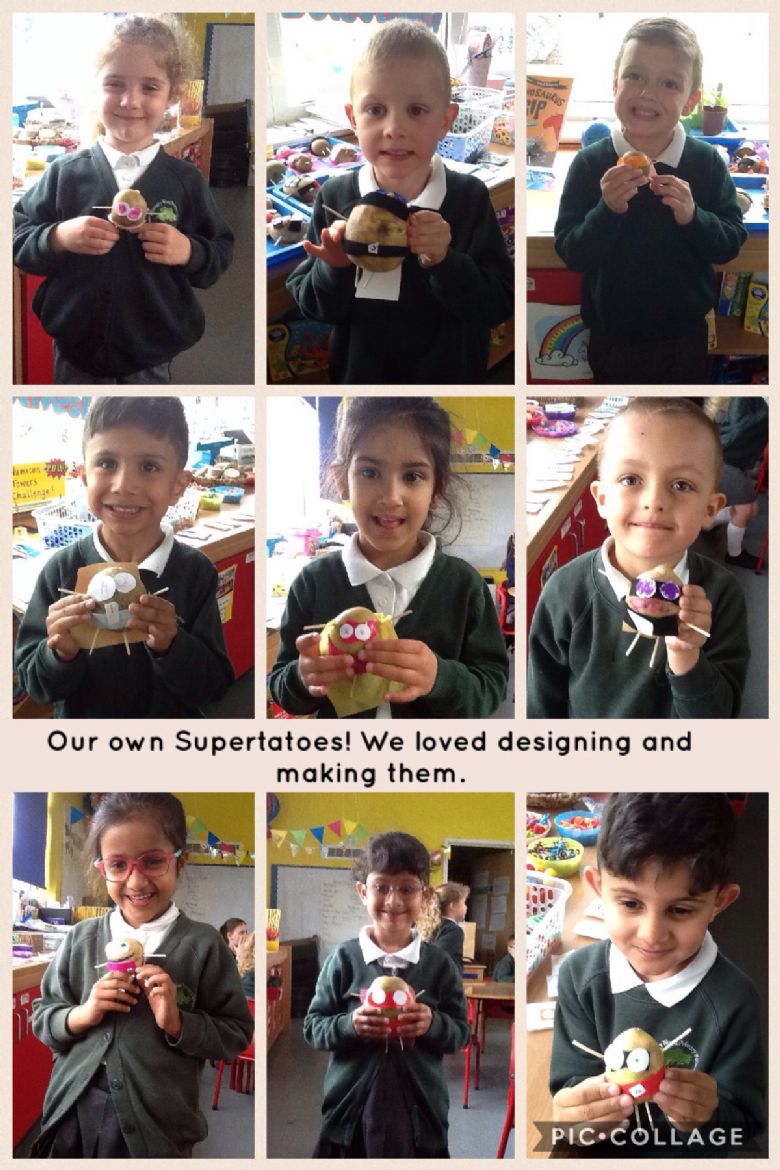 Week beginning 25th April - A New Theme: 'Super - Powered Super Heroes!'
Story of the Week - Supertato By Sue Hendra & Paul Linnet
We have had a very busy first week back after the Easter break with some very special events too.
On Monday we had a surprise visit from our local police team to start our 'Super Heroes' theme. We absolutely loved meeting them, learning about their job and getting to see all the equipment that they use, including the police van. We asked lots of questions and enjoyed exploring the van, especially when we got to put Miss Cother and Mrs Cooper in the back and close the doors!
On Tuesday we had a delivery of a new storybook and it was one of our favourites: 'Supertato'! We have listened to it everyday and are getting very good at joining in with retelling the story. This week we have designed and labelled our own veggie super heroes and begun learning about why fruit and vegetables are 'super heroes' that can help to keep us super healthy.
This week was also very special because Mrs Way, Willow's TA, retired after working at Nunnery Wood for 19 years! We had a secret super- hero mission to help with in planning a special Forest School party for Friday and making some special things for her. We had a lovely day on Friday helping her to celebrate and say goodbye, as well as being very brave when performing her favourite song: 'Farmer Pete' to the whole school in a special assembly. Happy Retirement Mrs Way and thank you so much for being a very special TA, we can't wait to see you again on our trip to the farm park in June.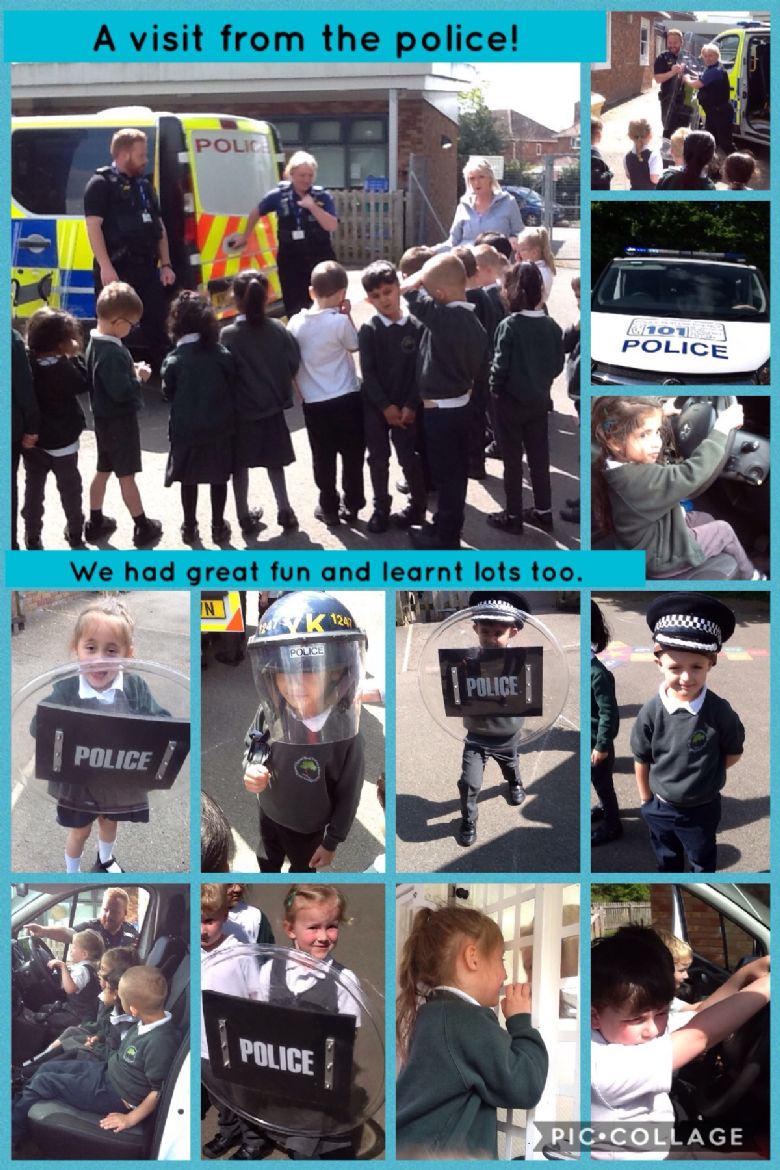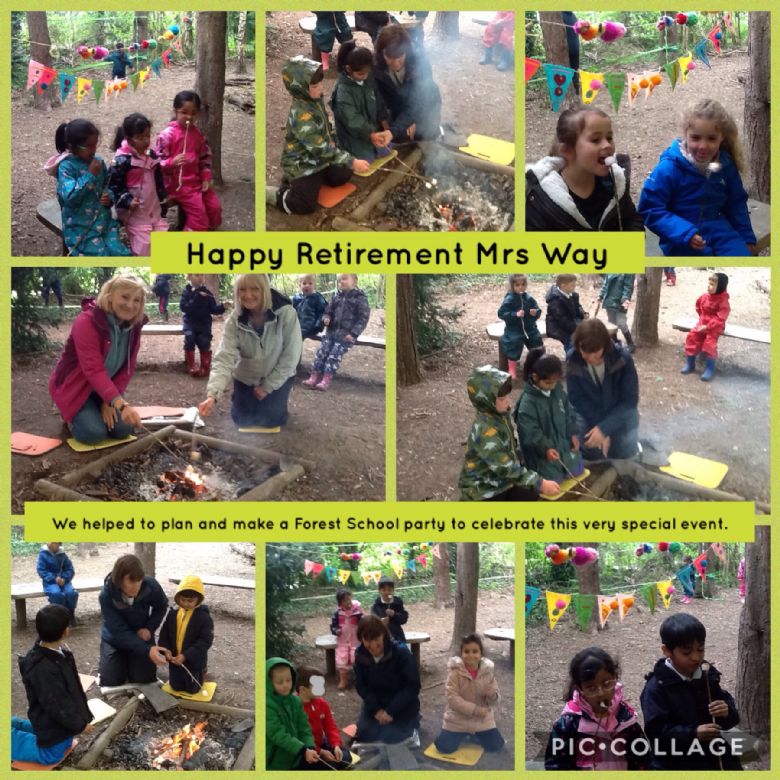 SPRING 2 2022
Week beginning 4th April - Spring Has Spring.
Preparing for Easter
Story of the Week - The Easter Story
- Supertato - The Great Eggscape
Song / Rhyme of the Week - 5 Little Ducks
In the last week of term we have been learning about the Christian celebration of Easter, we loved the story and listened to it so carefully so many times! We have also spent lots of time looking for signs of Spring and new life and have really enjoyed our new hammocks in Forest School, a great way to relax and listen to the birds singing. Our Easter cards have been inspired by Spring and symbols that are connected to Easter as well as our chicks, we also made special decorated eggs to hang up at home and chocolate Easter nests. We had to listen and follow instructions carefully to know exactly what to do. A lovely way to end a very busy and long term! Happy Easter everyone.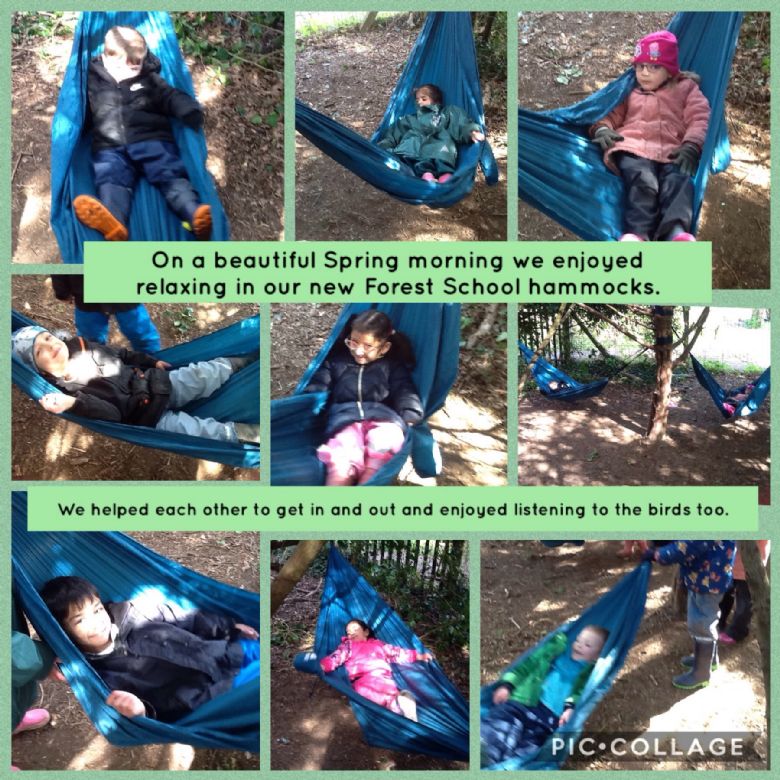 Weeks beginning 21st & 28th March - Eggciting Eggs!
Stories of the Week: Dora's Eggs (21st March) / Dora's Chicks (28th March)
Song of the Week - Farmer Pete had 10 Sheep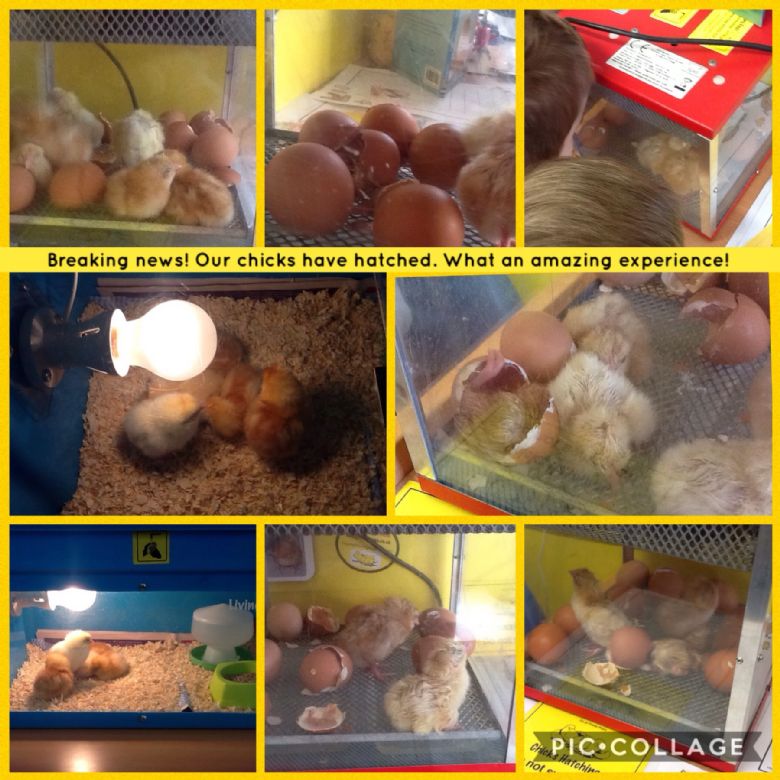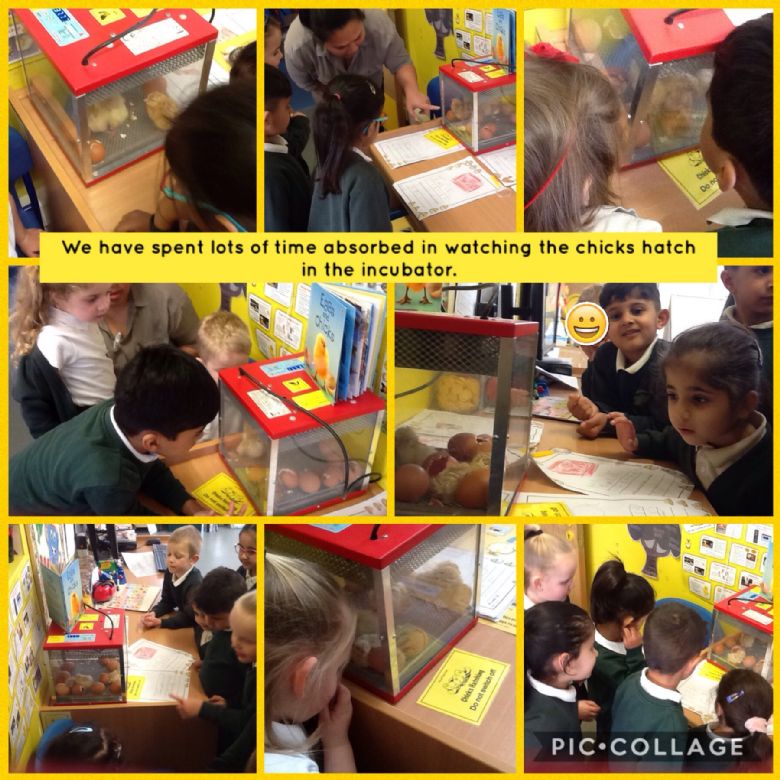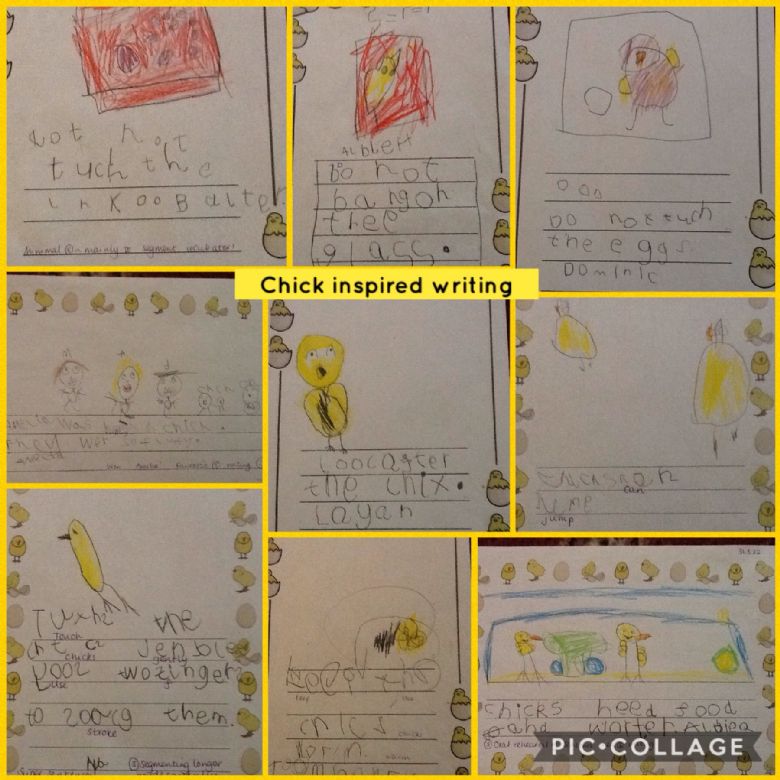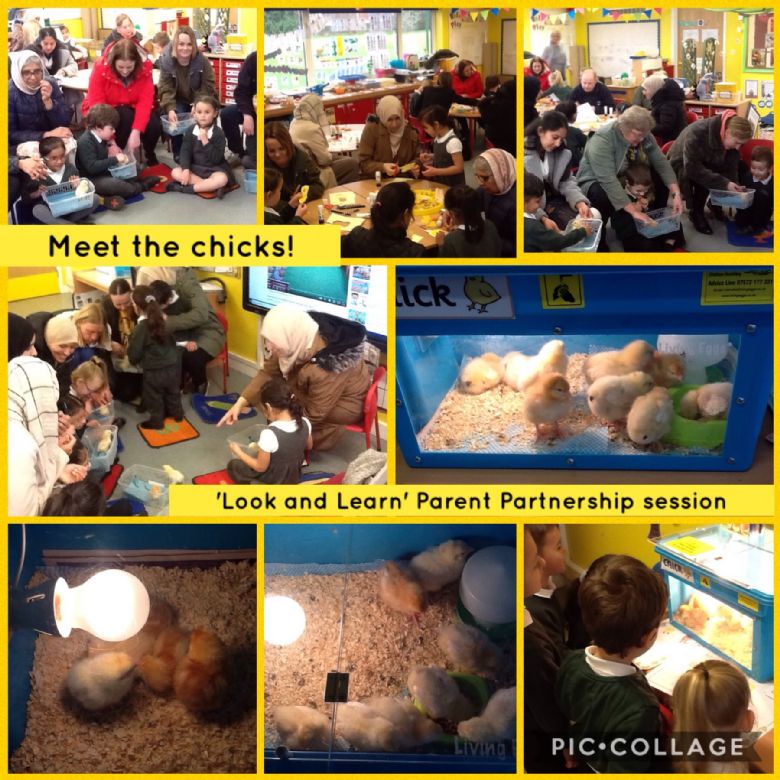 What an amazing experience! We have loved watching the chicks hatch from their eggs, seeing them grow and learning how to care for them. We have learnt so much in just two weeks, including being inspired to do lots of writing to make sure everyone knew how to look after the eggs and chicks. We shared this and everything we had learnt with our grown-ups from home when they came in for special 'Meet the Chicks' mornings in school. We loved being able to get them out of the brooder box and hold them, some of them were very confident and liked walking off around the classrooms! It was sad to say goodbye to them, but we know they are going to live on a lovely farm where they will be looked after well.
Did you know?
A chick takes 21 days to develop and then hatch from the egg.
Brown chicks are girls and yellow chicks are boys.
They hatch in an incubator and when they are dry they are moved to a brooder box. It is very important to keep the chicks warm as if they were under their mummy hen.
Only move a chick from the incubator to the brooder box when it is completely dry, after 24 hours which is a whole day.
Weeks beginning 7th & 14th March - Dinosaur Drama!
Story of the Week - Tyrannosuarus Drip by Julia Donaldson / Dinosaur Roar by Paul and Henrietta Stickland
Rhyme / Song of the Week - Ten dinosaurs jumping on a log
New words from our story - swamp, waterfall, reeds, river, volcano, reflection
New Words linked to this theme - fossil extinct prehistoric
What a start to Monday.... We had some dinosaur eggs delivered for our dinosaurs but over lunchtime they disappeared!! We found a note to read from the dinosaurs asking for our help so we set off to find the eggs. We checked the classroom, asked lots of adults in school and finally ended up looking in Forest School where we found the eggs and a new story 'Tyrannosaurus Drip'. Back in the classroom we made nests and inventions to protect the eggs and now we are waiting for them to hatch out, we cannot wait to see which dinosaurs they are!
The dinosaur eggs got us very excited! We found out about different dinosaurs and their features and used this information to guess which dinosaurs might be inside the eggs - drawing and labelling them. We even made our own nest to fit all of us in during Forest School.
When the eggs hatched out we discovered they were toy dinosaurs and not real ones because dinosaurs are EXTINCT and lived millions of years ago - that's a long time! We ten had a delivery of fossils and found out about the jobs of people called 'palaeontologists' who find out about dinosaurs by looking at their fossils, which are bones and parts of creatures that have been turned into stone. The Natural Histoyr museum website, Andy's Dinosaur Adventures on cBeebies and information books helped us learn lots of facts. Then we made our own fossils with salt dough, carefully uncovered dinsosaur skeletons in our sand pit, carefully looked at and made line drawings of fossils and did some giant dinosaur sized measuring finding out about dinosaur footprints! Lots of us chose to pretend to be Andy from cBeebies and travel back in time to have our own dinosaur adventures! We made our own backpacks, time travelling machines and clocks to use in our role play using lots of creative and imaginative skills.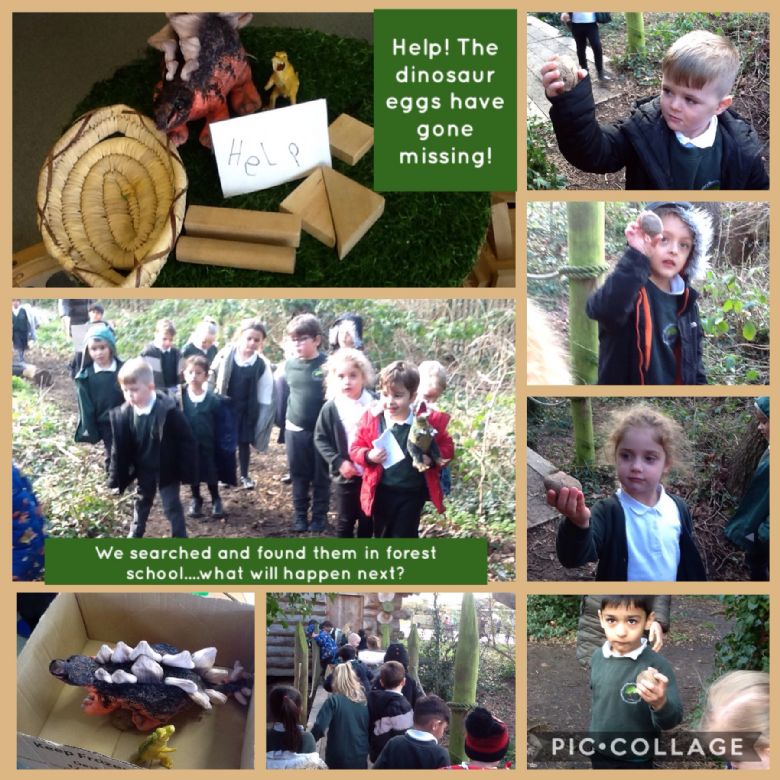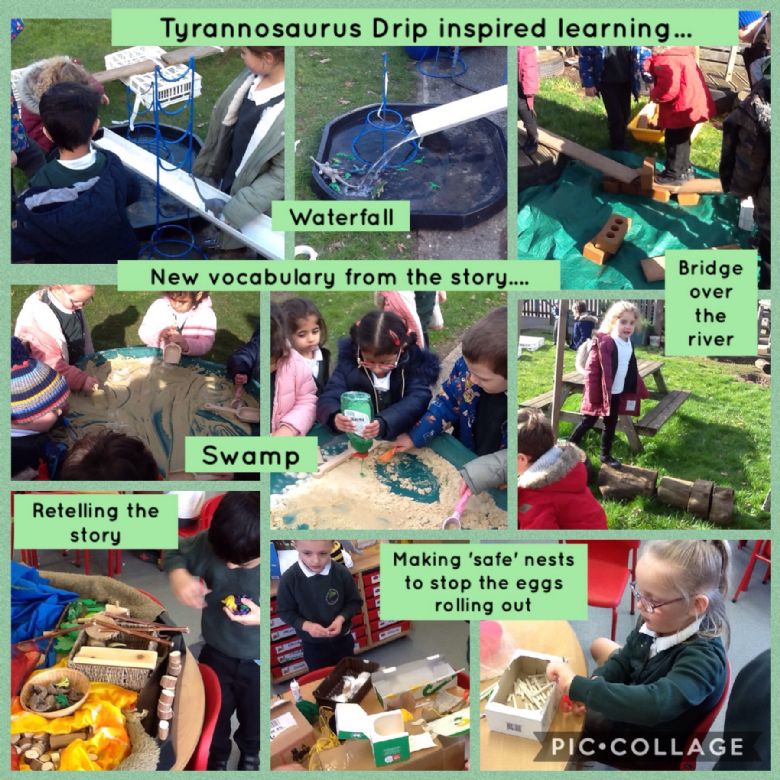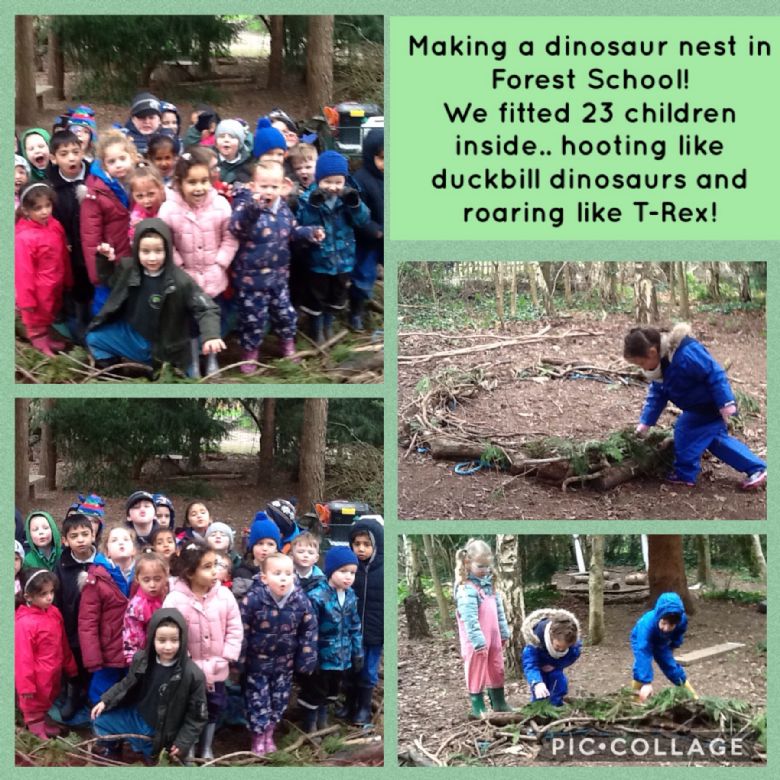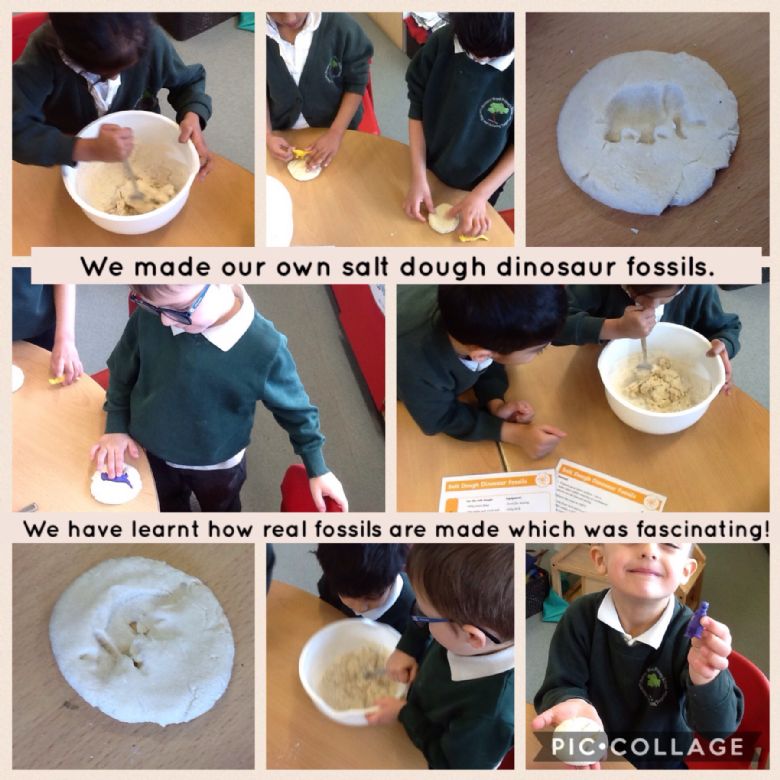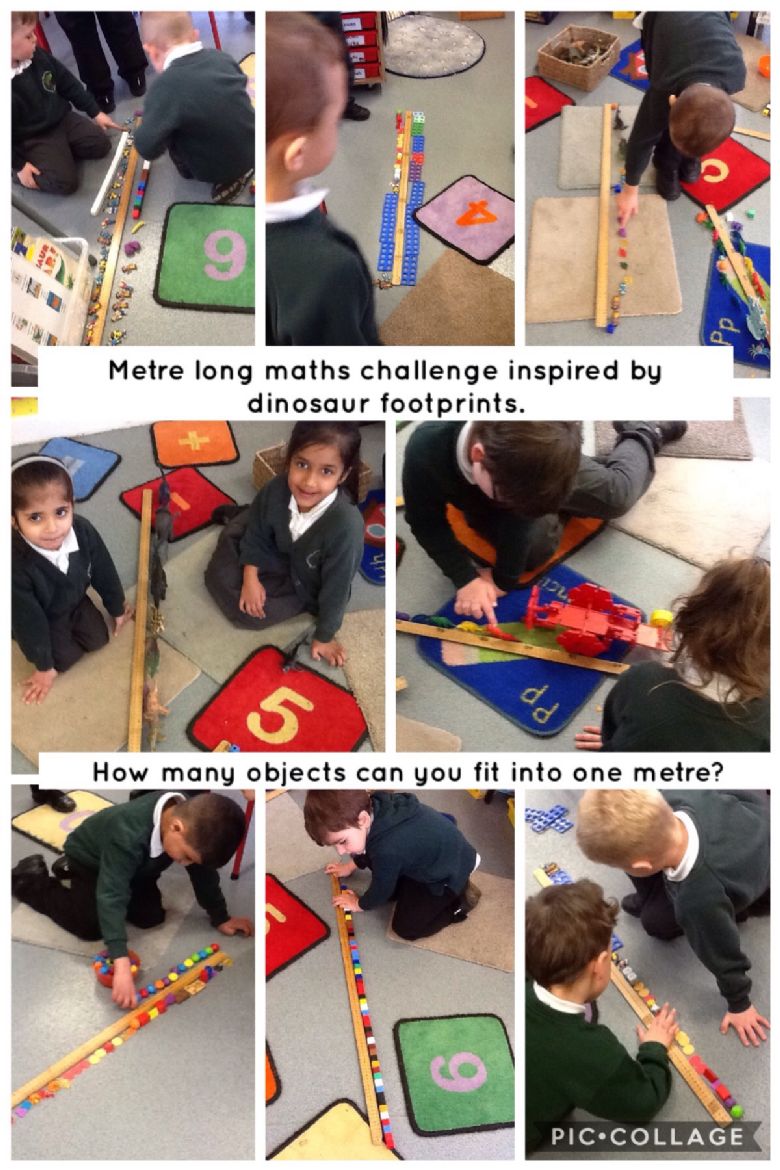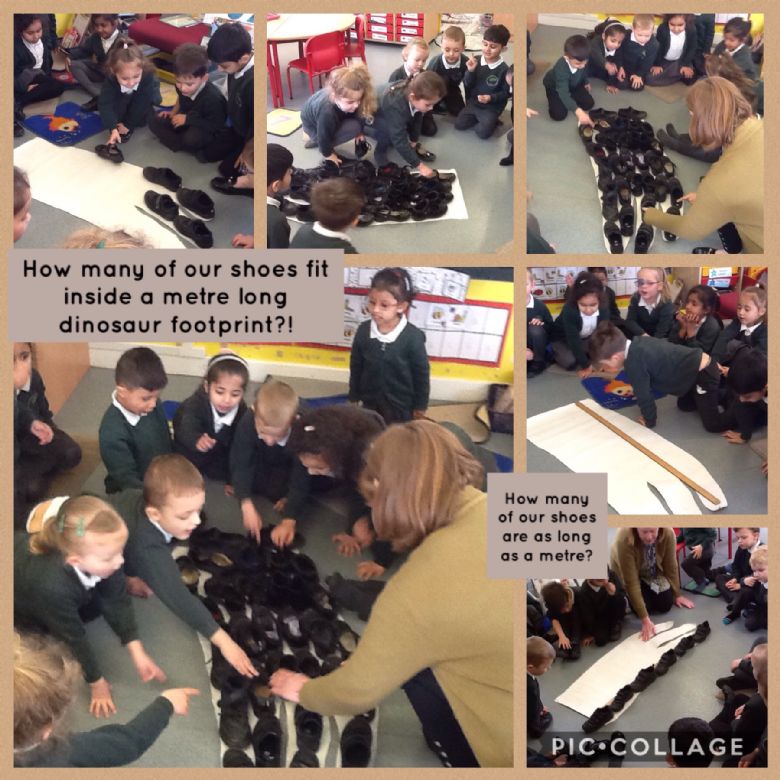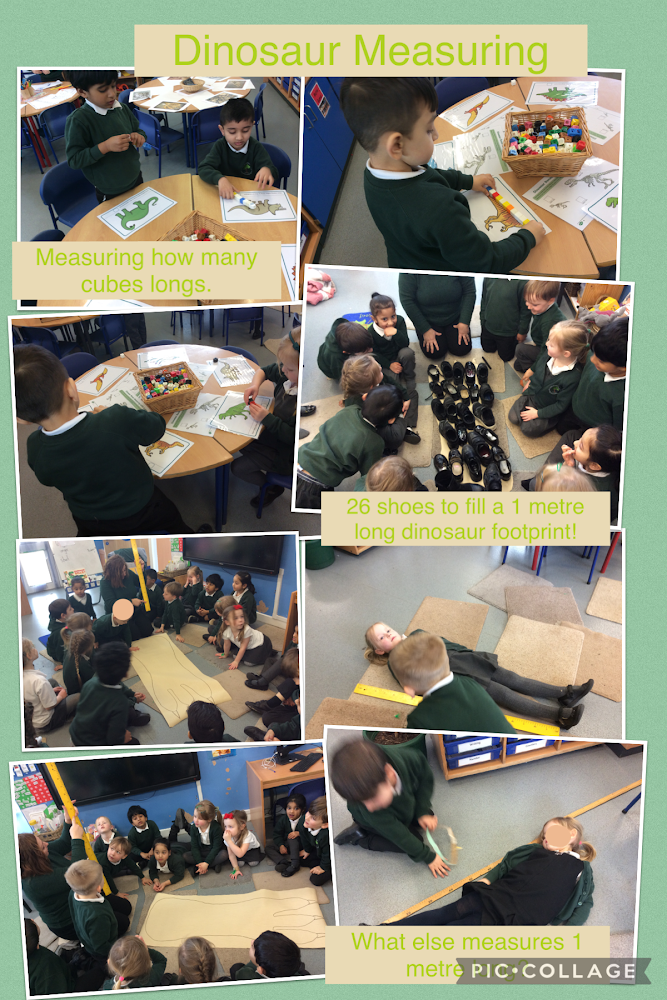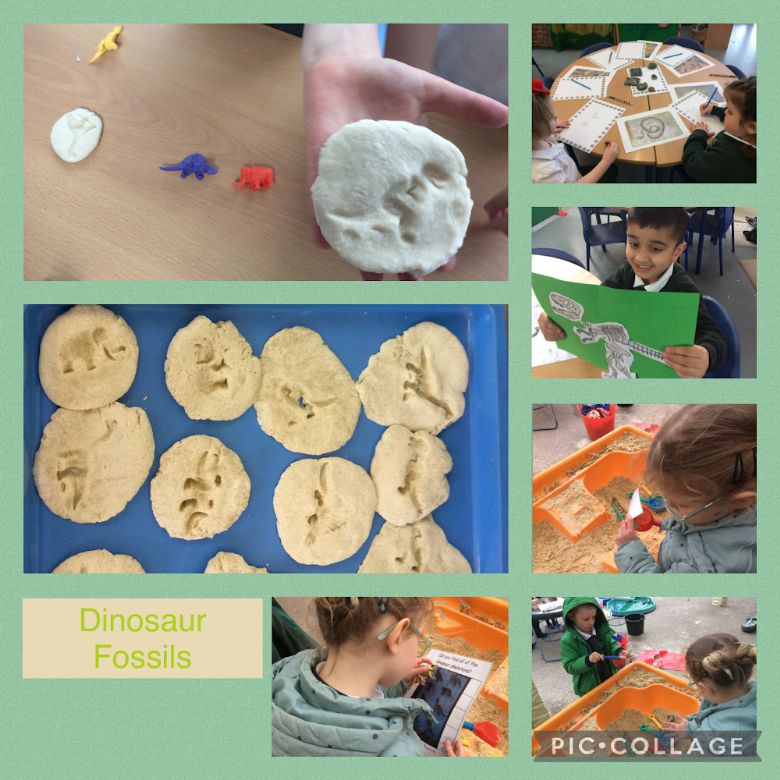 Week beginning 28th February - World Book Week & Pancake Day
Story of the Week: Mr Wolf's Pancakes by Jan Fearnley
Rhymes of the Week: Each Peach Pear Plum by Janet & Allan Ahlberg
We have had a great week for World Book Week. Our story was Mr Wolf's Pancakes as it was Pancake Day on Tuesday and we all loved helping Mr Wolf to make pancakes; they were delicious!
We visited The Hive library in town which was really exciting, especially as most of us had never visited there before. We had a story from Sarah the librarian and joined in with a great rhyming song too. We enjoyed exploring and looking around, finding lots of books that we were interested in.
On World Book Day we all dressed up and lots of us came as characters from rhyming stories or nursery rhyme, including all the grown-ups who were characters from Julia Donaldson books. We created our own poem inspired by signs of Spring for our school book - A Year of Poems.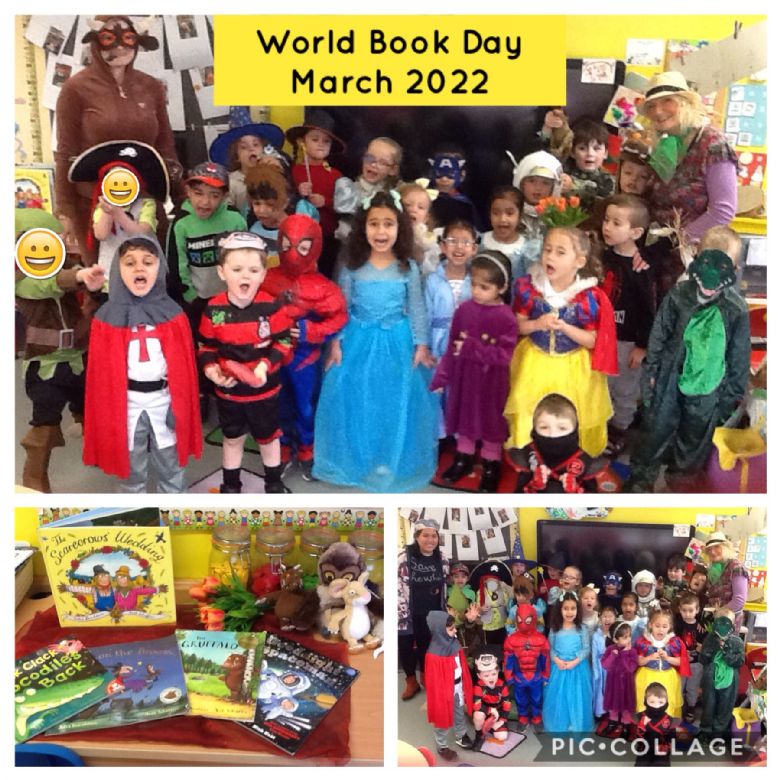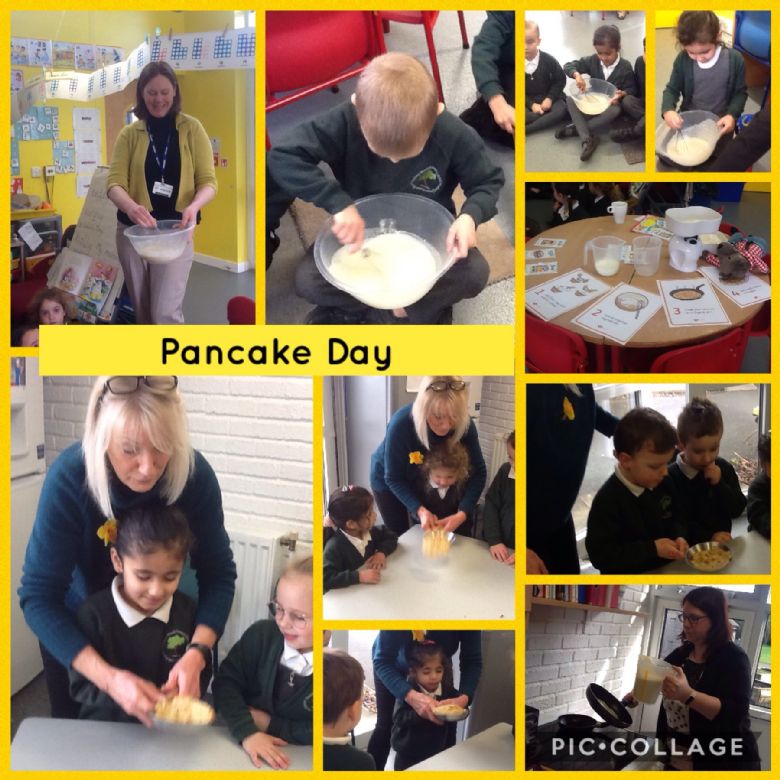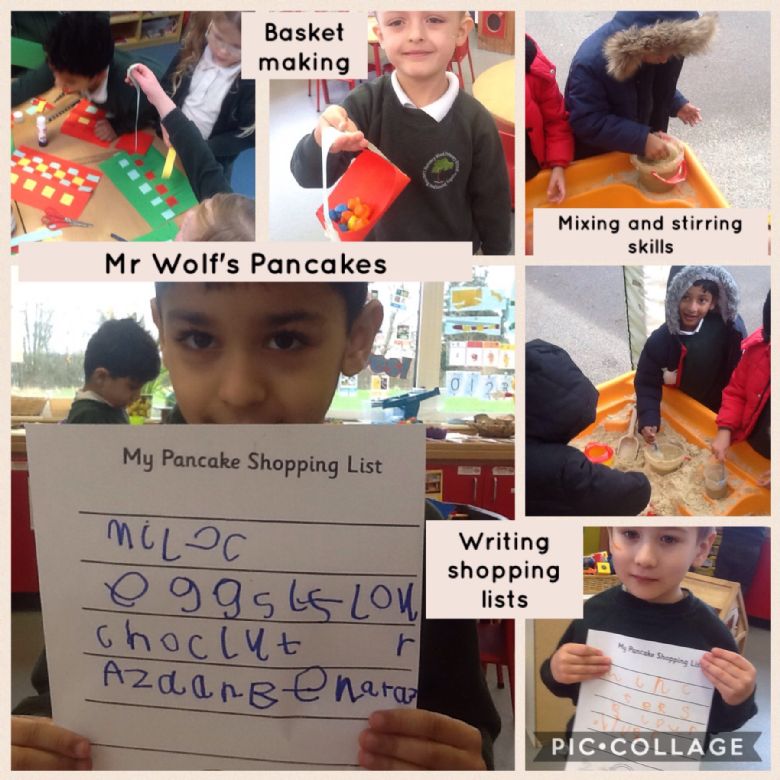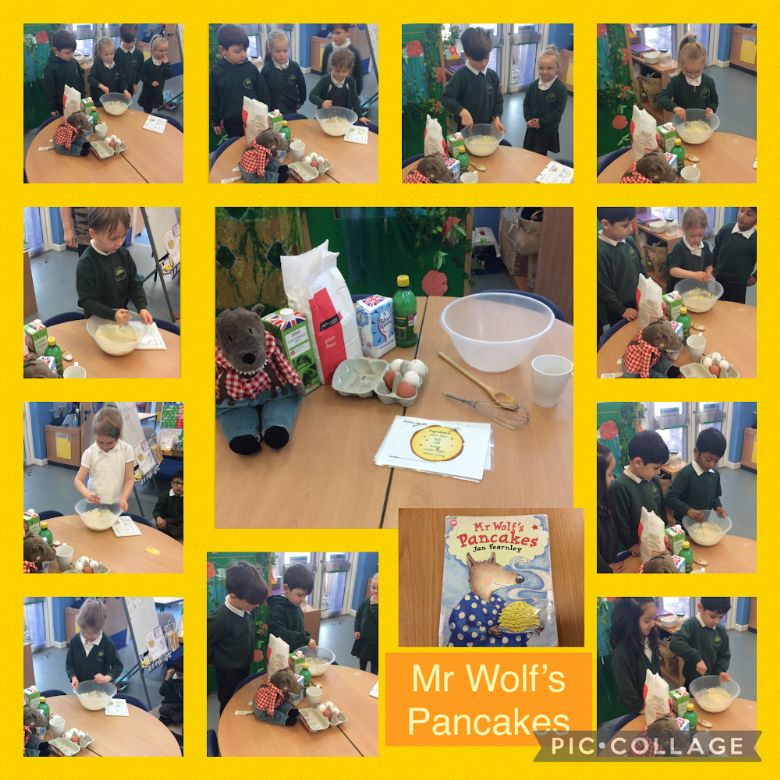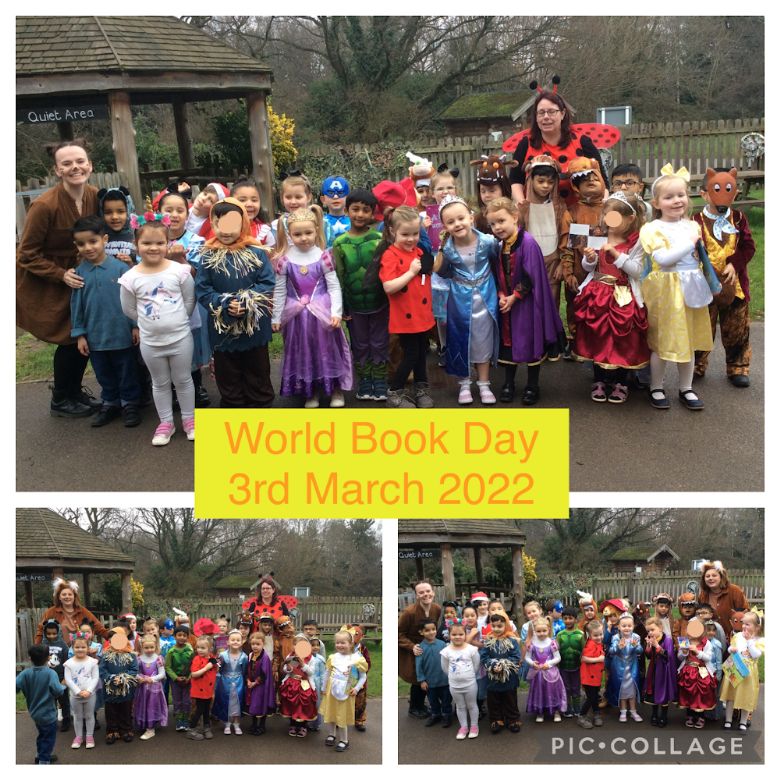 SPRING 1 2022
A VERY windy day - Friday 18th February!
On the last day of half term there was a big storm called Eunice that we were all fascinated by. It made it so windy that we could not go out into the woods for Forest School because we needed to stay safe inside away from the trees. We watched the wind and how the trees were bending and swaying in the wind and made windmills and kites to use when the wind was a bit less strong! We needed to follow instructions, cut carefully, solve problems and use our creative skills to decorate our kites and windmills - we loved this activity and everyone learnt about windmills too, it was a new word for lots of us!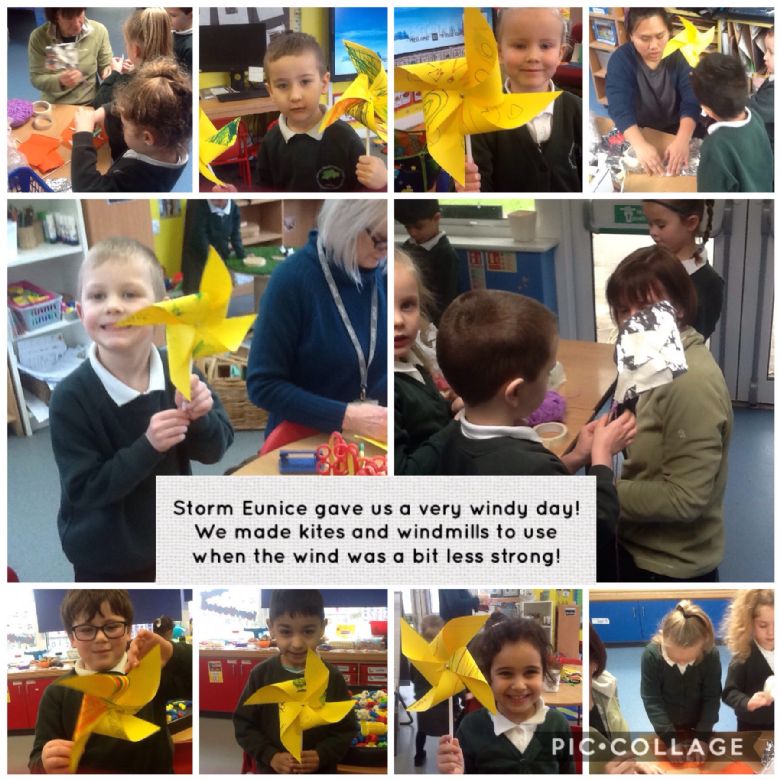 Weeks beginning 7th & 14th February - Goldilocks and the Three Bears
Story of the Week: Goldilocks and the Three Bears
Song of the Week: When Goldilocks went to the house of the bears
We are finishing this half term using the traditional tale of Goldilocks and the Three Bears to inspire our learning, one of our favourites. We are loving joining in with the story and using different voices for each character. In Forest School the Three Bears had left us everything we needed to make porridge over the fire! We loved measuring the ingredients and carefully stirring the porridge, watching as it changed. Some of us spent lots of time looking for the bears house, we think they might live in the big Nunnery Woods at the Countryside Centre! We also explored mixing the colour brown and creating textures in paint, to make it like bear fur. We used what we had learnt to create our own textured paintings of bears.
We thought and talked a lot about the choices that Goldilocks made and how the characters felt too. We decided that Goldilocks should say sorry to the bears and remember not to touch or eat other people's things or go into their house without asking. We also thought that the bears could try different ways of saying they were angry and unhappy other than shouting and chasing Goldilocks which made her feel scared. We used our ideas to help us write letters and make maps so that Goldilocks could find her way back to the bears.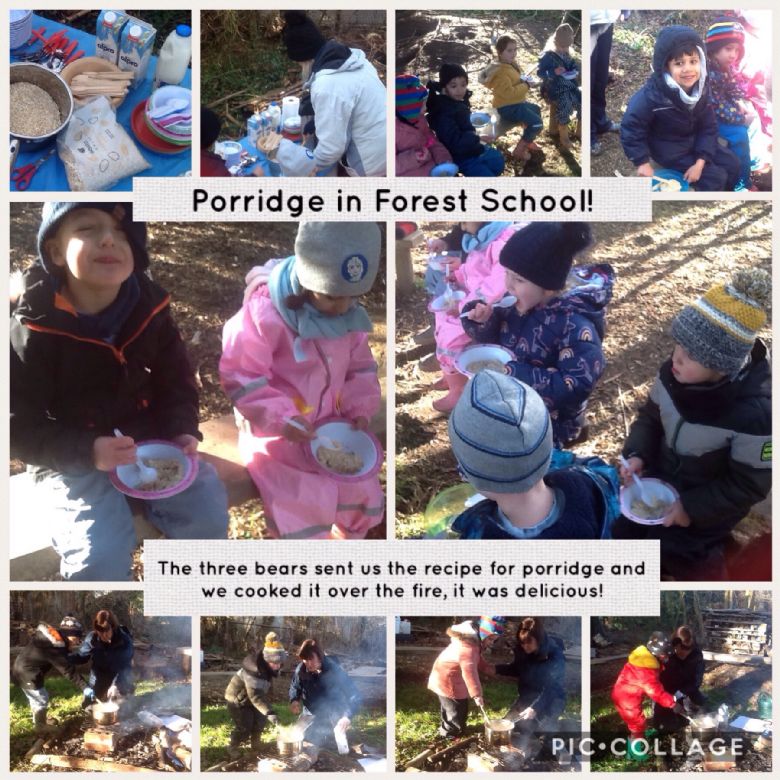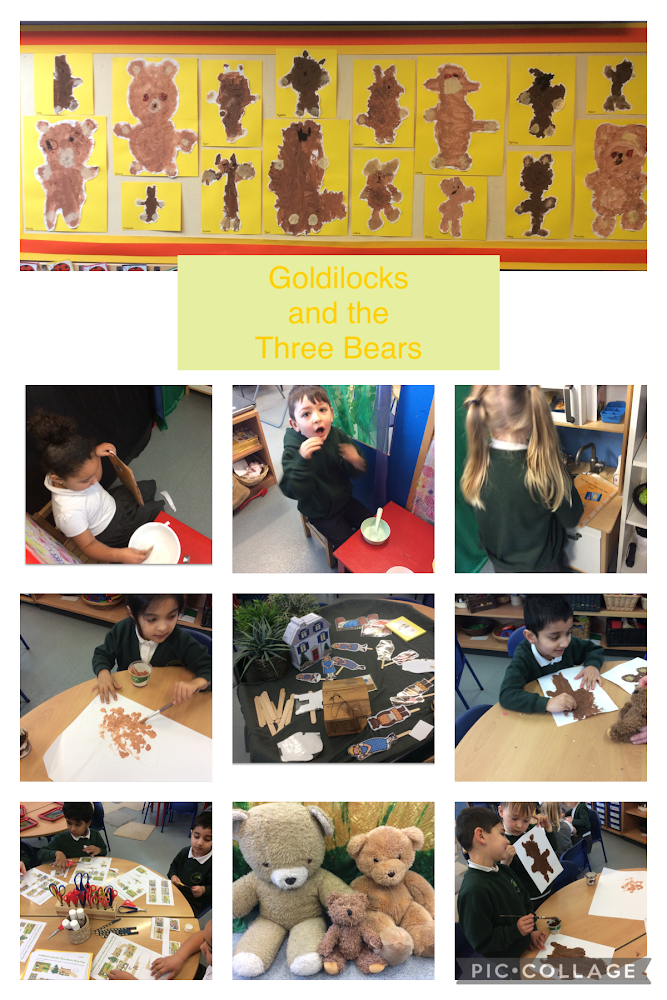 Magnificent Maths - This week a group of boys have been very interested in and absorbed by exploring large numbers and amounts using the Numicon, making 1000 on Friday afternoon! They found out that 10 groups of 100 made 1000 which was very exciting!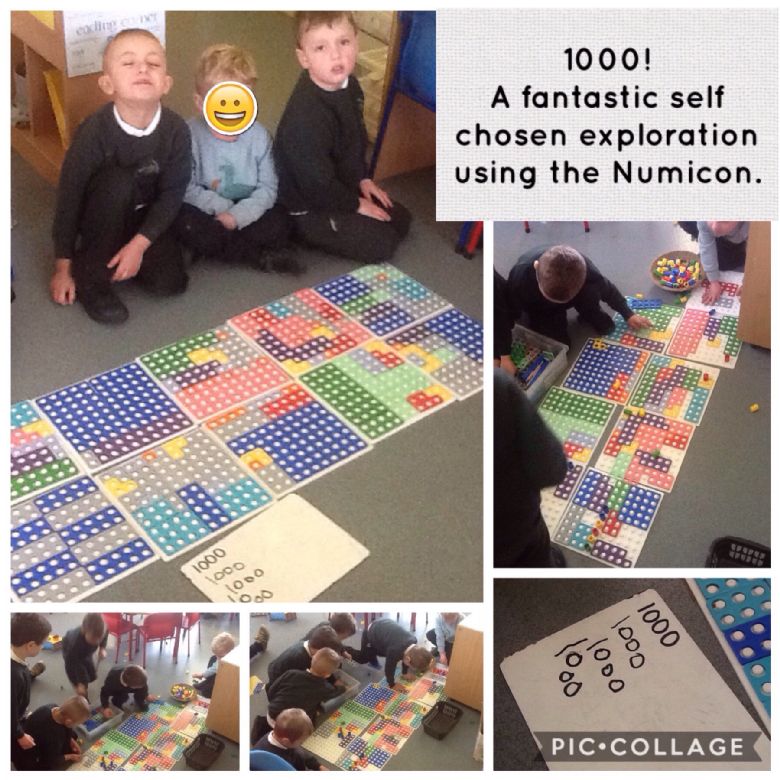 Week beginning 31st January - Chinese New Year
Stories of the Week: The Great Race & Li's Chinese New Year
Song of the Week: Chinese New Year is Here Again
We really enjoyed learning all about China and Chinese New Year, this year it is the year of the tiger and we had a special celebration day on Tuesday 1st February. One of the children in Willow has Chinese heritage and was very excited to share his family's celebrations with us, as well as bringing everyone a special fortune cookie. We got to taste some new food too - spring rolls, dumplings and prawn toasts, delicious!
We loved finding out about how different China is to England and especially loved learning about the Great Wall of China which we recreated inside and outside. The Chinese lucky number is 8, so we learnt the pairs of numbers that make a total of 8 as well as having a go at writing numbers in Manadrin, a Chinese language. In our PE lessons we tried dragon dancing as well as creating moves to accompany the song we learnt 'Chinese New Year is Here Again'. We also explored and chose instruments to use to accompany the song and make sounds to match the different words and actions.
We enjoyed so many different activities - writing new year wishes and menus, setting up and running our own Chinese restaurants, creating our own dancing dragons and tiger masks, trying Chinese writing and painting with different brushes inspired by the story of The Magic Paintbrush which we listened to in Forest School before making our own mud paint and leaf paintbrushes. We were also fascinated by dragons and used an information book to find out more. What a busy and interesting week of playing and learning!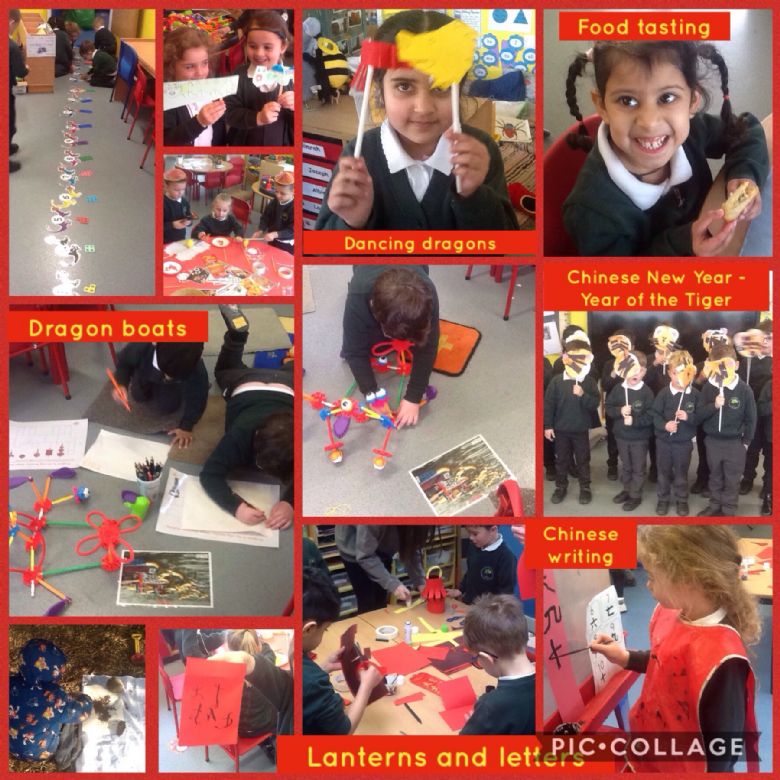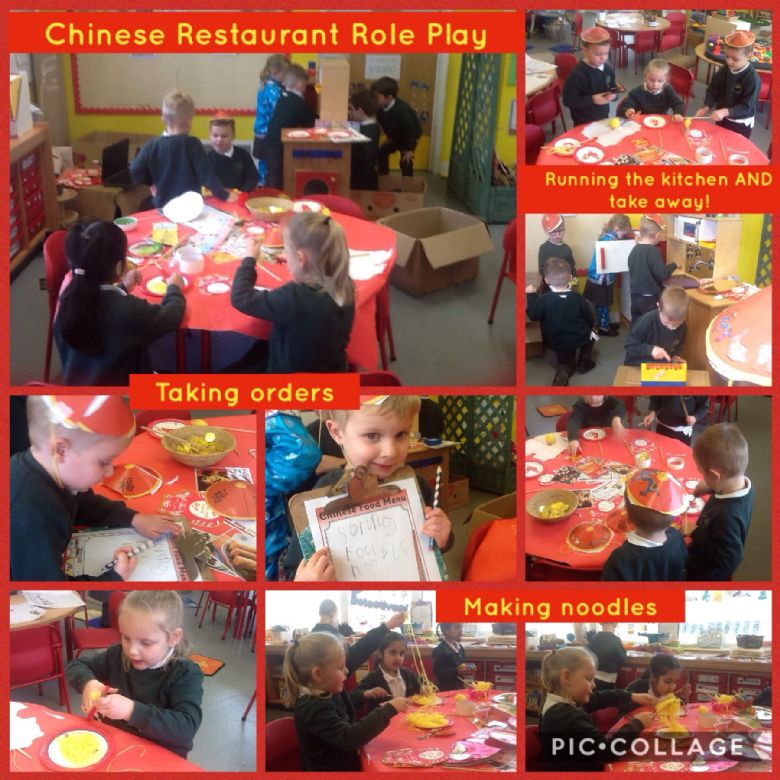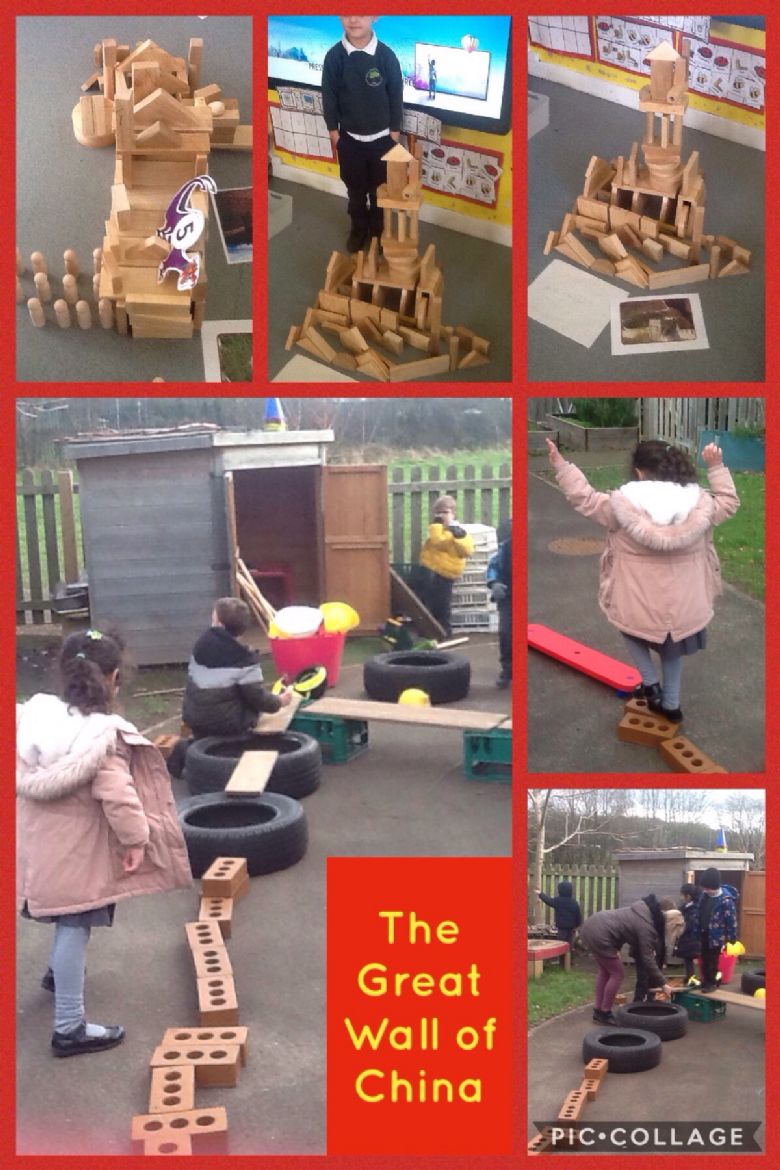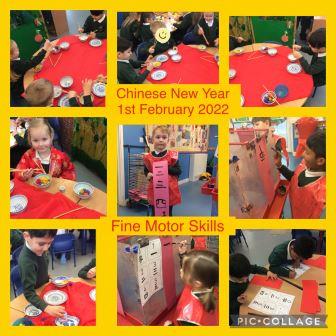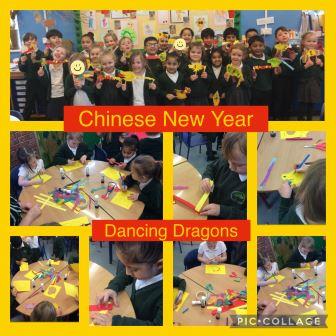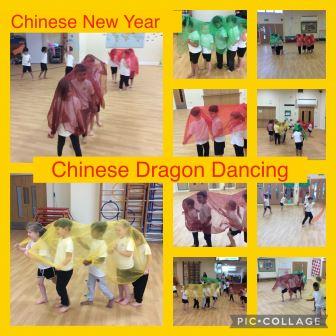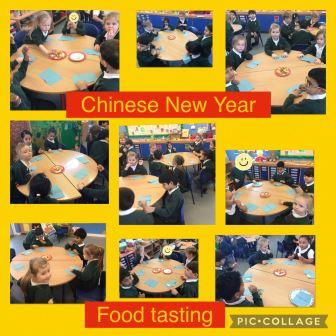 Our New Theme - Toys and Teddies
Our Stories of the Week:
Kipper's Toybox by Mick Inkpen
Where's My Teddy? by Jez Alborough
Songs and Rhymes we are learning:
Ten in the Bed
Teddy Bear, Teddy Bear Turn Around
Kipper's Toybox....and more!
This lovely story has been inspiring lots of our learning so far this half term. We have been reading it every day and joining in with parts that are repeated, especially all the counting; we have had to help Kipper to count slowly and carefully to be accurate!
Kipper's toy 'Sock Thing' came to life!! We made our own Sock Things and created repeating patterns whilst we were making them, we had to plan and work carefully. We also brought our own favourite old soft toy or teddy into school for the day and are creating pastel artwork and writing for a special book about them. Lots of us had our special toys and teddies when we were babies so they are 4 or 5 years old, and 'old' to us!
We have also explored different materials that toys are made from and did some fantastic sorting and talking about different toys. In the creative area we have been investigating and exploring lots of changes in materials as we have played. We loved the 'Water Beads' which grew and changed when water was added to them. We have mixed our own powder paint colours, exploring how to make paints not too thick or too runny as well as adding things to paint to change the texture.
Lettie created a pop up moving picture which we loved and used this idea to inspire us all to create our own moving and pop up pictures of our favourite toys.
Outside it has been cold so we have done lots to keep warm and develop our physical skills using our new scooters, trike and balance bikes. One cold and frosty day we made a race track and made sure it was kept swept clear of ice so that it wasn't too slippy, using the brooms really helps with our upper body strength too. We have also carried on with our Forest School Fridays, especially enjoying making new pathways with the pine chippings; we needed lots of teamwork to do this job!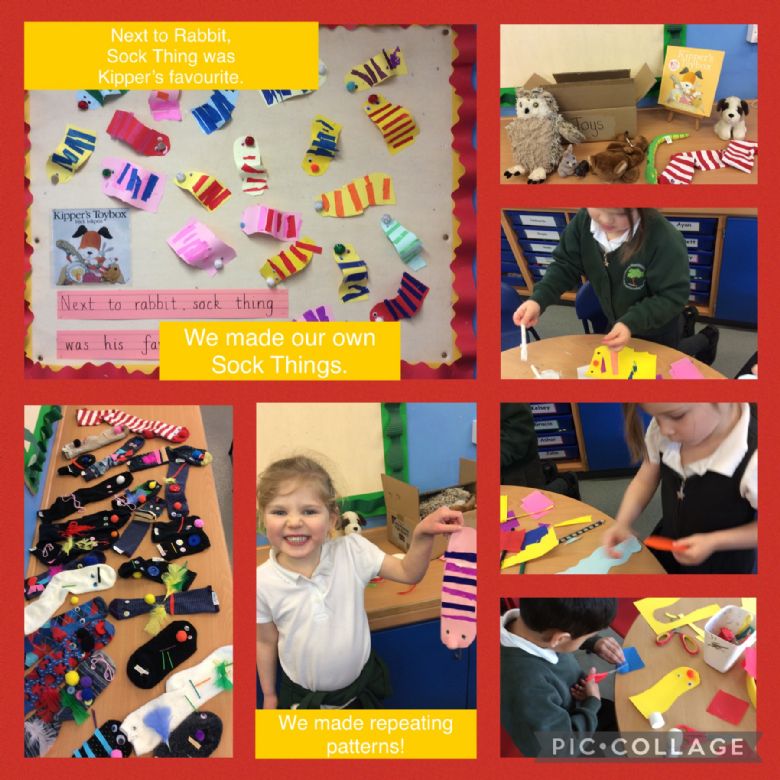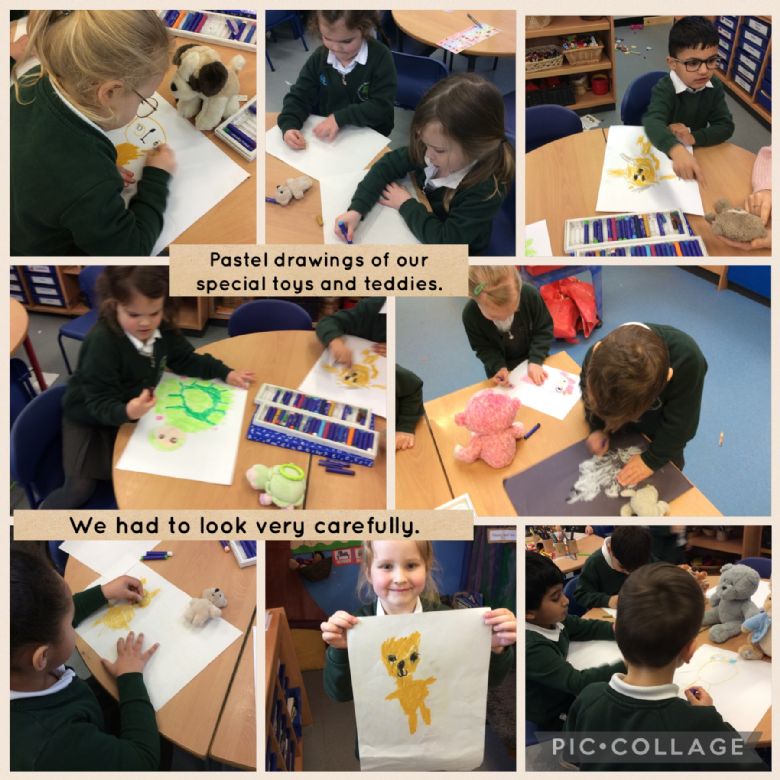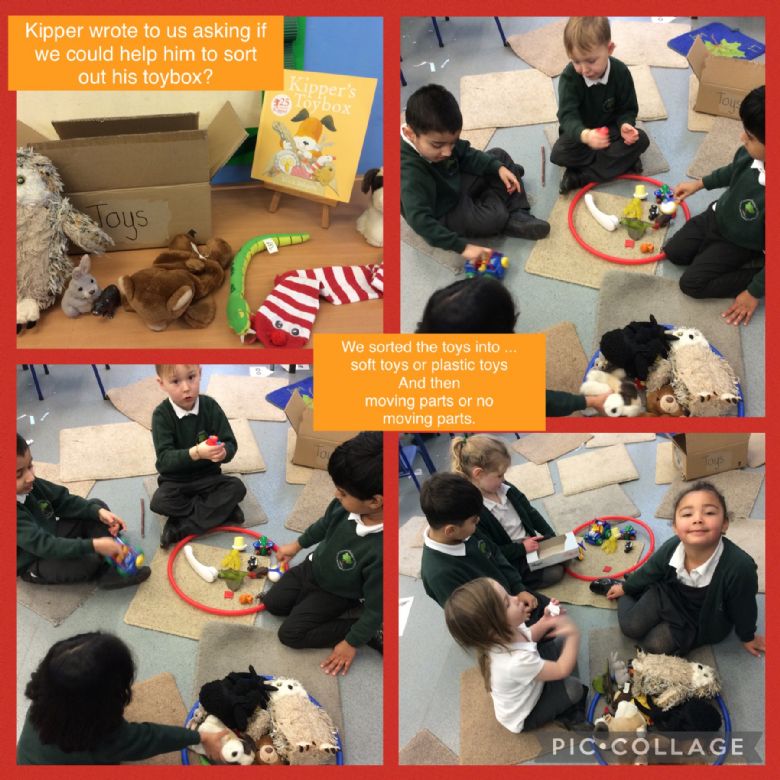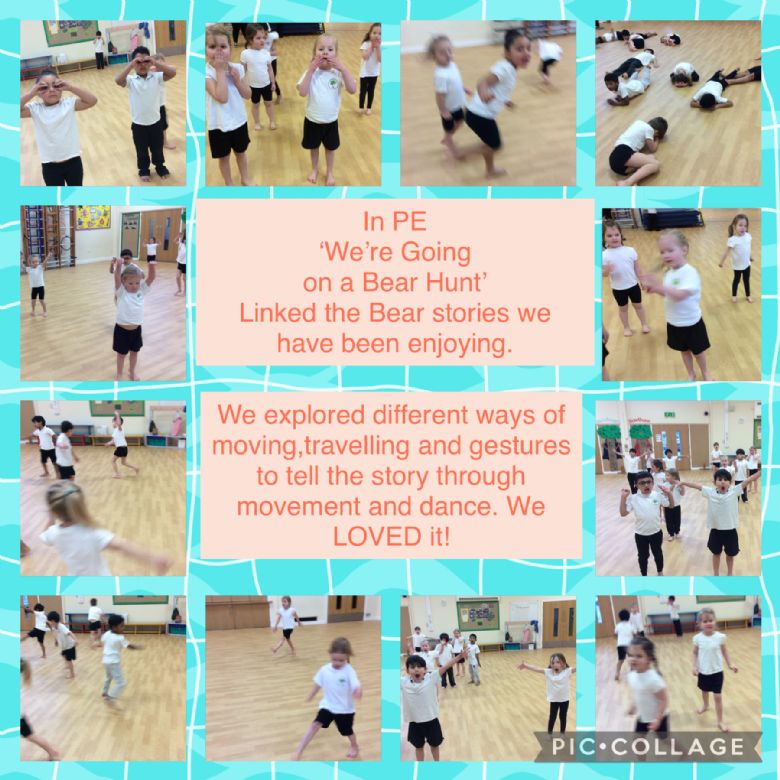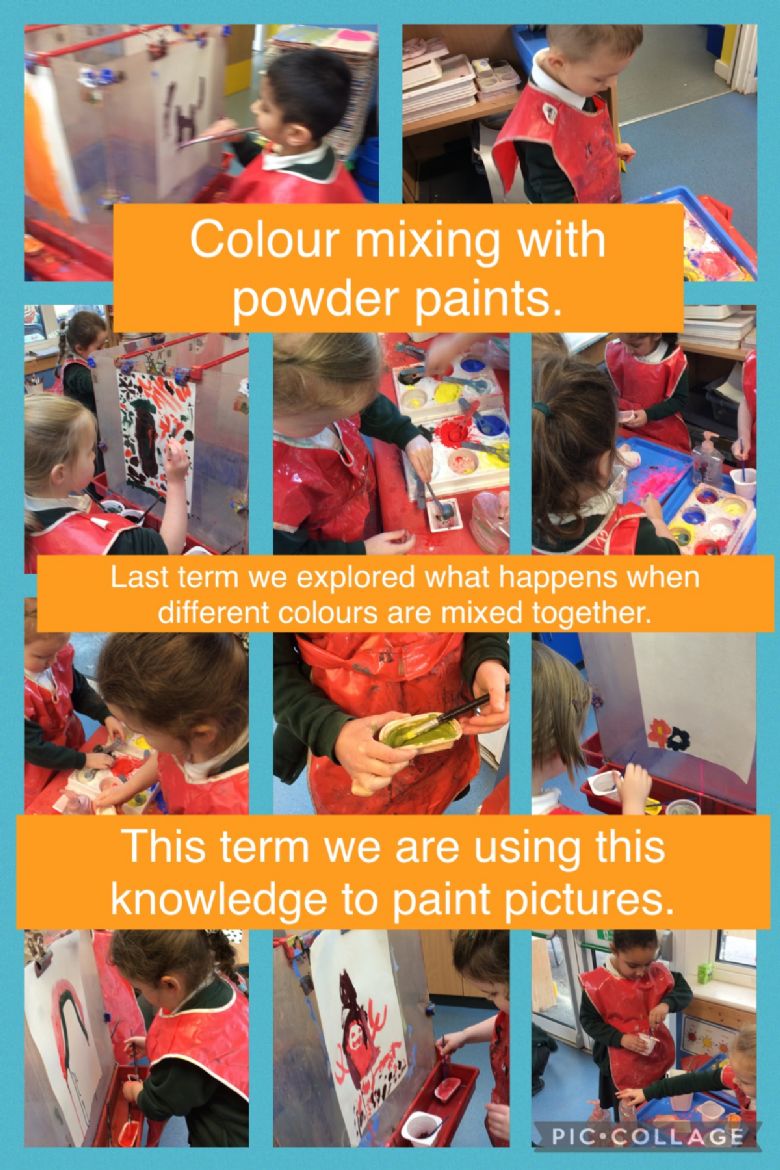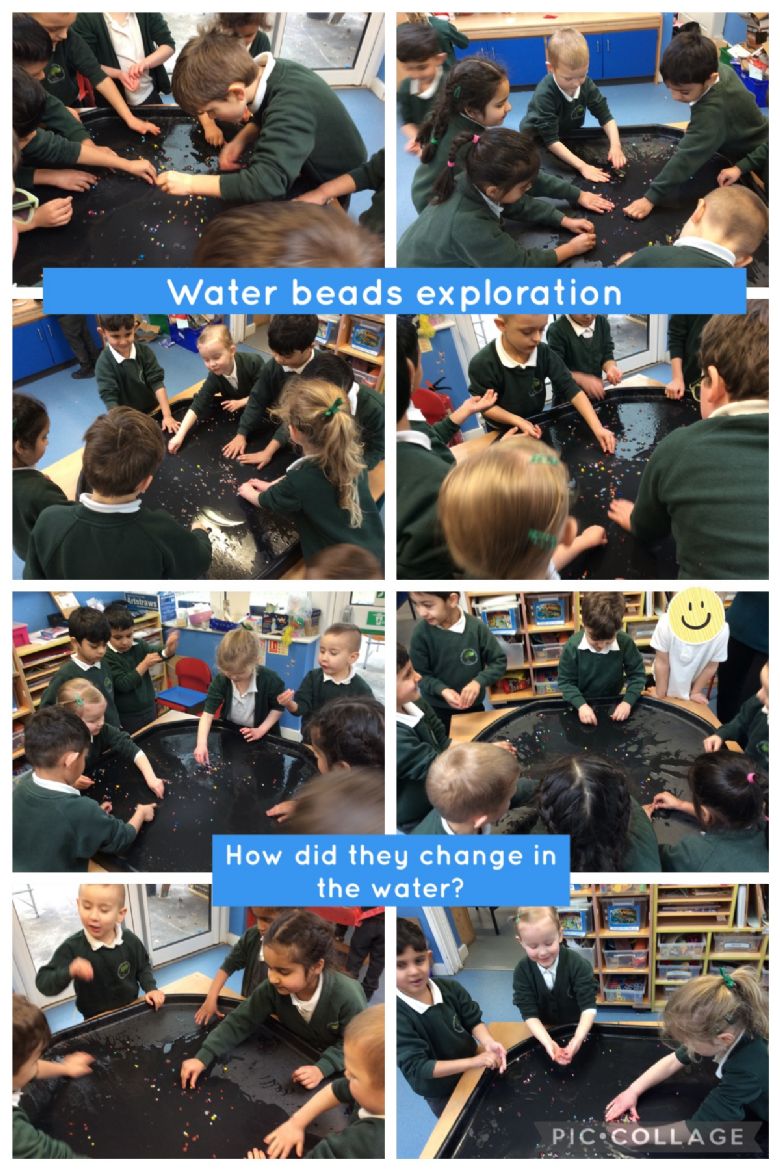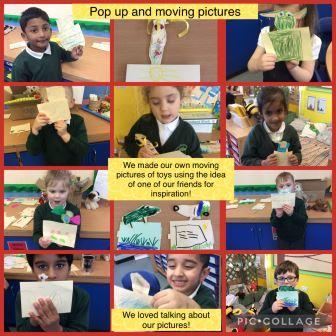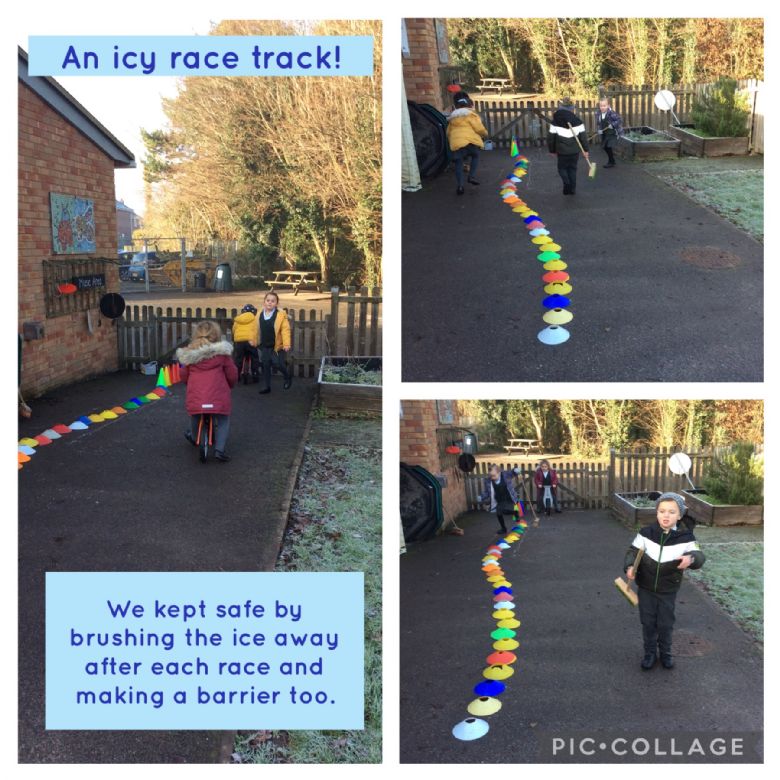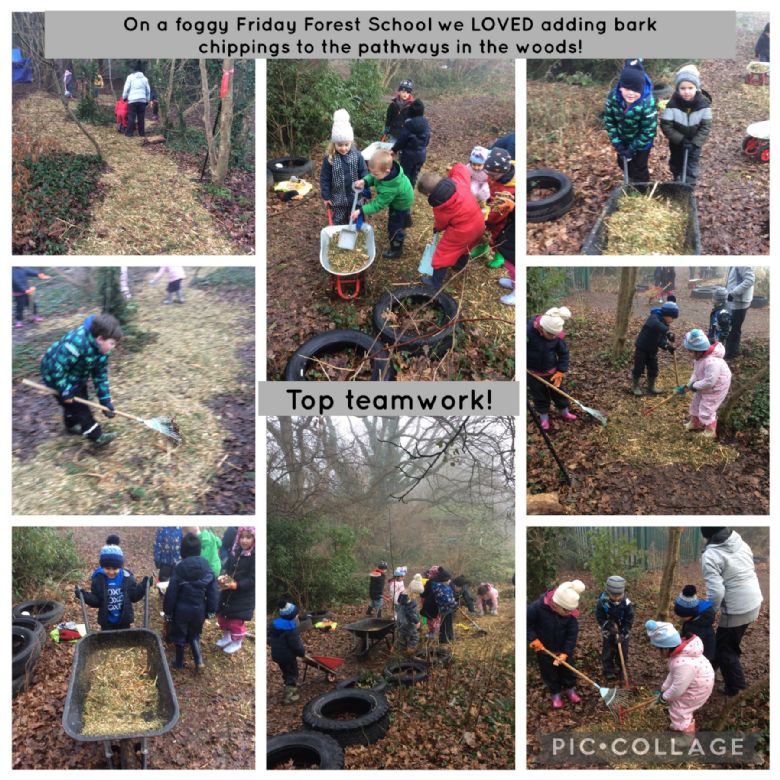 Autumn 2 2021
Our New Theme - Festivals and Celebrations - Bonfire Night, Remembrance, Divali, Christmas
Our Stories of the Week:
- Whatever Next! by Jill Murphy
- Flo of the Somme by Hilary Robinson
- Rama and the Demon King by Jessica Souhami
Dear Santa by Rod Campbell
The First Christmas
Our Songs and Rhymes we are learning by heart this half term:
Ten Shiny Rockets
Five Little Monkeys
It's Divali
When Santa Got Stuck up the Chimney!
IT'S CHRISTMAS!
We can't believe it is nearly the end of our first term in school. We are busy rehearsing our Nativity play and have enjoyed a trip to the Panto too. We have learnt the story of the very first Christmas and why this is a very special time of year for Christian people.
We have also been very involved in creating and developing role play and activities inspired by Santa and his workshop, as well as our story of the week 'Dear Santa' by Rod Campbell.
We are also busy making cards, special decorations for the classroom and hall. Our Christmas party day is on Tuesday 14th; we are really looking forward to our Christmas lunch and a visit from a theatre company too!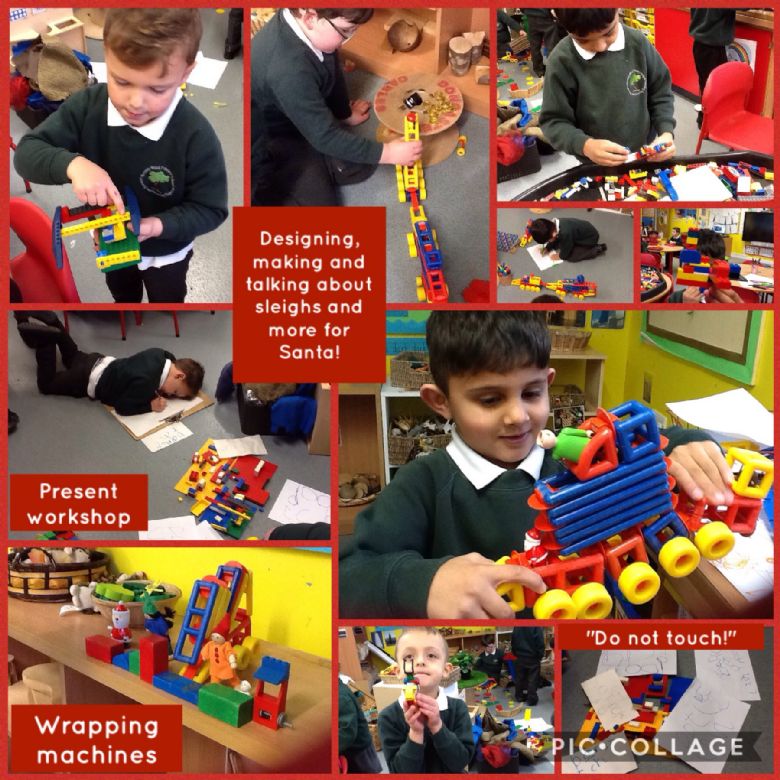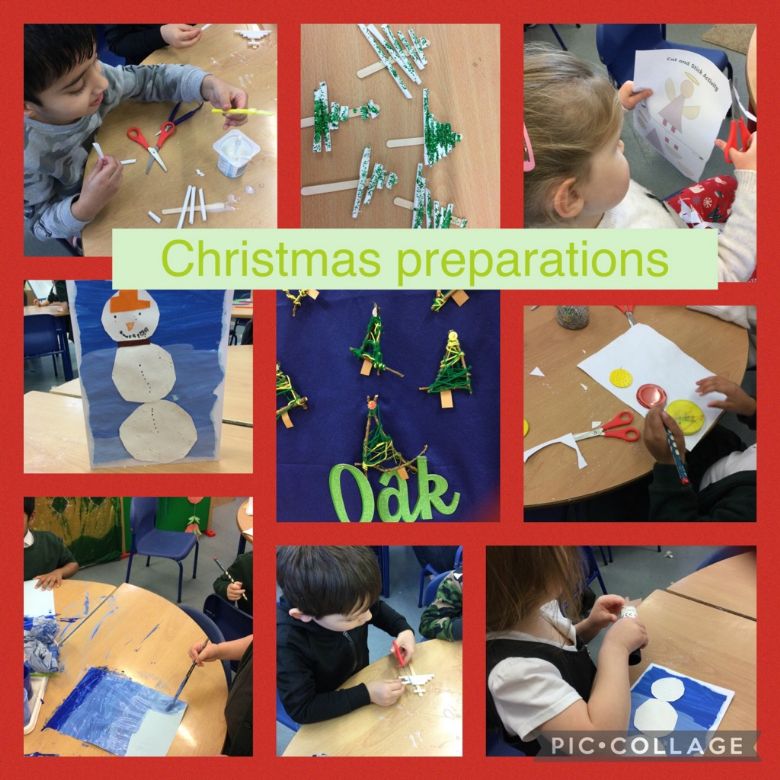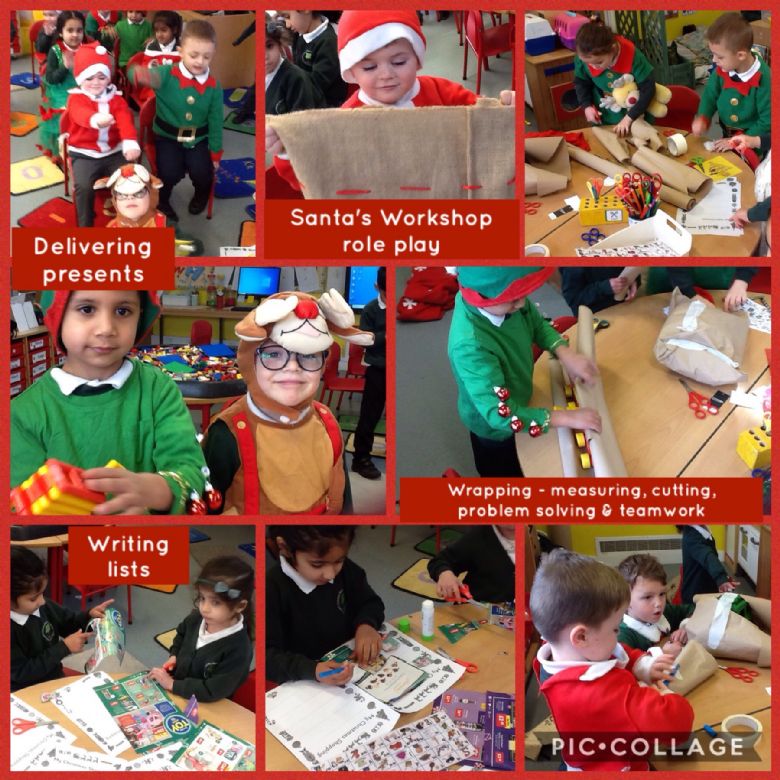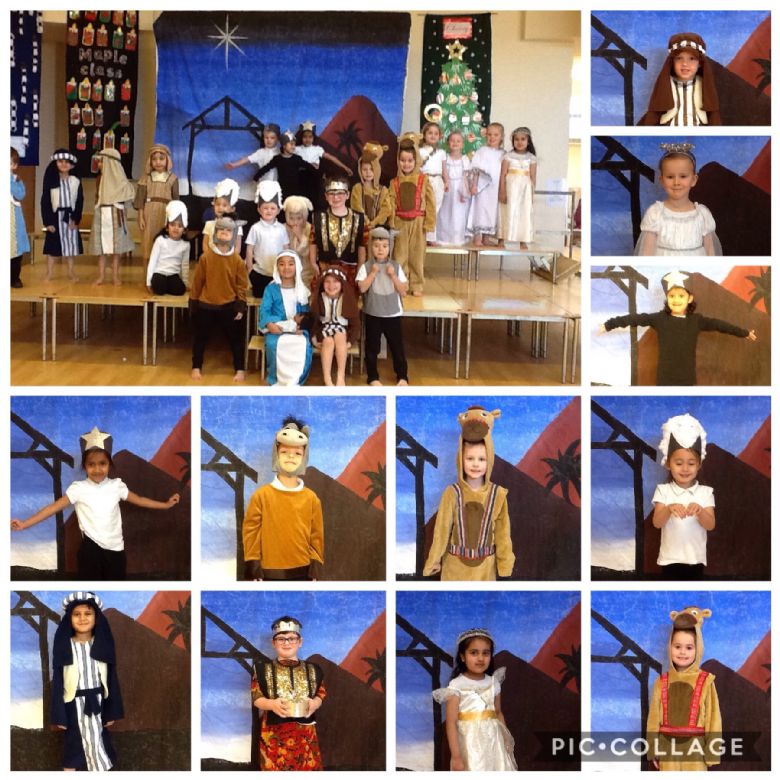 DIVALI
We are loving learning all about the Hindu festival of Divali, especially the story of Rama and Sita defeating the ten-headed demon king Ravana. We have acted out, retold and sequenced the story, made our own diva lamps from clay, created rangoli patterns, learnt an action song and found out information from books and the My First Festivals programme on CBeebies. Some of our friends in school who celebrate Divali also told us about their family celebrations and experiences.
Next week (beg 22.11.21) we have an exciting bridge building challenge planned, and we will be making Barfi sweets too - look out for photos at the end of the week!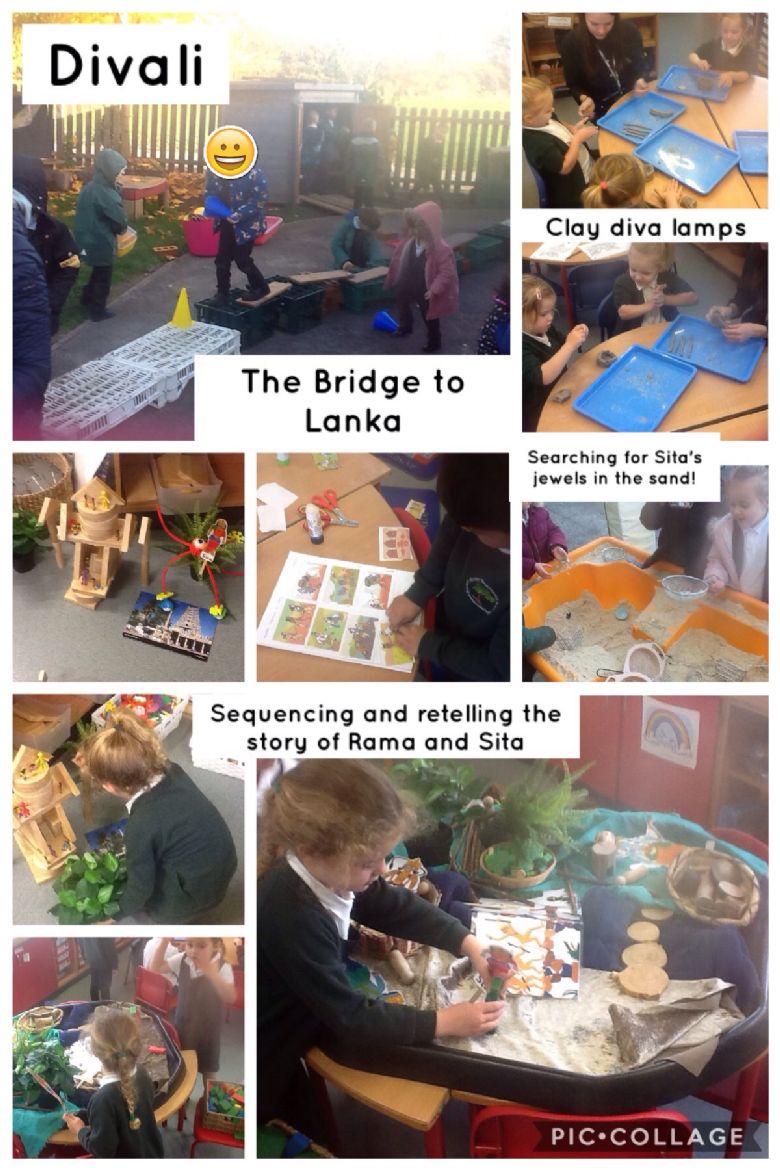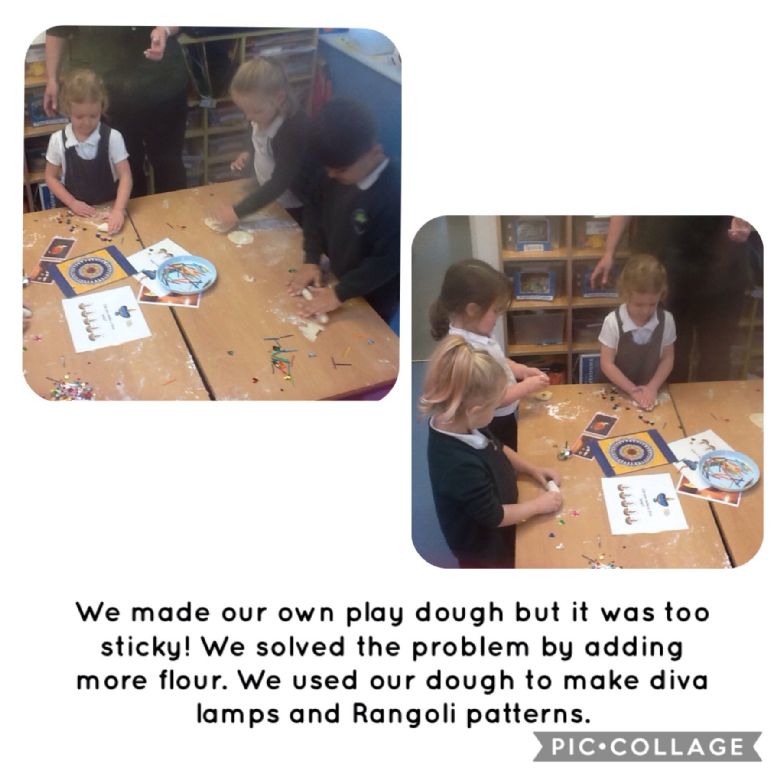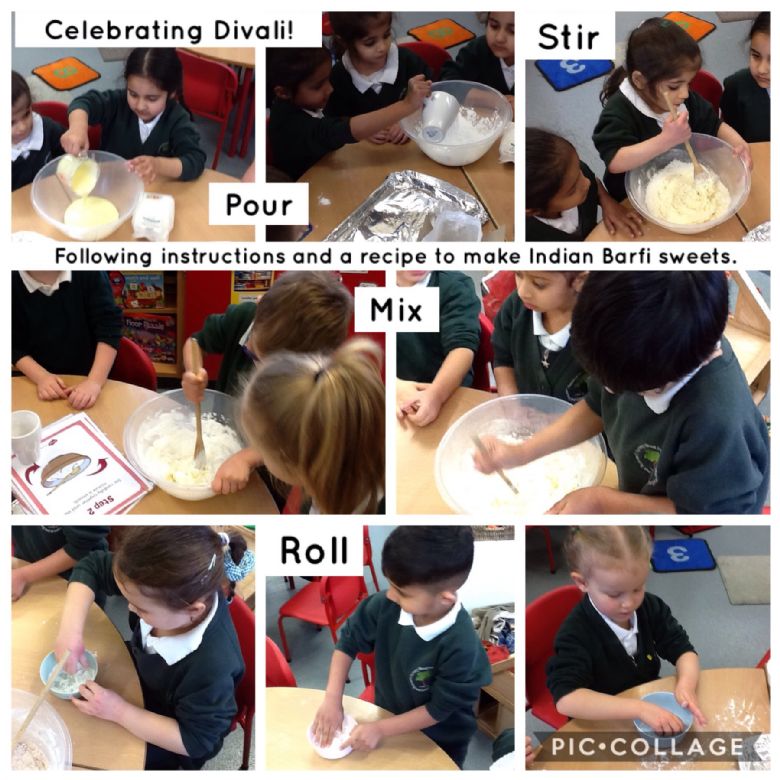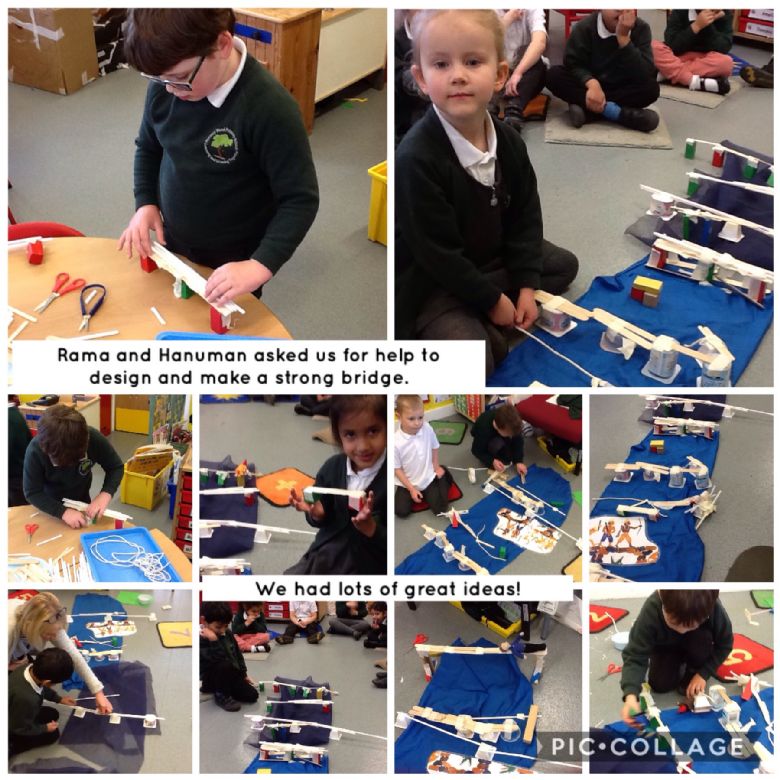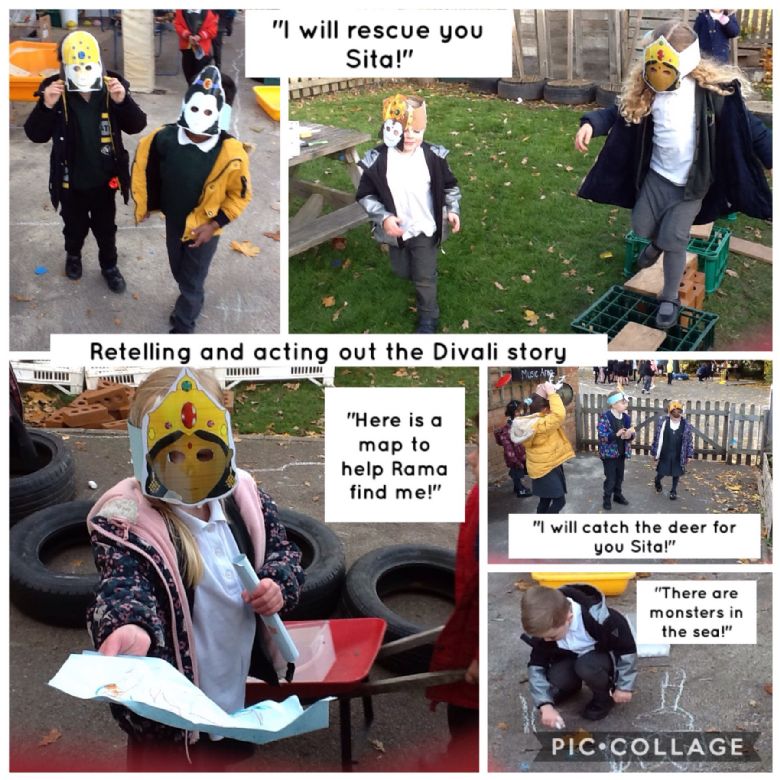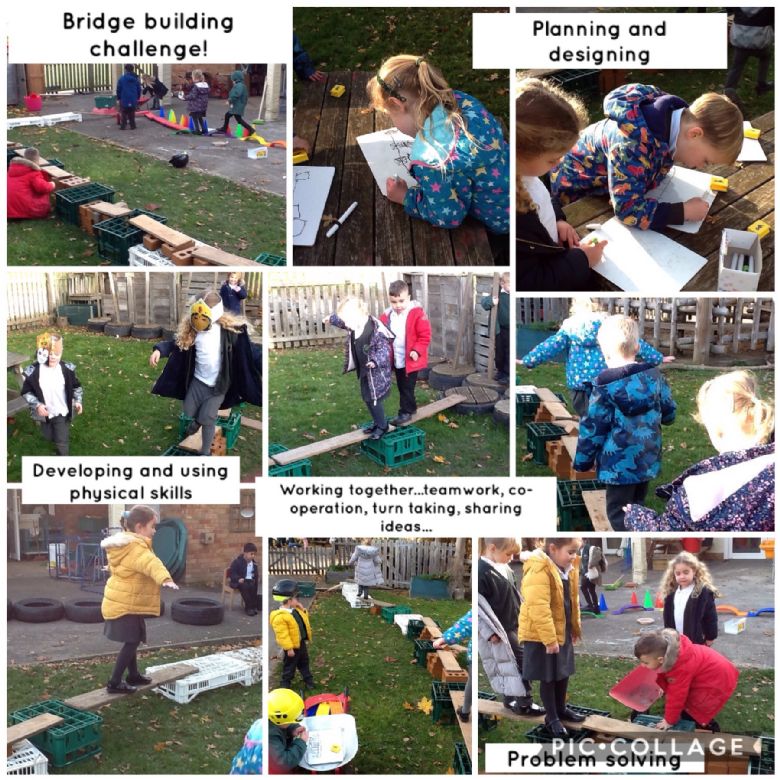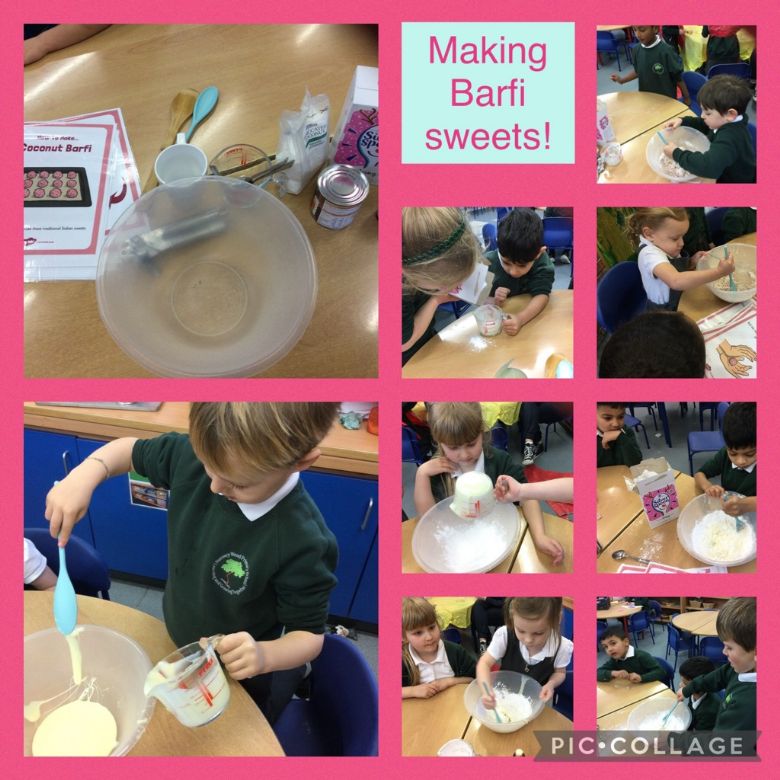 BONFIRE NIGHT - REMEMBER REMEMBER THE 5TH OF NOVEMBER!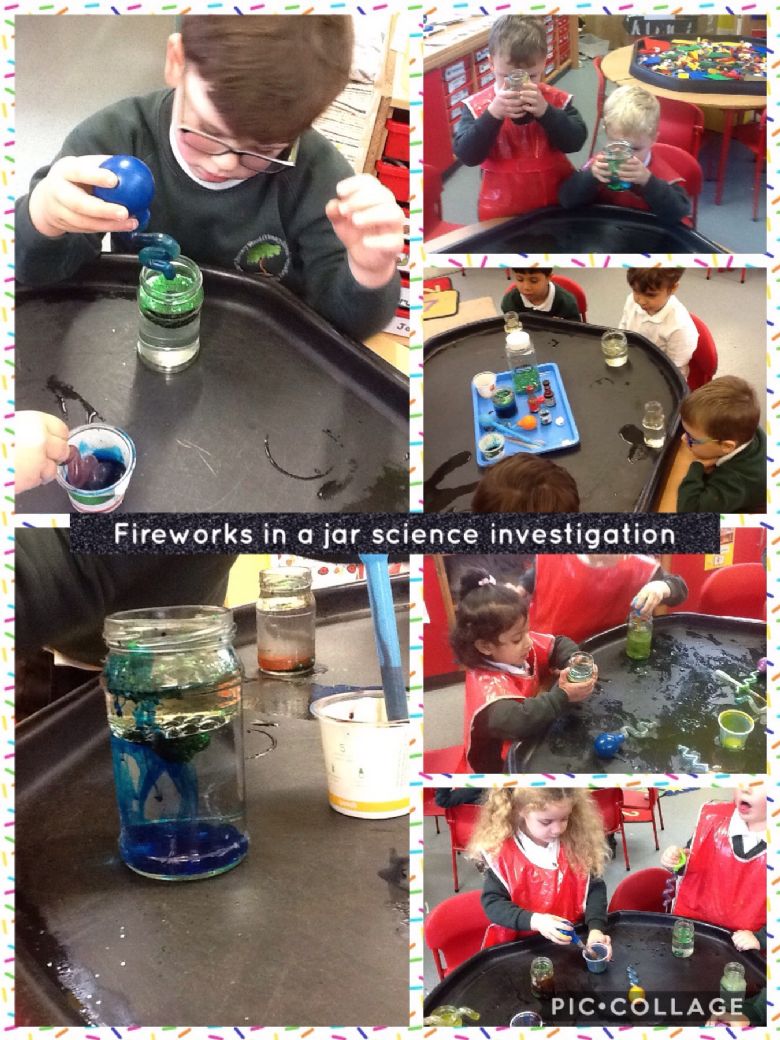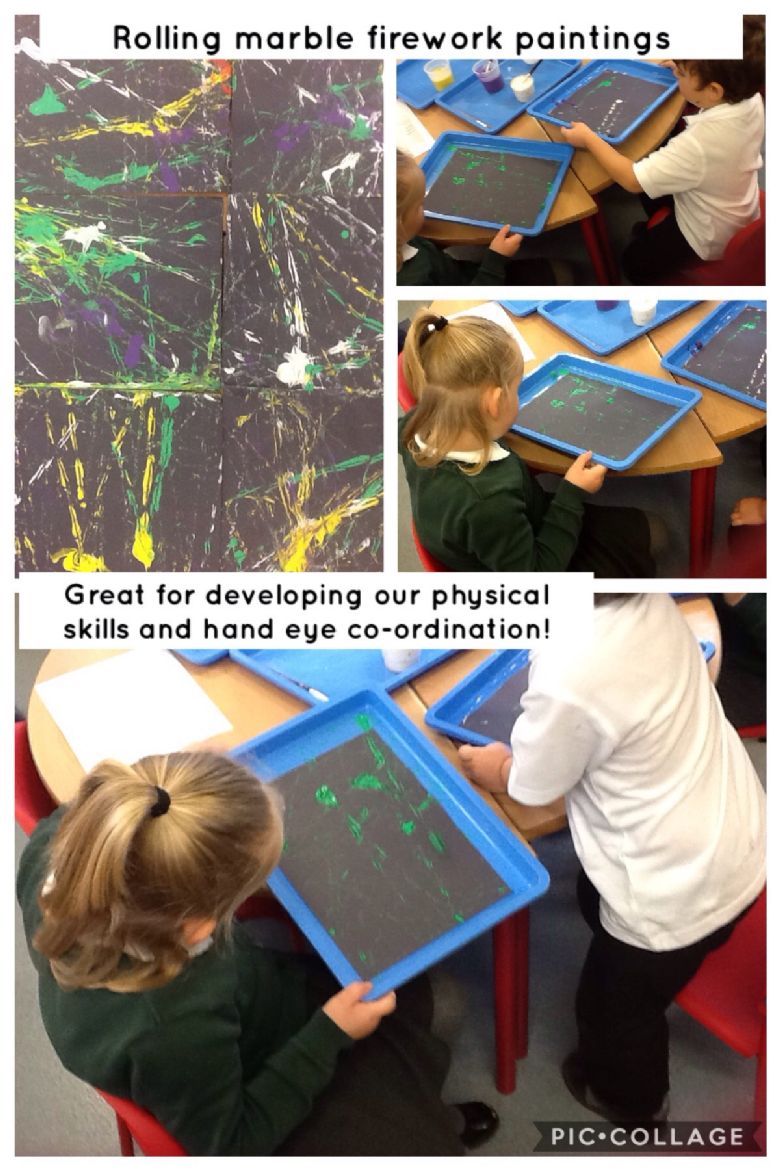 We all had great fun exploring and investigating how to make fireworks in a jar. We learnt about why we celebrate Bonfire Night and shared our own experiences. We used our creative and physical skills to make fireworks pictures by rolling paint covered marbles and bonfires by ripping paper and mixing red and yellow to make orange.
We used the story of Whatever Next! to think about all the things we might see in the night sky and plan our own adventures if we had a rocket to travel in.
REMEMBRANCE DAY
r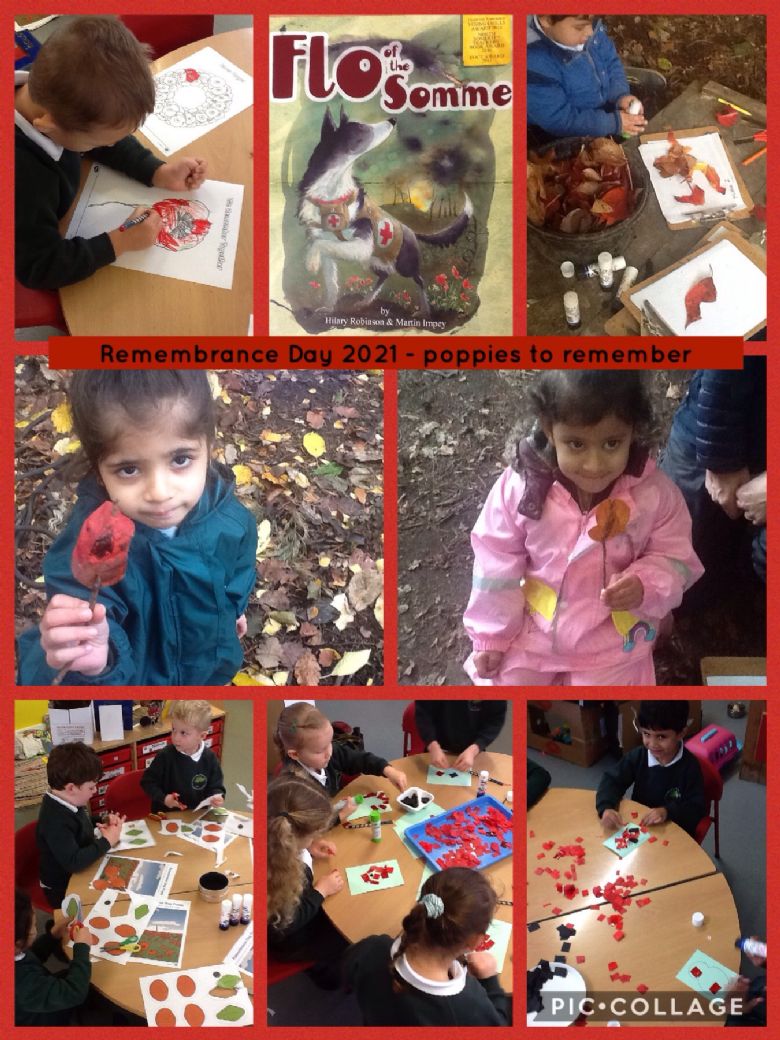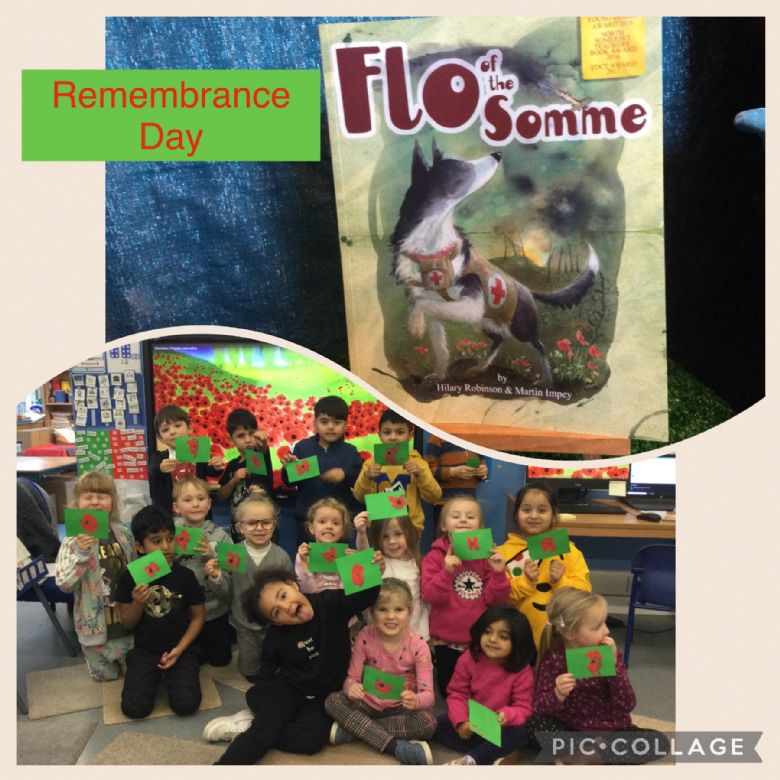 We used the beautiful story of 'Flo of the Somme' to help us begin to understand why Remembrance Day is important and why poppies are the symbol of Remembrance. We all showed great respect, one of our school values, when we observed 2 minutes silence on November 11th.
We created our own poppies in lots of different ways, including with red leaves in Forest School.
FOREST SCHOOL FRIDAYS!
We LOVE our weekly Forest School sessions! Mrs Satchwell, our Forest School leader, comes to join us and we always have so much fun. It is great to be outside, whatever the weather! Some of our favourite things to do are - den building, climbing and balancing on the trees and ropes, digging, using the tyre and rope swing, helping make fires and cook on them, making natural artwork, searching for mini-beasts and looking for birds - we have a very friendly robin who comes to visit us every week!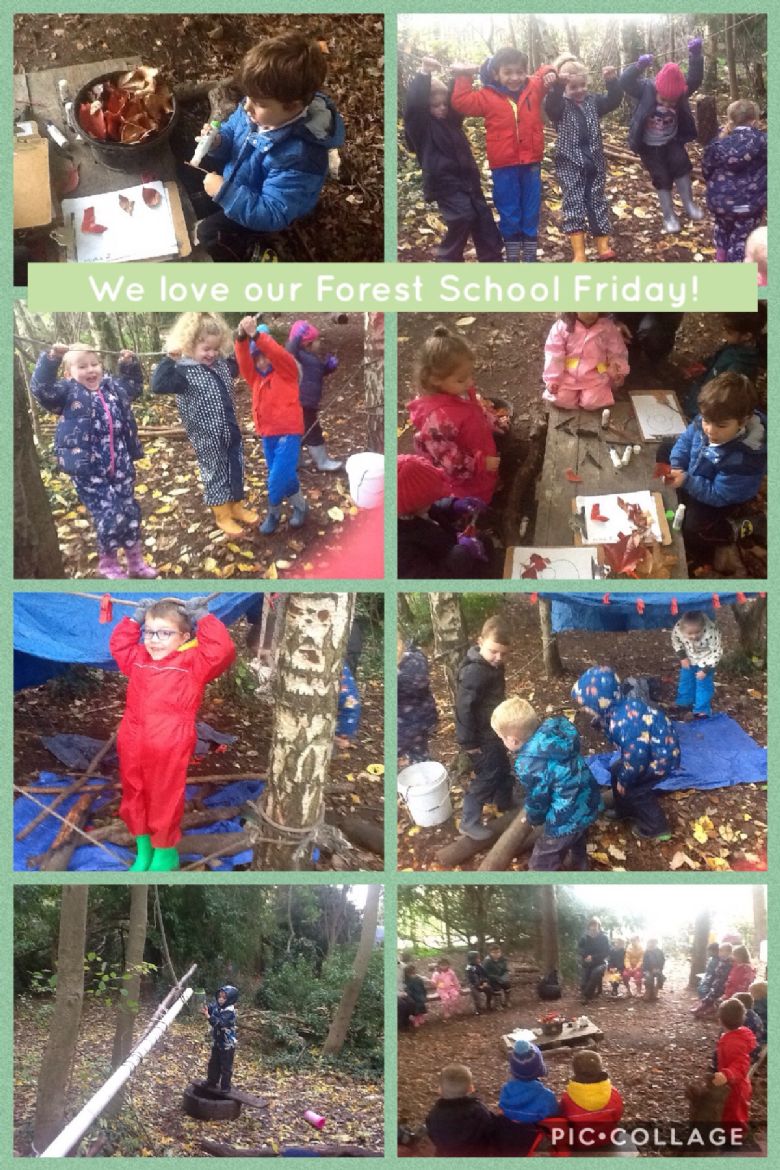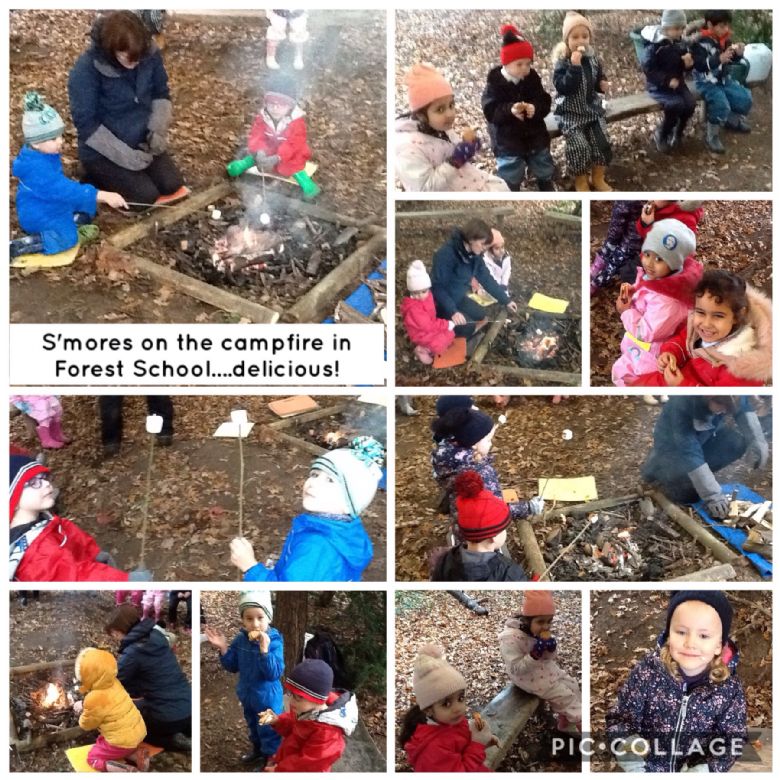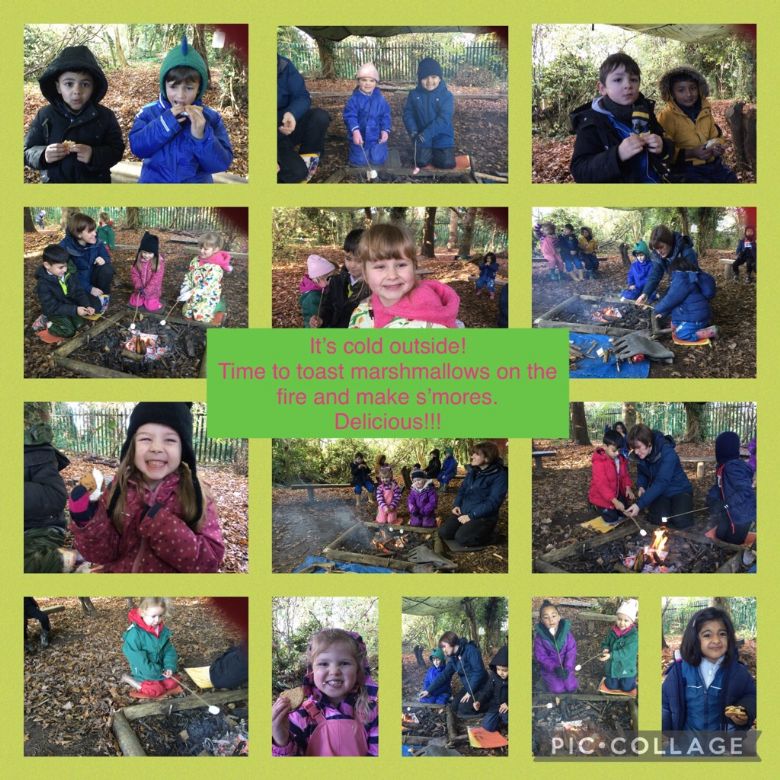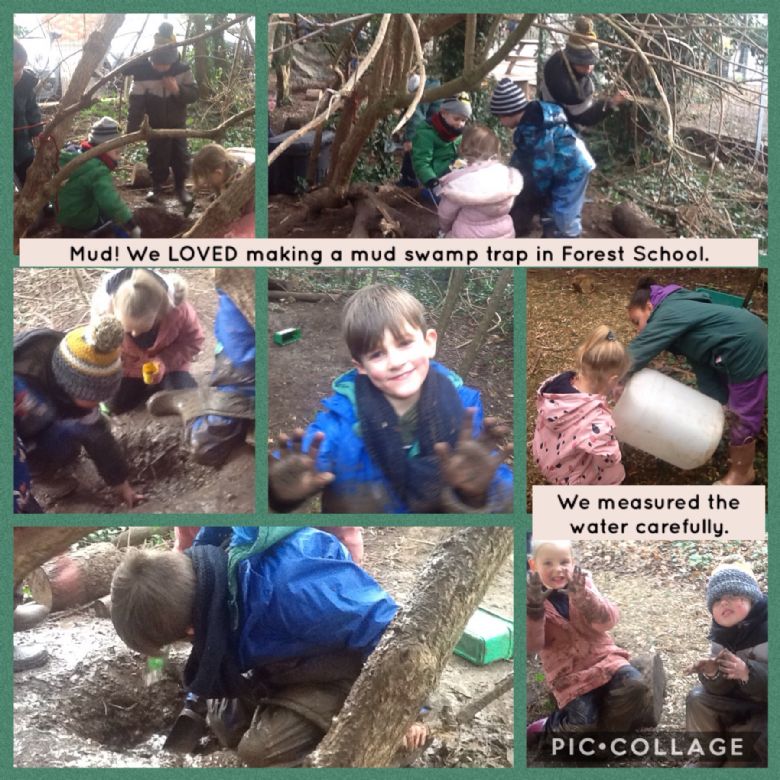 SELF CHOSEN LEARNING AND CHALLENGES.....
Lots of Willow children are really interested in skyscrapers and tall buildings at the moment. There have been some fantastic models constructed and lots of talking and discussion about the pictures we love looking at and using as inspiration.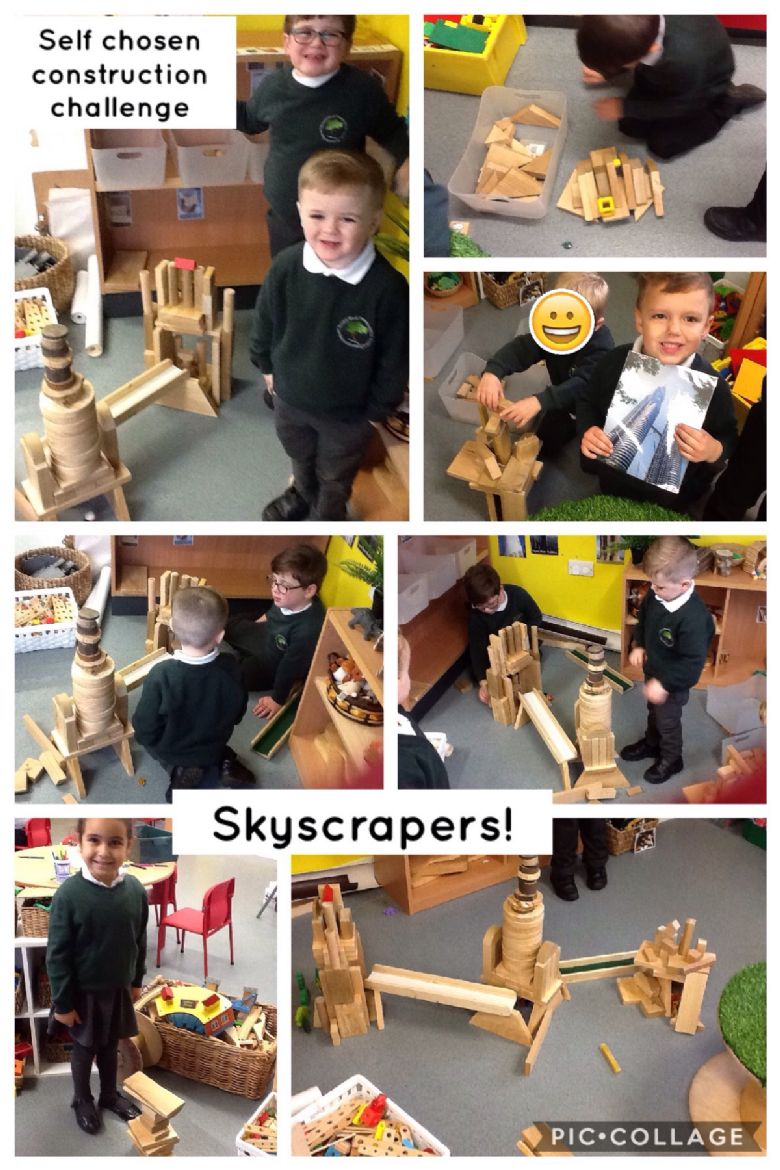 PHYSICAL DEVELOPMENT
This is so important for us and we have lots of opportunities to use and develop our physical skills everyday. Physical skills are so important to enable us to be able to listen and concentrate well, be able to develop our writing and phonic skills, be able to join in and play with our friends, create, make and design as well as being able to be fit, healthy and feel well.
Each morning we love our 'Dough Gym and Funky Fingers' session where we do lots of movements to music to make our upper body and arms strong before joining in with activities to help make our hands and fingers strong and flexible enough to hold writing and drawing equipment effectively. It is so much fun we all love it!
We also love using the outdoors to use and develop our physical skills, there are so many great opportunities to do this and not just in Forest School! We have been practising using our fine motor skills to spread and cut toast for snack time too.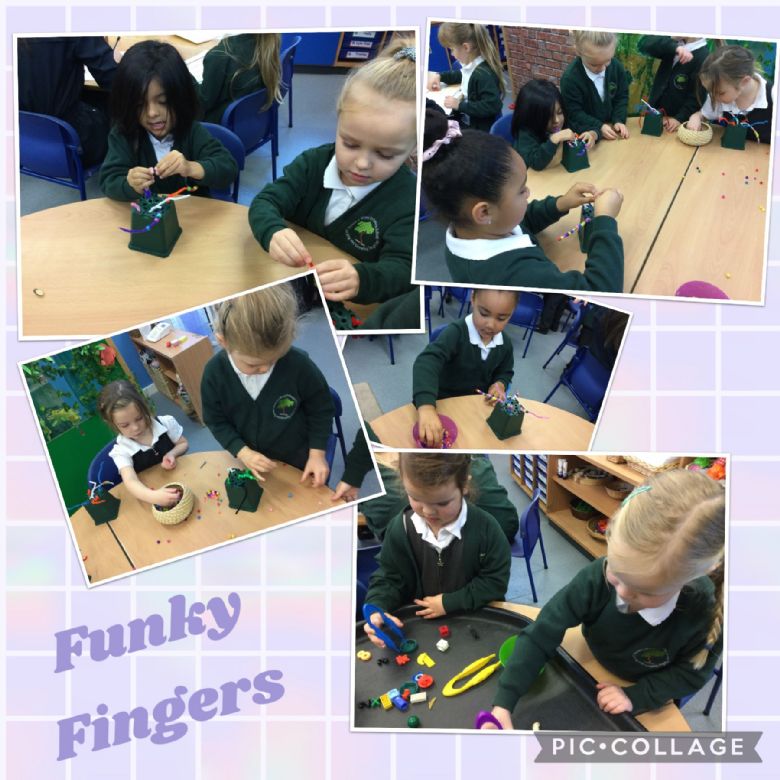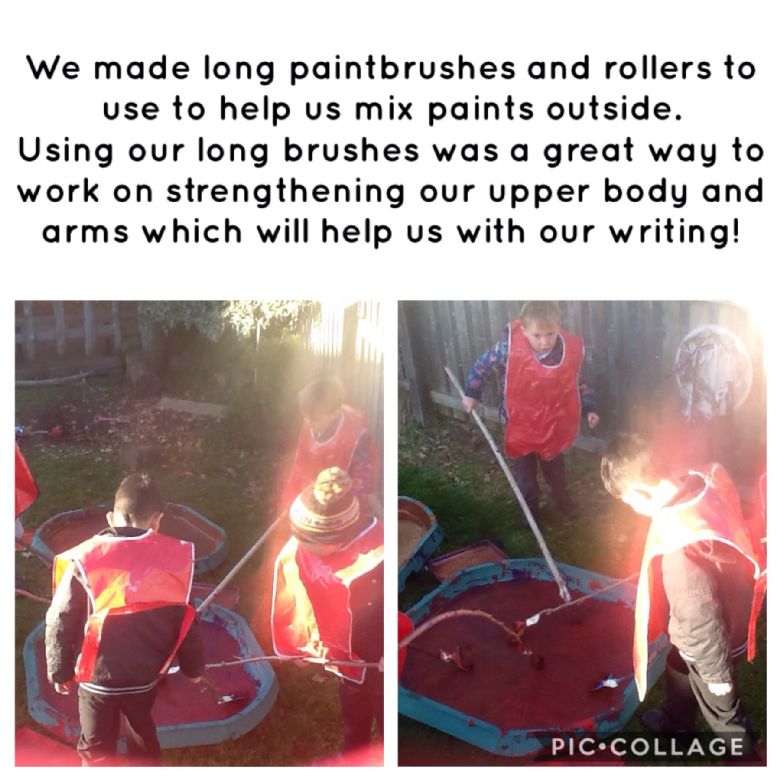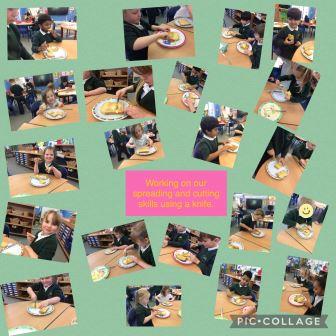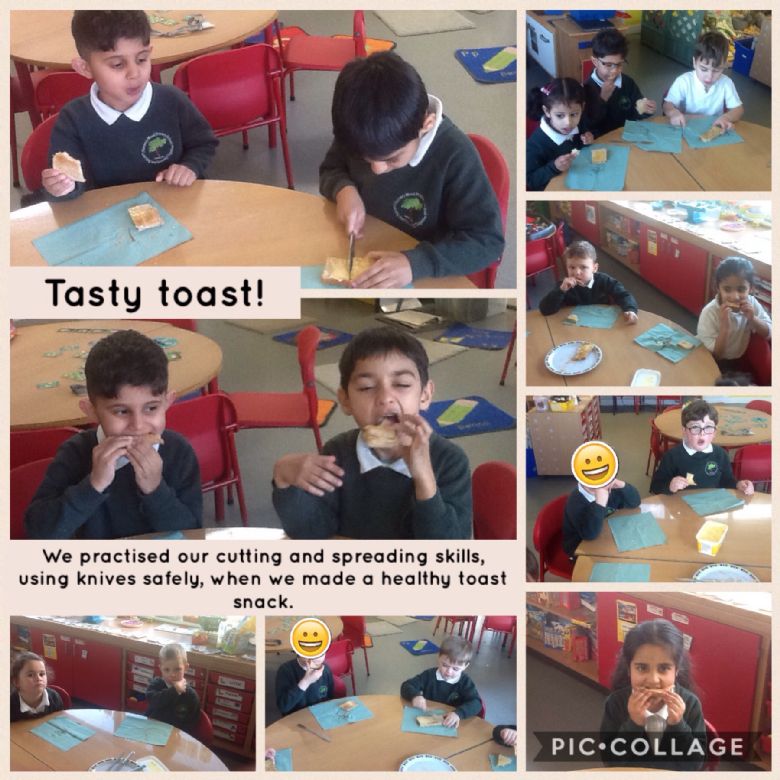 PE lessons - We are loving learning how to use different pieces of apparatus as part of our gymnastics lessons. We have been climbing, balancing, travelling, jumping and landing carefully. We try to remember to be strong and stretch when we balance and climb!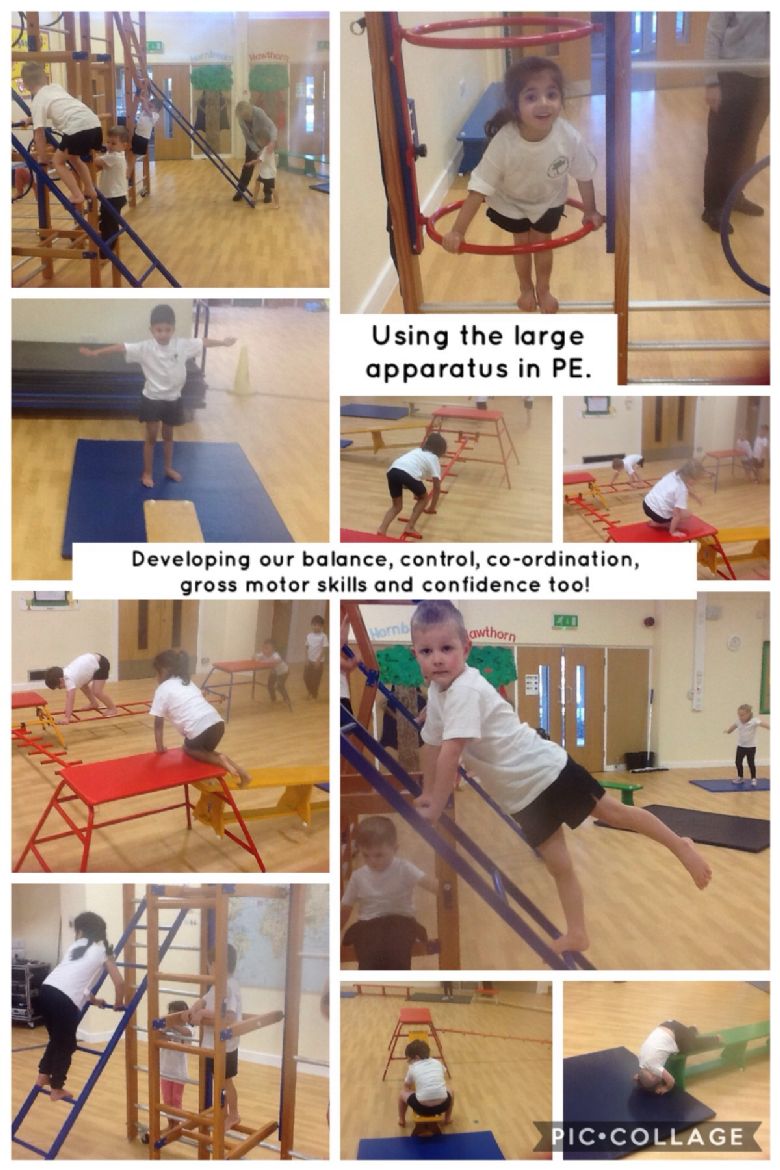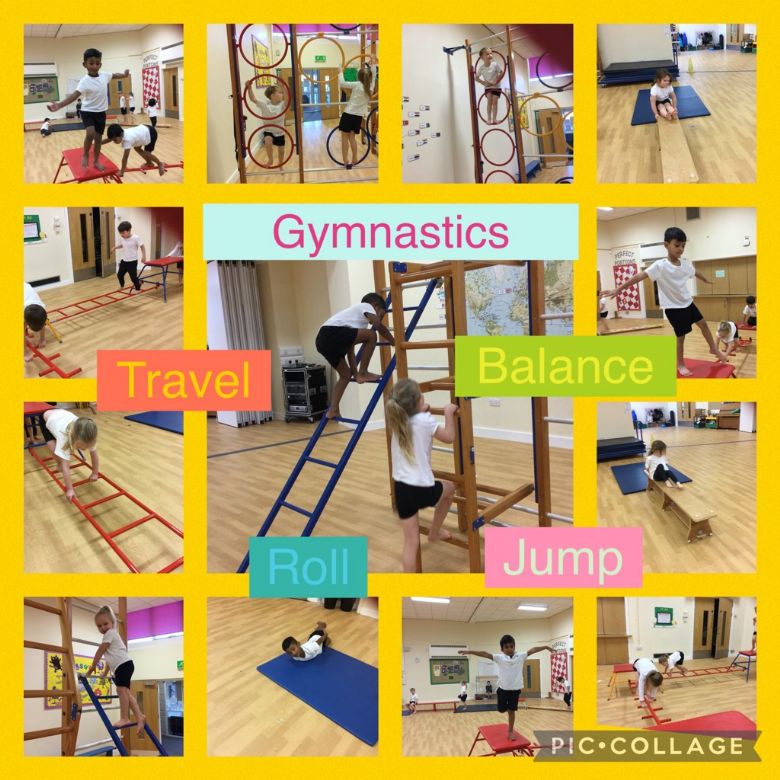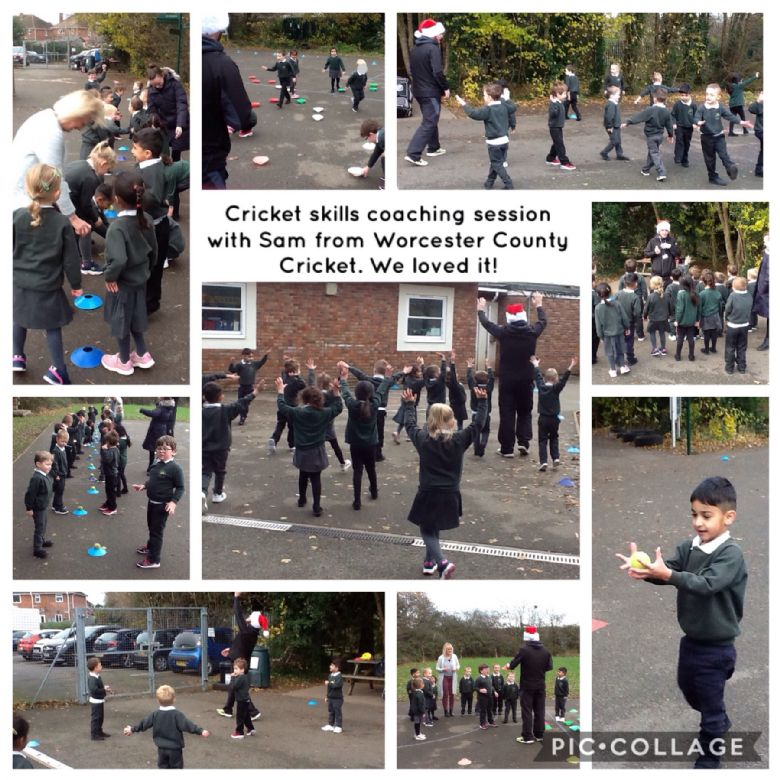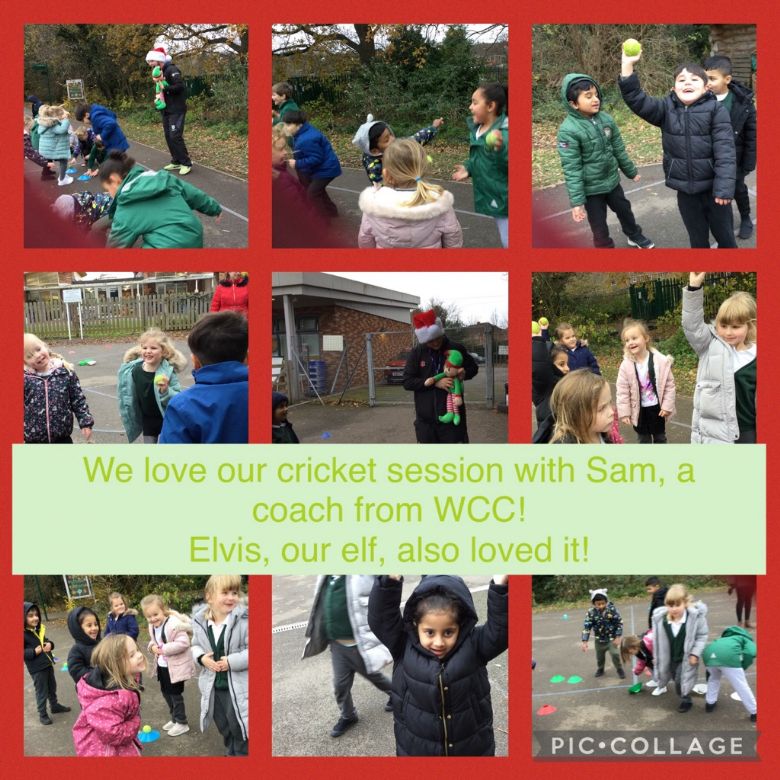 STARTING SCHOOL - AUTUMN TERM 1 2021
We have had a very busy start to school and have settled in very well.
Our themes for learning have been 'Nursery Rhymes' and 'Autumn.'
Every week we have a special story book and so far these have been:
Hairy McClary from Donaldson's Dairy by Lynley Dodd
The Gruffalo by Julia Donaldson
Spinderella by Julia Donaldson
Dear Zoo by Rod Campbell
A Cold Dark Night by Tim Hopgood
Funny Bones by Janet & Allan Ahlberg
The Rhymes and Songs we have been learning by heart are:
Twinkle Twinkle Little Star
Humpty Dumpty
Incy Wincy Spider
5 Speckled Frogs
5 Currant Buns
Our Themes:
Funny Bones - we learnt all about bones and our skeleton which we were fascinated by, especially when the dinosaur skeletons got stuck in the ice! We created our own 'dark, dark town whilst exploring and learning the names of 2d shapes. And we all became brilliant at retelling the start of the story with all the 'dark, dark places; in the right order. We also learnt some great new vocabulary ..... everyone was fascinated by what a 'cellar' was!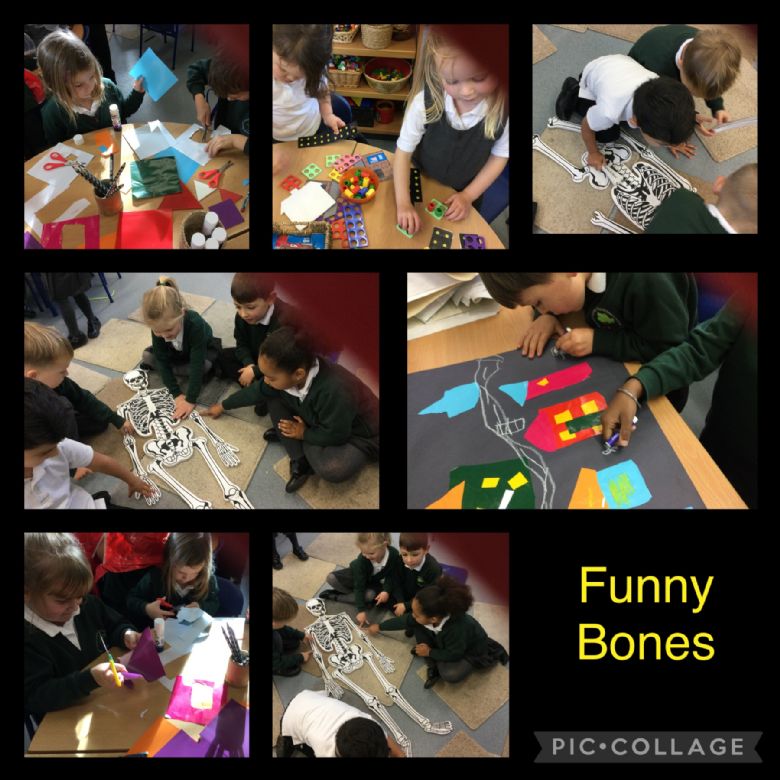 Autumn - A Cold Dark Night
We used the story of A Cold Dark Night to learn about some of the changes that happen in the Autumn especially hedgehogs (and other animals hibernating. 'Hibernate' was one of our new vocabulary 'words of the week'. We drew our own maps to help us retell and act out the story in the right order when we had learnt it by heart.
We found out about special wildlife rescue centres and hospitals which inspired us to create some super imaginative role play; some of us think we would like to be a vet when we grow up!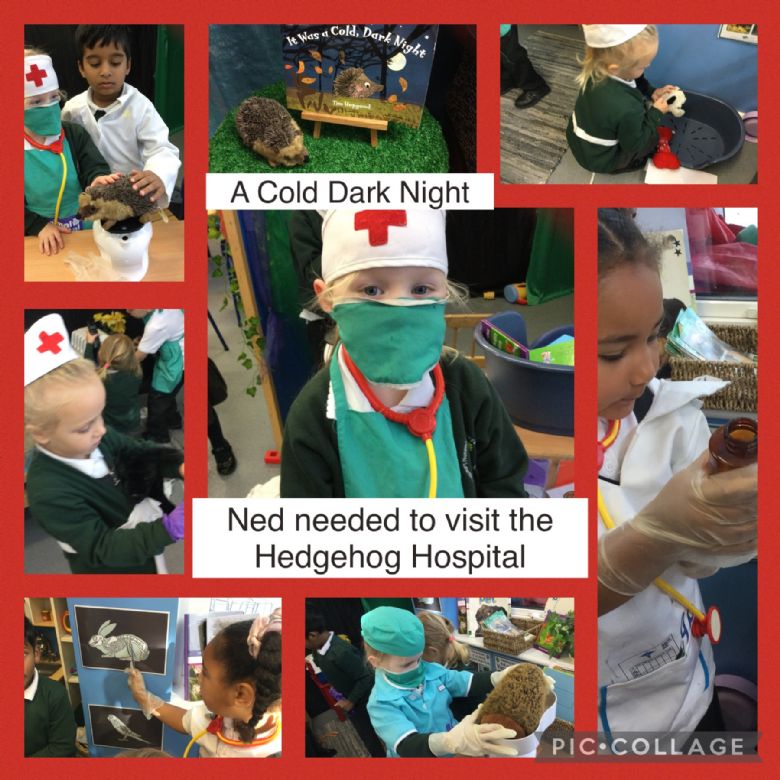 Nursery Rhymes
We have been learning some nursery rhymes by heart which has been helping us work out rhyming words and learn lots of new vocabulary. We have also loved solving problems and investigating questions involving building strong walls, making the longest / best spouts and guttering for water, and our own ideas too. We also created some fantastic art work using lots of different skills and beginning to learn how to cut carefully and use scissors.