Year R Oak and Willow
WELCOME TO OAK AND WILLOW
OAK - Miss Higgs, Mrs Kent and Mrs Evans
WILLOW - Mrs Cooper and Miss Hurd
Key Information
Thursday AM - PE
Friday AM - Woodland
AUTUMN 1
We are so happy with how with the children have settled in with us so far! They are building special relationships with the adults and making friendships with the children in the class. We look forward to seeing them grow and all the lovely experiences we will have together.
OAK
WILLOW
NURSERY RHYMES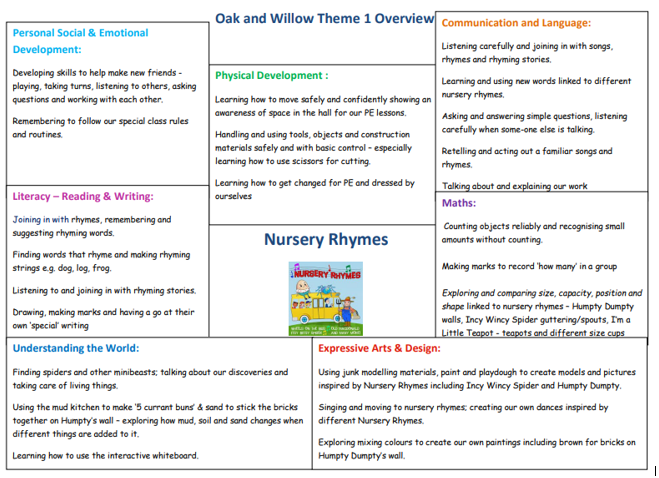 This morning Mrs Evans was busy in garden when she noticed an awful accident! We all came out to see what could have happened. We used our investigative skills and worked as a team to try and solve the mystery. We displayed fantastic co-operation and friendship values; listening to our friends ideas and working together. We decided Humpty Dumpty must have fallen off the wall! Poor Humpty Dumpty!
COLOUR MONSTER

Oh my goodness! There was SUCH a big mess outside today. We discussed who could have been feeling so mixed up to be able to do that in our outside area. We realised it must have been the Colour Monster! We decided we would read his book and help him put all his mixed-up feelings into the right jar. We know sometimes we feel mixed up and that we have lots of friends and grown ups at school we can talk to when we need help to sort out our emotions.
WHATEVER NEXT
We have been using Talk for Writing when participating in our Literacy work. This week we used a story map to help us retell the story of Whatever Next! We worked as a class to think of fun actions to remember each step in the story and have been retelling the story using these actions and pictures. We have a story bag we can use to retell the story to our friends as well! We LOVE this story in Oak and Willow.
Diwali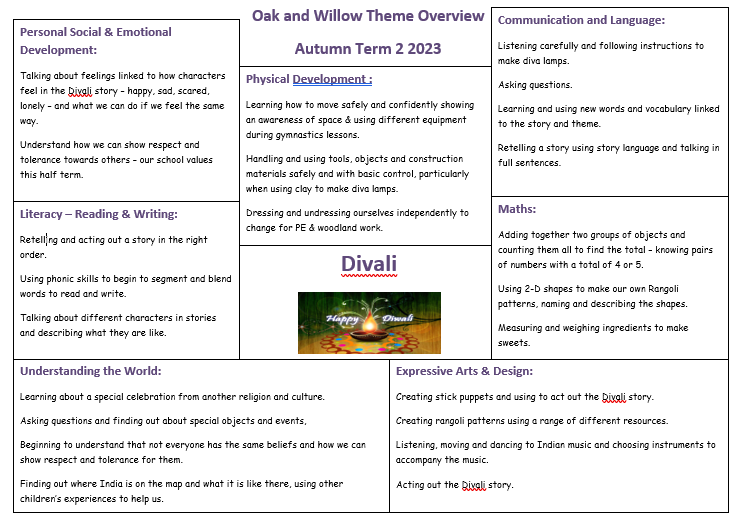 Christmas